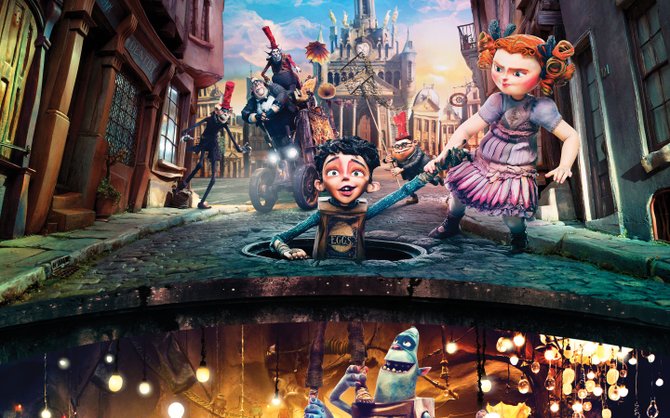 I have to admit it—I'm more partial to children's films than anything else. While I do love watching movies that connect with me as an adult woman, I also like the fun, imagination and humor laced throughout children's movies. And the best thing about them is that a lot of time, they have elements that adults can understand, such as the political undertones in "Horton Hears a Who" and the perils of gluttony in "Cloudy With a Chance of Meatballs."
"The Boxtrolls" is one of those movies for kids that actually deals with real issues. The movie's setting is a town named Cheesebridge, run by Lord Portley-Rind, a man so obsessed with cheese that he'd rather build a giant wheel of Brie than a children's hospital. The boxtrolls live under the city and come out at night to dig through the trash for items needed in their many inventions.
One night, 10 years ago, a boxtroll named Fish—each creature is named by the box he wears—took a baby boy from the city and brought it down to its underground habitat. Pest exterminator Archibald Snatcher ran to Portley-Rind's house to warn him that an evil boxtroll stole a child from the city, and convinced Portley-Rind that, in exchange for his prestigious white hat—a sign of class in Cheesebridge—Snatcher would exterminate every last boxtroll. From that day forward, he began using fear propaganda, imposing a curfew and rolling through the streets proclaiming that the boxtrolls eat babies and do other horrific things.
The stolen child, named Eggs by the boxtrolls, grew up in their underground hideout, learning to live like one of them. Fish became somewhat of a father figure to him.
As the years passed, Snatcher captured the boxtrolls one by one, until only a few are left. By the time Eggs is about 10 years old, the entire town believes that the boxtrolls are evil, sadistic monsters. When Snatcher captures Fish and a couple of other boxtrolls, Eggs sets out on an adventure with Portley-Rind's daughter, Winnie, to rescue them and prove to the town that they aren't the monsters they're thought to be.
While many of the elements are a little grotesque and extreme for children, such as a Snatcher's allergic reaction to cheese, the visuals are incredible. Laika, creators of "Coraline" and "ParaNorman," told the story through Tim Burton-esque stop-motion animation. The film operates in the darkest part of a child's imagination, filled with creatures from our worst nightmares when we were kids.
As with most children's films, even ones like this, viewers uncover the messages beneath the layers of grotesqueness. The most important, to me, was to not judge a book by its cover. Every person in town was quick to believe the boxtrolls were evil simply because they looked a little different. It probably doesn't help that they only ever came out at night. The darkness has a tendency to exaggerate the scarier features of something. The film also communicates the message that no matter how quiet or small the voice of truth may be, it can rise above the noise.
Even those who don't enjoy children's movies will find something to like in this creative, well-crafted morality tale. Not only is it both cute, dark and, at times, ridiculous, it's also eye-opening, both visually and thematically.
Support our reporting -- Follow the MFP.