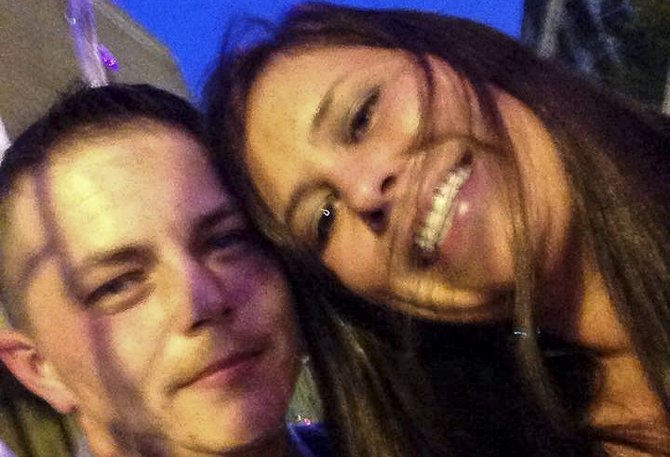 Marriage equality is gaining momentum around the country—bolstered by the U.S. Supreme Court's refusal Monday to reconsider an appeal of a state decision to allow same-sex marriage.
But gay marriages aren't the only unions stirring up some conservative Mississippians. Nick and Jessica Fulgham, who married Sept. 18, received a wave of public backlash when American Family Radio, an anti-gay organization based in Tupelo, broadcast news of their marriage after it happened.
Nick, Jessica's husband, is transgender—meaning that his gender identity, gender expression or behavior does not conform to that typically associated with the sex to which (he was) assigned at birth, as defined by the American Psychological Association.
The couple filed for a marriage license in DeSoto County, where they live, and married in Madison County last month.
"We were not the first transgender couple to legally get married in Mississippi," Jessica Fulgham said in an interview. "We were the first transgender couple to legally get married in Mississippi that got publicly outed. But we were not the first, and we won't be the last by no means because marriage equality will happen in the state of Mississippi."
"Instead of getting greeted with, 'Congratulations. I'm so happy for y'all. Best wishes,' like a normal couple would, we get bashed by the American Family Association and my own cousin."
'Nick Is a Man'
Jessica Fulgham's cousin, Robby Rikard, told the American Family Association about her wedding and appeared on the radio program "Focal Point with Bryan Fischer" after Fulgham posted her newly obtained marriage license on Facebook.
"It swings the door wide open," Rikard told Fischer on his show Sept. 23. "Our state in general is very pro-traditional marriage, but this has taken place in our state. So, I think it needs to be challenged, and I think we really need to push this forward to get this challenged."
Fischer told his followers that the Fulghams committed fraud against the state in order to get married.
"This is a state where 86 percent of Mississippians said, 'We only want marriages between a man and a woman to be recognized,' and they found a way to get around that. To me, that's biological fraud," Fischer told his audience.
Biological fraud is not a real thing, however.
Nick Fulgham, who is currently in transition and receiving hormone therapy, has completed the necessary steps—including getting a doctor's note, a court order and applying for a new driver's license—in order to be recognized as a male by the state.
After appearing on AFR, Rikard posted a Facebook status alerting his following that a same-sex couple got married in Mississippi and urging them to call state officials to express outrage. "This is a battle that has come to us, and we cannot afford to lose traditional marriage in MS, and as it stands WE ARE," Rikard wrote.
Rikard's Facebook post was shared at least 52 times.
But a "gay marriage" did not take place in Mississippi on Sept. 18. As constitutional law expert and professor at Mississippi College Matt Steffey points out, the "T"—transgender—in LGBT is different from the "LGB"—lesbian, gay, bisexual.
Lesbian, gay and bisexual are sexual orientations, whereas transgender is a person's gender identity. If a transgender man, like Nick, prefers women, his sexual orientation is straight.
"Gender identity and sexual orientation are not the same. Sexual orientation refers to an individual's enduring physical, romantic, and/or emotional attraction to another person, whereas gender identity refers to one's internal sense of being male, female, or something else," according to the American Psychological Association.
But the AFA ignores this distinction. Fischer repeatedly called the couple "lesbians" over and over again. "Not everyone understands the 'T' in LGBT. The 'T' is like twenty years behind," the wife told the JFP.
Fischer exemplifies this lag. "Transgender is a biological fiction," Fischer told the JFP Tuesday. "They are sexually confused."
Being called a lesbian didn't bother Fulgham. It was that lesbian was used in a derogatory—and inaccurate—way. "That just so happens to be not what I am, because Nick is a man," Fulgham said.
'Business As Usual' ... For Now
Still, AFA followers made calls to the state attorney general's office, the governor and the lieutenant governor regarding the Fulghams' marriage, worried that it puts traditional marriage in the state at risk.
While the U.S. Supreme Court decision means "business as usual" in Mississippi—allowing our ban on same-sex marriage to stand—it also reaffirms several federal court decisions to strike down same-sex marriage bans, Steffey said.
States in the jurisdictions in which federal courts—courts that hear cases regarding the federal constitution—have already ruled on the constitutionality of same-sex marriage bans will be required to follow those decisions—bringing the number of states in which same-sex marriage is now legal to 30.
Mississippi's definition of marriage as only between a man and a woman, written into the state constitution in 2004, has not yet been challenged, nor has the 5th U.S. Circuit Court of Appeals, which has jurisdiction over Mississippi, heard a same-sex marriage case.
For now, that decision will be left up to federal courts with jurisdiction over Mississippi—but not for long, Steffey said. The U.S. Supreme Court's involvement in marriage equality is "not a matter of 'if' but 'when,'" said Steffey, who believes the court will rule on same-sex marriage bans eventually, if not this year.
The AFA's Fischer hopes same-sex marriages remain unrecognized in the state—and apparently sees the Fulghams' marriage as a tricky way to marry a person of the same gender in the state.
On his show, Fischer implied that Nick and Jessica Fulgham conned the state, using a legal loophole to receive a marriage license. Fischer said he conducted some research and found that to change the gender on legal documents in Mississippi, a person must see a doctor for hormone therapy and get a court order from a judge saying they are in transition.
"Off you go to the driver's license bureau and presto change-o, now you can marry somebody of the same sex," Fischer said.
Fischer's rational seems to be that Nick Fulgham is only "posing" as a man so he would be able to marry Fulgham, which Rikard said as well. This is because both men reject the idea of transgender identities.
Fulgham, however, said her husband was in transition when they met.
"I've always looked at Nick as a man ever since I met him," Fulgham said.
"I didn't fall in love with Nick because he was a man. It wouldn't have mattered what gender Nick was. I fell in love with Nick because he was Nick."
Threatening Phone Calls
Desoto County Circuit Clerk Dale Thompson said she simply adhered to her duties as circuit clerk when she granted a marriage license to Jessica and Nick, whose driver's license identified him as a male.
"This couple came in, applied for a marriage license just as any other couple would have. They presented a valid ID, and we issued the license. It's not within my right to ask them if they're a man or a woman," Thompson told the Jackson Free Press. "The license was valid and everything. We don't question anybody else's license or their proof of identification when they come in so we would not have done theirs either."
This time, Thompson's practice prompted an angry response. "I got some threatening phone calls telling me that I would not even be re-elected if I did not void that marriage license," Thompson said.
Forrest County Circuit Clerk Lou Ellen Adams said she also granted a marriage license to a transgender couple in Hattiesburg, but she followed the law according to the couple's legal documents.
"As far as my issuing the license, I don't feel like I did anything wrong," Thompson said. "It's still a legitimate driver's license."
The Fulghams' wedding didn't go as the bride had planned. After deciding against a big celebration due to fear that some of their family and friends would not accept it, the couple married at a courthouse in Madison County. Despite the private ceremony, the Fulghams were still met with tension as a result of their union's publicity.
"I thought, like most people, when you get married it would be the best thing ever. You would be so happy. I did not ever realize that on top of regular everyday stress you would have stress worrying about discrimination, stress worrying about your safety and your family's safety, and stress worrying about upcoming court battles that may happen because of this," Fulgham said.
Jessica Fulgham said that she and her husband have received support from the LGBT community. The Mississippi Gulf Coast Rainbow Center has offered to host a wedding reception for the couple, which, "is beyond awesome," Fulgham said.
Support our reporting -- Follow the MFP.