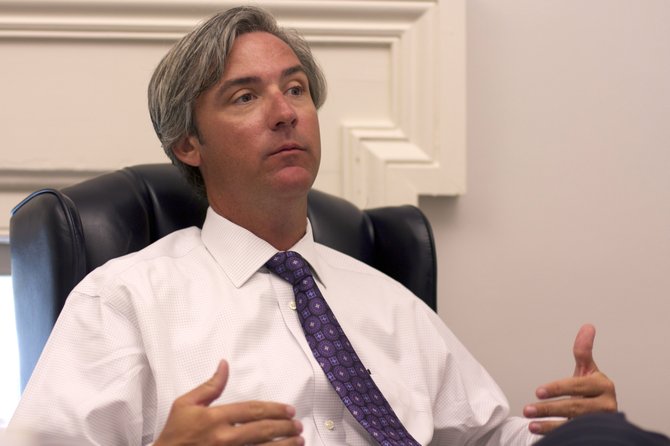 Jackson Ward 1 Councilman Quentin Whitwell will bow out even sooner than expected.
Whitwell, a lobbyist and the sole Republican member on the seven-member council, had announced that he would step down from the seat he held for five years at the end of October. He told the Jackson Free Press last month that other personal and professional pursuits have had to take priority. Among those is the opportunity for his son to be trained under tennis coaches at the University of Mississippi.
City Hall spokesman Justin Bruce confirmed to the JFP that Whitwell told the administration he will submit a formal letter making the resignation effective tomorrow, Oct. 8. The timetable is reportedly to facilitate scheduling the special election, which can not happen until Whitwell leaves the office.
The announcement came on the same day that Republican Charles Barbour announced his bid for the seat. Barbour formerly served on the Hinds County Board of Supervisors and ran for a seat on the Mississippi Public Service Commission. He is also the nephew of former Gov. Haley Barbour.
Even though special elections are nonpartisan, Barbour touted his GOP bona fides is his press announcement this morning.
According to that release: "I look forward to representing the Republican Party in Jackson again," said the former two-term supervisor, who points out that Jackson must make major financial decisions in the next few years.
"I have worked with elected officials from all points of view in this area, and I am confident that I can help to stabilize Jackson's finances with my fellow council members and our mayor, who I believe is off to a good start." Balanced budgets and a better financial situation for Jackson are important to Barbour, who was instrumental in leading Hinds County to eight straight balanced budgets. This action "allowed an increase in Sheriff McMillin's budget, repair of bridges, road improvements, construction of correctional facilities and youth recreational facilities, such as the Hinds County Youth Baseball Facility at Mid Point Park," he said. In addition, Barbour notes that he is proud to have never voted to raise taxes on the citizens he served.
More stories by this author
Support our reporting -- Follow the MFP.