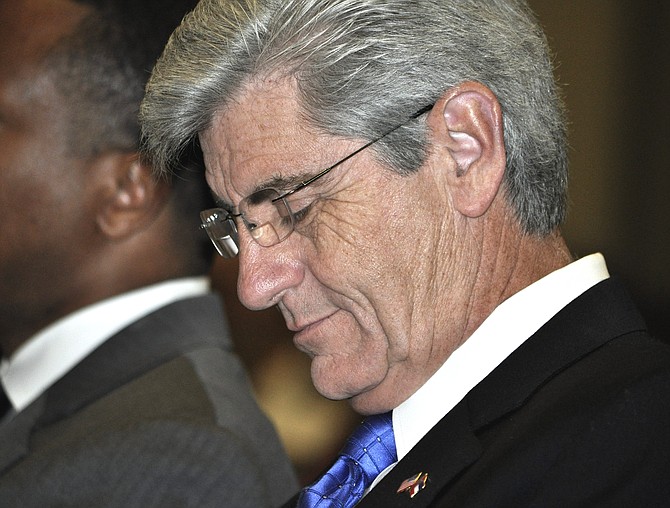 Like the stuffed birds that will make an appearance at Thanksgiving dinner this week, Gov. Phil Bryant has fattened up state spending in his latest executive budget recommendation.
The plan, which Bryant announced Nov. 24, calls for spending $6.2 billion and anticipates 3 percent of revenue growth over the current fiscal year. Those totals are roughly $102 million, or 1.7 percent, more than Bryant proposed for 2015.
Even though state law requires the state governor to submit a budget plan every year, the Legislature ultimately crafts the budget and can ignore Bryant's budget in part or whole. However, with Republicans controlling the governor's mansion and moth legislative chambers, the budget offers a glimpse into the ruling party's political agenda for next year, which also happens to coincide with the state's off-year statewide elections.
In his budget, Bryant is staying in lockstep with the national party's mantra and offering tax cuts. What Bryant is calling the "Mississippi Working Families Tax Credit" gives low- to moderate-income families and individuals the option of a nonrefundable tax credit. In a presentation, Bryant said the tax credit would come with income restrictions similar to the earned-income tax credit on the federal level and would "allow for full or partial relief of an individual's state income tax liability depending on their income and filing status."
"In today's economy, many working families are struggling to make ends meet, and it is time for us to provide relief to those individuals," Bryant said.
House Minority Leader State Rep. Bobby Moak, D-Bogue Chitto, said the tax-cut proposal is a game of a smoke and mirrors.
"I think it's illusory," Moak said of the proposed tax break.
"I think you get better odds at the carnival winning the big teddy bear."
Moak said he also plans to seek clarification on the conditions the governor said must be in place in order for the tax break to be in effect. According to the plan, the credit can only apply in years where state revenue growth is 3 percent or higher and the so-called rainy day fund (officially called the Working Cash-Stabilization Reserve Fund) is full, meaning the Legislature sets aside two percent of the budget for contingencies.
"When a Mississippian has a job, it changes everything," Bryant said in his budget address. "Building a pro-growth economic climate and attracting new businesses to our state require teamwork."
Bryant also repeated favorite GOP talking points of the past few years. He cited the state's No. 9 ranking in Area Development magazine's list of best states for business and the American Legislative Exchange Council, which develops socially and fiscally conservative legislation on behalf of corporate clients to introduce in legislatures around the country, for also ranking the state highlight for overall economic outlook.
Democrats are less rosy about the economy and point to a recent Forbes report ranking Mississippi dead last among best states for business. Although the venerable business magazine gave Mississippi high marks for labor costs that are 5.5 percent below the national average and one of the nation's best climates for corporate tax breaks, the state is still the poorest in the country and among the bottom of the barrel for high-school graduation and college attainment.
Moak says the Forbes list belies the narrative Republicans have been developing since they took control of the Legislature of conservative policies that will create jobs, grow the state's economy and improve the quality of life for all Mississippians.
"We have the governor with a pair of scissors in his pocket wanting to cut a ribbon every time we create six or nine new jobs. That's good, but we're not talking about the jobs we're losing," he said.
Another thing Bryant isn't saying much about is health care beyond the fact that he wants to keep Medicaid, the joint state-federal program for the poor, at level funding. This, despite acknowledging that changes to Medicaid under the Affordable Care Act will increase the Medicaid budget by 14.7 percent. Instead, Bryant said he would instruct the Division of Medicaid to keep costs low.
Refusing to go along with the expansion of the state's Medicaid program that the ACA permits is not a new position for Bryant. However, since the Supreme Court upheld the constitutionality of the law in 2012, Bryant and the Republican leadership have failed to offer a plan to cover the 137,000 Mississippians who are uninsured as a result of the state's decision to pass up Medicaid expansion.
State Sen. David Blount, D-Jackson, is hosting a series of community meetings in the coming weeks for the open enrollment period for the ACA's online health-care marketplaces and said Democrats plan to submit a budget proposal that addresses covering the state's uninsured.
"I think Medicaid expansion is a good deal for the state, and, to my mind, you have the responsibility to present an alternative," Blount said.
Democrats aren't holding their breath that Republicans will reverse course on Medicaid or another frequent hot potato, full funding of the Mississippi Adequate Education Program, a formula designed to provide minimal state support for public schools. In MAEP's 17-year history, the program has received full funding twice, both were important election years.
Bryant's budget does purport to increase MAEP funding by $52.7 million, but most of that is earmarked to pay for a teacher pay increase that passed last year with bipartisan support. With the additional appropriation, MAEP is still $260 million short. Currently, efforts are under way to sue the state over failure to adequately fund education and, separately, education advocates are pushing for a statewide ballot initiative to make adequate education funding a state constitutional requirement.
Patsy Brumfield, an organizer with the ballot initiative, said the governor's neglect of public funding support might be a boon for their cause.
"If anyone was waiting for a reason to support the Better Schools, Better Jobs Initiative that will guarantee funding for our students, Gov. Bryant just gave them one," she told the Jackson Free Press.
Anna Wolfe contributed to this story.
More stories by this author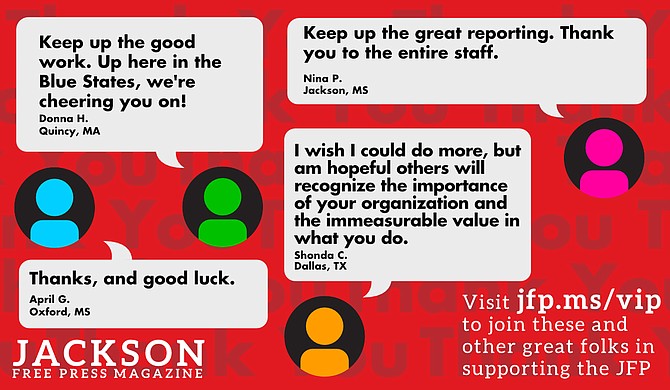 Thanks to all our new JFP VIPs!
COVID-19 has closed down the main sources of the JFP's revenue -- concerts, festivals, fundraisers, restaurants and bars. If everyone reading this article gives $5 or more, we should be able to continue publishing through the crisis. Please pay what you can to keep us reporting and publishing.