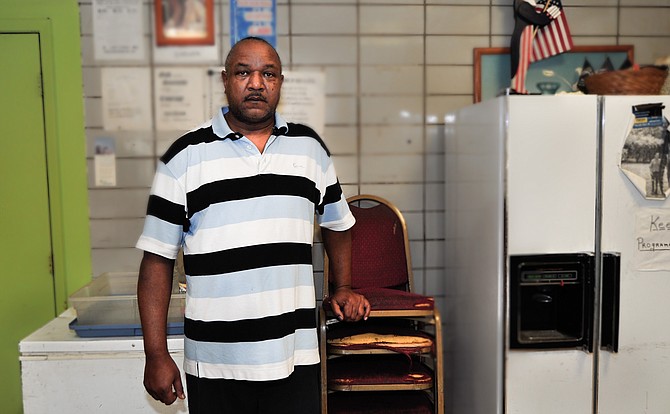 Update: Stewpot says it has received pledges totaling about $114,000, including $55,000 from Sanderson Farms, $38,000 from the city of Jackson, $17,000 from local businesses and $4,000 from Mississippi M.O.V.E. Frank Spencer, Stewpot's executive director, said the donations would help the organization remain open for at least one month.
By the time you read this, two pivotal emergency shelters in Jackson may already be closed and no longer housing a combined 50 Jacksonians each night.
A Jackson City Council special meeting set for Monday, Nov. 24, determines the fate of the two Stewpot shelters—the Billy Brumfield House and the Matt's House Women's Shelter. While both were scheduled to close Nov. 15 after a loss in funding for the year, mostly due to a push from Housing and Urban Development to reprioritize funding, the Hinds County Board of Supervisors extended the closure date to Nov. 25 to give Stewpot time to come up with funding.
The Billy Brumfield House was named after a homeless man who died from hypothermia while sleeping in his car. The shelter volunteers can only see one result of its closure: more men like Brumfield with no place to sleep.
"They're going to have to be out on the streets," said Alex Gosa, a dorm manager. "It's going to be rough."
Gosa and other volunteers have been left in the balance for over a month. "What we're doing is waiting. Hopefully, they'll let us know something," Gosa said.
But by Thursday, Nov. 20, not even the council president, De'Keither Stamps, was confident that the situation would be resolved by Monday. Mayor Tony Yarber said his administration is working out a proposal in order to scrape together some grants for Stewpot to keep the shelters open. As of press time Monday, Yarber could not cite a dollar amount for the grants; the city council was expected to discuss the issue at a special meeting Monday afternoon.
"It was supposed to be at the last council meeting but (the mayor) said that they still had some things to work out before they bring it forward," Stamps said.
Shelia Byrd, City of Jackson communication director, said on Friday, Nov. 21, that the details are not final, but that the city is attempting to expedite a grant from the Department of Human and Cultural Services that Stewpot is typically awarded in the spring. Byrd did not comment on the amount of the grant.
On Oct. 15, Mac Epps, president of MS M.O.V.E., announced a campaign to help raise money for the shelters. The organization held a "sleep out" in Poindexter Park in West Jackson.
The group has raised $4,000 since the beginning of the campaign for Stewpot as of Nov. 20. A Stewpot volunteer, Pam Greer, said Stewpot is organizing benefits for the next few weeks with the intention of raising money for the two threatened shelters.
"Those are the two most important shelters in the city, so we definitely need those to stay open," Greer said.
Frank Spencer, executive director of Stewpot, said $200,000 is needed for the shelters to remain open. The ministry lost two grants through HUD when the agency decided it would only allow a certain portion of its funding be spent on emergency shelters. Instead, HUD wants to fund rapid rehousing programs.
Spencer said he will have to work to turn Matt's House, the only shelter in Jackson for both women and children, into a rapid rehousing program in order to be able to use HUD funding on the shelter. However, the men's shelter, the Billy Brumfield House, does not have the proper set-up, because of its open floor plan, to be used for rapid rehousing.
Stewpot's day shelter, the Opportunity Center, will house homeless men and women when the temperatures drop below freezing, but typically they can only accommodate up to 50 people.
"We will just make do," said Christie Burnett, Opportunity Center director. The center fills nearly all of its spots on the coolest nights of the year, even with the other emergency shelters open. "If Brumfield closes, it's going to be real interesting," Burnett said.
Gosa said he is worried that the homeless men who are left with nowhere to stay will break into abandoned buildings or businesses to find a place to sleep.
"It's going to be chaos," he said.
Greer echoes Gosa's concerns and anticipates that the closure will lead to an increase in violence in the community.
It's not hard for people to find themselves in a situation of homelessness and in need of a shelter, Brumfield volunteer Willie Hobson acknowledges. "Once you lose your job, you end up on the streets," he said.
Closing the women's shelter is especially concerning to Burnett, who regularly works to place homeless people in shelters. "Quite honestly, that's the only place that I can send a woman," Burnett said, adding that about a week ago she directed a woman seeking shelter to Salvation Army, and the woman was turned away.
"She called me in tears because they said they didn't have any space for her," she said.
The woman then went to Matt's House. "They will not turn her away. It's the only place in the city," Burnett said.
More like this story
More stories by this author