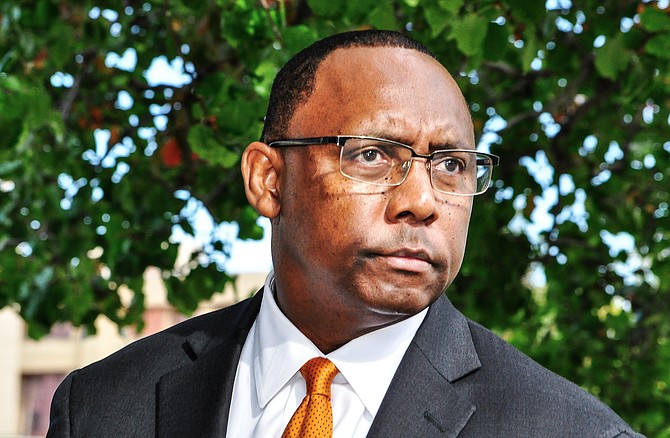 Facing a federal magistrate judge in Jackson, Chris Epps and Cecil McCrory made a curious pair.
Until the news of his indictment on federal corruption charges broke last week, Epps, 53, had been the only African American director of a Mississippi agency, the state Department of Corrections.
Despite receiving his appointment to one of the most visible posts in state government from Democratic Gov. Ronnie Musgrove, Epps was also able to survive Mississippi's hyper-partisan government, later serving under conservative Republicans Haley Barbour and Phil Bryant.
McCrory, Epps' alleged co-conspirator, seemed to have been a key cog in that system. A former legislator who held a number of elected political positions as a Republican, McCrory knew all the ins and outs of state government. During his time in the Legislature, he served on the Joint Committee on Performance Evaluation and Expenditure Review (PEER), the very agency that would later raise questions about McCrory's business dealings with the state.
Together, they allegedly had what one federal official called a decade-long "criminal partnership" that involved bribes and kickbacks in exchange for Epps steering business to McCrory's companies that contracted with the Mississippi Department of Corrections.
At their arraignment before U.S. Magistrate Judge Keith Ball, both men pleaded not guilty on all counts. Neither defendant gave statements in the courtroom or to reporters after the hearing.
John M. Colette, Epps' attorney, said he had not fully reviewed the lengthy indictment and also declined to answer reporters' questions outside the federal courthouse.
Harold Brittain, the acting U.S. attorney in this case, said the indictment reveals "systemic, invasive corruption" at the MDOC—and people who advocate for greater oversight of the role of private corrections companies in government spending agree.
Business and Politics
The alleged activities outlined in the indictment began seven years ago, in November 2007, when Epps signed a no-bid contract with G.T. Enterprises for commissary services at state prisons. That year, McCrory paid Epps $3,000 to $4,000 on about 15 occasions in exchange for the contract that McCrory's company's had with MDOC. That contract was later transferred to St. Louis, Mo.-based Keefe Commissary Network LLC., which resulted in a large profit for McCrory, the indictment states.
Keefe Commissary is a division of St. Louis-based Centric Group, which operates several businesses that provide services to jails and prisons in more than 30 states. Chaired by Andrew C. Taylor, executive chairman of Enterprise Holdings Inc., which owns Enterprise Rent-a-Car, Centric is a privately held firm that reported just over $1 billion in revenues in 2012.
Taylor, along with his father, Jack, who founded Enterprise in 1957, are also influential players in Republican politics. At the federal level, the Taylor family has donated $1 million to various Republican candidates and conservative causes since 2012, including to the presidential campaign of former Massachusetts Gov. Mitt Romney and the National Republican Senatorial Committee, which works to elect Republicans to the upper chamber of Congress.
The Taylors as well as Enterprise Holdings' political-action committee also donate heavily to Republicans at the state level, mostly in Missouri, although campaign-finance records reveal the Taylors have also contributed in other states where they have business interests. Enterprise, Keefe and the Taylors personally represent more than $25,000 in political donations to Mississippi Republicans, including former Gov. Haley Barbour and current Gov. Phil Bryant.
Ann Ponciroli, a Keefe spokeswoman, said the company had no knowledge of his role in the alleged plot before the indictment against McCrory and Epps was unsealed. She added that Centric Group "paid fair market value" to McCrory for G.T. Enterprises and that the company has not been contacted regarding the Mississippi investigation. She also said Keefe ended a consulting agreement the company had with McCrory on Nov. 6.
'Very, Very Corrupt Industry'
The companies connected to McCrory were also involved in Mississippi politics. McCrory, who was a registered lobbyist for several organizations after he lost his seat in the Legislature to fellow Republican John Moore, has also doled out campaign cash. Most of his donations—$5,500—went to Gov. Barbour, while Gov. Phil Bryant and Lt. Gov. Tate Reeves also received payments of $1,500 and $1,300 respectively.
Several other Republican elected officials have received similar donations from McCrory, including Public Service Commissioner Lynn Posey, Transportation Commissioner Dick Hall, Insurance Commissioner Mike Chaney. Former Lt. Gov. Amy Tuck also received contributions from McCrory as well. A search of state campaign-finance records show that Epps made two contributions totaling $225 to former Gov. Musgrove, a Democrat, in 2003.
When the Jackson Free Press asked Reeves' campaign manager, Justin Brasell, about the McCrory donation, he said the lieutenant governor will pass it along as a donation to the Girl Scouts of Greater Mississippi. Bryant told the Associated Press he would make a contribution to the Salvation Army to match the amount he received from McCrory.
With the nation's largest private prison operators earning more than $3 billion in revenue, private-prison and government watchdogs say the opportunity for the brand of corruption alleged against Epps and McCrory is great.
"It's a very, very corrupt industry," said Frank Smith, founder of the Private Corrections Institute, which monitors prison privatization issues around the nation. Smith said the profit motive of private businesses represents a magnet for corruption that doesn't exist in public prison systems.
In 2012, two businessmen in Gainesville, Fla., were sentenced to federal prison for a kickback conspiracy related a prison commissary contract in that state also involving Keefe. In that scheme, federal prosecutors said Edward Lee Dugger and Joseph Arthur Deese paid two high-ranking Florida Department of Corrections officials $130,000 in kickbacks. According to court documents, the FDOC officials arranged for Deese and Duggar to subcontract with Keefe and the men would kickback a portion of the proceeds to the FDOC officials.
The scheme in which Epps and McCrory are accused worked in much the same way.
Sometime in 2008, the feds say, Epps asked McCrory to pay off the mortgage on his home. Between July and October 2008, McCrory purchased two cashier's checks totaling $200,000 payable to Countrywide Bank, which held Epps' home mortgage. Later that year, Epps signed a lease between MDOC and College Street Leasing to operate a new inmate transitional facility in Walnut Grove, Miss., where MDOC has a prison that Utah-based MTC runs.
In 2012, MTC hired McCrory as a consultant earning $12,000 per month. In a statement to news media, MTC communications directory Issa Arnita said the company "hired Mr. McCrory as a consultant because of his many years of experience working in the state." Arnita added that MTC regularly hires consultants in states where they contract.
"At no time did Mr. Epps instruct or mandate MTC to hire Mr. McCrory. In light of the indictment, MTC cancelled its contract with Mr. McCrory last week," Arnita said.
No Oversight
It's unclear when the alleged Epps-McCrory plan might have come to light. Mississippi State Auditor Stacey Pickering said his office began receiving complaints around 201l, including one from the sheriff of Leake County, where Walnut Grove is located. Sheriff Greg Waggoner confirmed that he filed a complaint with the Federal Bureau of Investigation, but did not provide additional details.
Pickering called the charges "a black eye on the state." In the meantime, Gov. Phil Bryant has ordered a review of all MDOC contracts. That includes negotiations on four private prison contracts, which MDOC terminated earlier this year to invite new proposals in hopes of saving money. Utah-based MTC, which had been running the prisons, will continue to manage the facilities under their original contract and plans to rebid if new proposals are sought. MDOC officials said that an initial review resulted in the termination of two contracts with Adminpros LLC, of which McCrory was an owner.
Despite PEER's criticism of Epps' no-bid contract for commissary services in 2011, policymakers failed then to take action on the report. Rick Ward, a former official with the Mississippi Gaming Commission, called PEER, which performs thorough investigations but lacks any enforcement power, a paper tiger.
"The problems is you've got members of the Legislature on the commission—that's like the fox guarding the henhouse," Ward said. "It's a waste of our taxpayer dollars."
This story has been edited to reflect a clarification. A previous version implied MTC would operate four prisons only until a new contract is in place. The company said it would continue operating the facilities and plans to seek a new contract if a new request-for-proposals is issued.
Read more of the JFP's prison coverage at jfp.ms/prisons.
More stories by this author
Support our reporting -- Become a JFP VIP.
The news business has changed dramatically in the past year, and we need your help more than ever to keep bringing you important stories about Jackson and the Metro. Become a JFP VIP with an annual membership or you can Sign up as a monthly supporter. Thanks for anything you can do to empower our journalism!