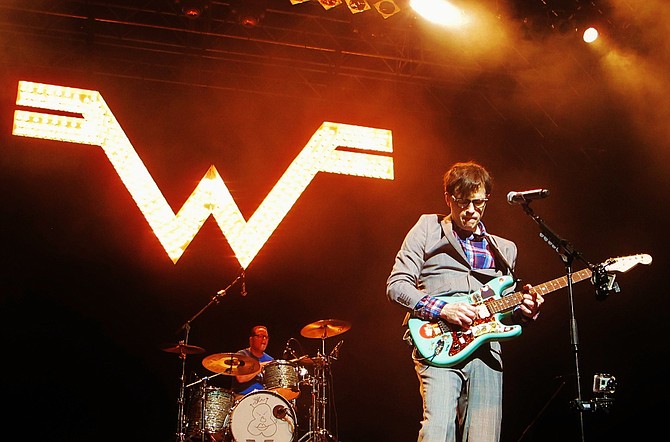 The first time I heard Weezer, the band was a musical guest on "Late Night with Conan O'Brien." I was a freshman at Delta State, and those were good times because bands such as Nirvana opened the floodgates for artists that fit into a broad category called "alternative music" to enter mainstream TV and radio.
Weezer performed "Undone - The Sweater Song," the first single from the 1993 self-titled debut, commonly called "The Blue Album" for its monochromatic cover. I was interested in this odd group and its shy-looking singer and guitarist, Rivers Cuomo, and Weezer's late-night performance successfully planted it in my musical conscious.
Like most college students, I was broke. Buying CDs was a luxury, and the nearest music store to Cleveland was at the mall in Greenwood. Not only did it cost money to buy records, but I also had to drive over half an hour to get them.
Then I heard Weezer's second single, "Buddy Holly," and saw its now iconic video, which features the band performing on the '70s show "Happy Days," thanks to some movie magic. This took the band to a new level for me, and I decided to buy the Weezer record.
On the drive back from Greenwood, I discovered there wasn't a bad song on the entire CD and that Ric Ocasek of The Cars, another band I loved, produced it. The album was filled with crunchy guitars, catchy hooks and dorky lyrics. Needless to say, that first Weezer album became the soundtrack to my freshman year.
The follow-up, "Pinkerton," came in the fall of 1996. The album was critically revered but sold poorly. Cuomo bared his soul to his audience, but by this time, mainstream music abandoned guitar-oriented alternative groups in favor of pure pop sounds such as The Spice Girls.
I was convinced that if Weezer ever released a bad song, the world just might end. Cuomo became invincible in my mind. Then, Weezer disappeared.
In 2001, word came that the band was recording new music. The new CD was also going to be self-titled (now called "The Green Album"), and Ocasek would produce it. By this time, "Pinkerton" had found a following of young people who related to the record's raw angst. The 2001 release stayed away from the edge of "Pinkerton" and reminded folks why they loved Weezer in the first place.
The band followed its triumphant return with plenty of music. While all of them featured gems worthy of the Cuomo songbook, I became less engaged with each passing release. The last two, 2009's "Raditude" and 2010's "Hurley," barely made it past a couple of spins in my CD player. I outgrew my love for Weezer, which made me a little sad.
When the newest album was announced, I gave little more than a sigh. It's called "Everything Will Be Alright in the End," and once again, Ocasek produced it. The first single, "Back To The Shack," is all about how the band lost its way and wished to return to its roots. Could Weezer still be a band that matters to me?
I finally gave it a listen. Then, I listened again. I haven't stopped listening to Weezer's reminder of why the band gained such a faithful following. While it's not the emotional roller coaster of "Pinkerton," "Everything Will Be Alright in the End" is a great rock album chock-full of big, distorted guitars, goofy lyrics and catchy melodies, which sound familiar in the best way imaginable. In the end, I didn't outgrow this band I've loved for 20 years.
I was just waiting for them to return, like prodigal sons, to the excellence that made me drive 30 minutes to Greenwood, hand my only money to a cashier and say, "I want to buy this Weezer album."
More stories by this author
Support our reporting -- Follow the MFP.