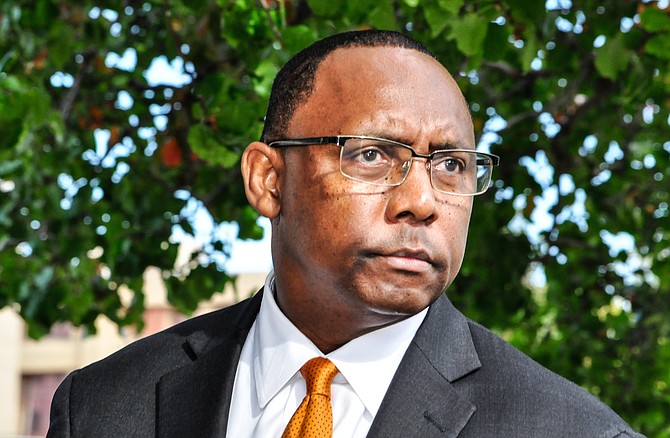 Christopher B. Epps, the former director of Mississippi's prison system, sat in federal courthouse as some of the people around him made small talk, some even joking about the charges Epps faces.
Those charges are outlined in 21-page federal indictment alleging that Epps and Cecil McCrory, a Rankin County businessman and former school board president, had what one federal official called a decade-long "criminal partnership."
The indictment, unsealed this morning, alleges that McCrory gave Epps "bribes and kickbacks in exchange for Epps steering business to McCrory's companies that contracted with the Mississippi Department of Corrections.
At their arraignment before U.S. Magistrate Judge Keith Ball, both Epps, 53, and McCrory, 52, pleaded not guilty on all counts. Each defendant was released on a $25,000 unsecured bond and was required to surrender their passports. If convicted on all counts, the terms could run consecutively meaning that Epps faces up to 388 years in prison; McCrory could serve 210 years.
Neither defendant gave statements in the courtroom or to reporters after the hearing. John M. Colette, Epps's attorney, said he had not fully reviewed the lengthy indictment and also declined to answer reporters' questions outside the federal courthouse.
Gregory K. Davis, the U.S. Attorney for Southern Mississippi, recused himself from the proceedings for undisclosed reasons. Harold Brittain, the acting U.S. Attorney in this case, declined to comment on Davis' recusal.
Brittain said the indictment reveals "systemic, invasive corruption" at the MDOC, which has one of the largest budgets of any state agency
"Our tolerance for public corruption is zero," Brittain said.
The federal indictment alleges that Epps accepted more than $700,000 in bribes from McCrory. The indictment, unsealed Thursday in U.S. District Court in Jackson, also charges McCrory of Brandon and says that he paid Epps to obtain contracts for himself and other companies.
The charges outlined in the indictment began seven years ago, in November 2007, when Epps signed a no-bid contract with G.T. Enterprises for commissary services at state prisons.
That year, McCrory paid Epps $3,000 to $4,000 on about 15 occasions in exchange for the contract that McCrory's company's had with MDOC. That contract was later transferred to St. Louis-based Keefe Commissary LLC., which resulted in a large profit for McCrory, the indictment states.
Sometime in 2008, Epps asked McCrory to pay off the mortgage on his home. Between July and October 2008, McCrory purchased two cashier's checks totaling $200,000 payable to Countrywide Bank, which held Epps' home mortgage. Later that year, Epps signed a lease between MDOC and College Street Leasing to operate a new inmate transitional facility in Walnut Grove, Miss., where MDOC has a prison that is privately run.
Mississippi State Auditor Stacey Pickering said his office began receiving complaints around 201l, including one from the sheriff of Leake County, where Walnut Grove is located. Sheriff Greg Waggoner confirmed that he filed a complaint with the Federal Bureau of Investigation, but did not provide additional details.
Pickering called the charges "a black eye on the state."
In the meantime, Gov. Phil Bryant has ordered a review of all MDOC contracts. That includes negotiations on four private prison contracts, which MDOC terminated earlier this year to invite new proposals in hopes of saving money. Utah-based MTC, which had been running the prisons will continue to manage the facilities until a new contract is place.
MDOC officials said that an initial review resulted in the termination of two contracts with Adminpros LLC, of which McCrory was an owner.
More stories by this author
Support our reporting -- Follow the MFP.