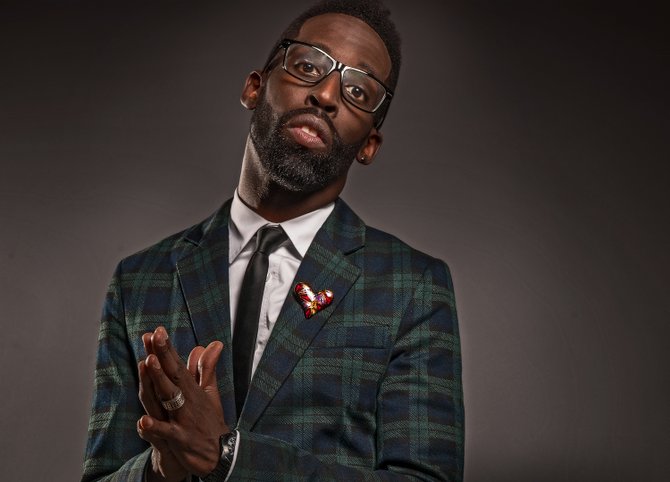 Although it was Grammy night and Tye Tribbett had been nominated in three categories, he didn't expect to win, especially after being asked to present at the event. But during the pre-telecast portion of the awards ceremony, Tribbett garnered two of the coveted trophies. He first won Best Gospel Song for "If He Did It Before ... Same God" from the self-produced 2013 album, "Greater Than." The album itself earned Best Gospel Album, his second win of the evening. Grammy night also happened to be Tribbett's 38th birthday—and what a way to celebrate.
Tribbett grew up in Camden, N.J. His father was a pastor, and his mother, Niecy, is currently a gospel DJ at Praise 103.9 in Philadelphia, Pa. A skilled musician from an early age, Tribbett assembled the contemporary gospel group Tye Tribbett & Greater Anointing in 1996 with family and friends. Featured on "The Prince of Egypt" inspirational album in 1998, the group was catapulted into mainstream music. By 2000, the group was touring with stars such as Faith Hill and Tim McGraw, Will Smith, Jill Scott, Justin Timberlake and Elton John.
Tribbett went solo in 2010, and his popularity continues to soar. He has more than 650,000 followers on Twitter and Facebook, and the video for the single "If He Did It Before ... Same God" has more than 1,000,000 views on VEVO alone.
He told philly.com reporter Dan DeLuca that he plans to write a book aimed at young believers in today's culture, and he eventually wants to dabble in TV and Broadway production.
Despite possessing the prestigious awards, Tribbett says that the wins won't change him, but they might change people's perception of him. "Now my words, my voice, my music have just a little bit more potency, a little more relevance and importance," he said.
Tye Tribbett performs at 7 p.m. March 29 at the Jackson Convention Complex (105 E. Pascagoula St., 601-969-0114). Willie Moore and Alreddy Reddy also perform. Doors open at 6 p.m. Tickets are $30 in advance and $35 at the door. VIP Meet and Greet tickets are $40. Visit itickets.com.
Support our reporting -- Follow the MFP.