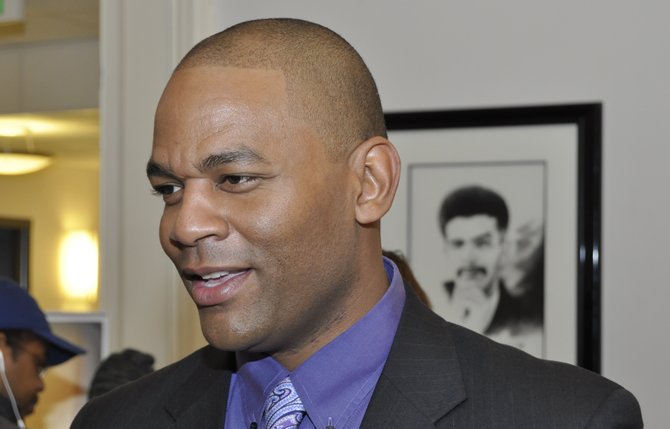 In a scene reminiscent of the dramatic cable series "The Wire," Ward 4 Councilman De'Keither Stamps invited potential mayoral contenders and city contractors to a City Hall press conference this morning to kick off a week of prayer and discernment.
Stamps, a first-term councilman, stressed the importance of a discernment, which in a biblical context means "perception in the absence of judgment with a view to obtaining spiritual direction and understanding."
In other words, he wants Jacksonians to think long and hard before backing a candidate to replace the late Mayor Chokwe Lumumba.
Stamps stated this morning that he would not seek the mayor's seat for himself. However, state Sen. John Horhn, who ran unsuccessfully for mayor in 2009, did stand with Stamps at the morning press event. Horhn also deflected questions about whether he would toss his name in the hat, saying he would not speculate in order to be respectful of Lumumba, whose funeral services take place this weekend. David Archie, who has run for several offices in recent years, also attended the news conference.
Fans of "The Wire" might remember that during a mayor's race dramatized on that show, the incumbent refused to accept political donations from individuals who also gave money to his opponents. Through that lens, today's event could be seen as an opportunity for candidates to size up their competitors and give people doing business with the city a chance to pledge allegiance early.
Stamps, speaking next to a portrait of Lumumba, also said that he would prefer a smaller rather than larger pool of candidates or to coalesce around one individual in order to build on the progress Lumumba started.
Specifically, Stamps pointed to the city settling lawsuits with Jackson Public Schools over millage rates and a Jackson Police Department officer who had sued to recoup overtime pay, as well as moving forward with developments such as the District at Eastover, the Westin Hotel and The Iron Horse Grill. Between rate hikes on water and sewer bills and the recent implementation of a one-percent local option sales tax, Stamps said the city had raised approximately $1 billion in revenues.
"We're the kingdom of Mississippi," said Stamps, who as usual was dressed in royal purple, referring to Jackson. "We're royalty."
Last night, at a Jackson City Council meeting, the members set the date of the special election for the late mayor's seat as April 8, 2014.
Stamps and Ward 1 Councilman Quentin Whitwell wanted the election held on April 15 to allow more time for preparation.
However, Ward 6 Councilman Tony Yarber and Ward 7 Councilwoman Margaret Barrett-Simon wanted April 8, so it didn't conflict with tax day. Melvin Priester Jr., city council president since Lumumba's death, served as the tie-breaker.
"I just think the people of Jackson want to resolve this sooner rather than later," Priester said.
The council also set a special election runoff, if needed, for April 22. The city clerk's office will accept absentee ballots from Saturday, March 29, to Saturday, April 5.
The qualifying deadline for mayoral prospects will be 5 p.m. on March 19.
Yesterday, the Jackson Free Press broke the news that a campaign is coming together to draft Lumumba's son, Chokwe Antar, to run for mayor.
The Council also announced that Lumumba's body will lie in state in City Hall Friday, March 7, from 11 a.m. to 3:30 p.m.; 5 p.m. to 7 p.m. for the public; and 7 to 9 p.m. for family only.
Council members stressed that voter ID would not be required for the election.
More stories by this author
Like independent media outlets around the world, the Jackson Free Press works hard to produce important content on a limited budget. We'd love your help! Become a JFP VIP member today and/or donate to our journalism fund. Thanks for considering a JFP VIP membership or one-time support.