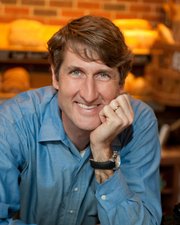 To be a competitive, thriving and, yes, happy city, Jackson needs to address two categories of infrastructure: the one that moves things between people, and the one that moves things within people. The City will address the former by rebuilding our road and water systems through the 1-percent hike in sales tax. That's actually the easy part. The greater challenge is to rebuild and develop our human capital.
My business partner, Dan Blumenthal, and I run three restaurants in Jackson through a management company called Mangia Bene. Collectively, our restaurants employ more than 200 individuals. We feel blessed for our good fortune, but we also have arrived where we are through hard work, some risk-taking and learning from our mistakes.
Local businesses and individuals approach Dan and me almost daily seeking to learn from our success—and perhaps from our failures. We are happy to oblige and consult. But at the end of the day, these parties have to forge their own success—often through failing a few times first. The most important thing, however, is that they have the opportunity to reach for success, learn through experience and reach again.
For some, that "reaching for success" might just be a first job or a chance to start fresh. Others need deeper training in life skills and job preparedness. We hire and train as many folk as we can, but not without bumps. There are some things we just cannot teach within a standard work environment.
Jackson needs workforce training. That training must come from content experts in the business world working strategically with support services in the nonprofit and civic arenas. Business leaders and civic leaders need to anticipate the areas of industry that will dominate our economy over the next 50 years and prepare our citizens to manage it. That means that in addition to teaching specific skills of a trade, we must teach more general skills of problem solving, project management, sequential planning, creative thinking, and collaboration that will develop an innovative, flexible and resilient workforce.
Where do we start, and what industries should we prepare for?
Our country is seeing exponential growth in the demand for healthy food grown by local farmers using sustainable methods. Regrettably, Mississippi lags the nation in embracing this trend and in growing what we eat. We produce soybeans, corn, cotton, and pine—but the people of our state lose more than $8 billion every year by importing our actual food and agricultural inputs from outside the state.
Meanwhile, we lead the nation in heart disease, obesity and diabetes. The issues of our health, our reliance on imported food and our prosperity are intimately related. But they are not issues without solutions. We need only look within our borders to find 
the resources.
There are more than 1 million acres of farmable land in Mississippi not currently in production. Many of those acres are right here in Jackson, occupying blighted land. We need an economic renaissance rooted in local food production, distribution, processing and retailing. We need an urban-farming movement where individuals can secure blighted or abandoned property, receive hands-on training and technical support, and get access to start-up funds. We need transportation and distribution businesses to move product from farms throughout the region to our own tables. We need a processing infrastructure to help emerging culinary artists develop and market new food products. We need to recognize that the new mode of small entrepreneurial farming is a key component of our creative economy that builds on the positive parts of our state's agricultural tradition and rejects the negative parts.
Jackson should grow from within. To do so, we need to align the infrastructure that moves things between people with the one that moves things within people. As we spend our newfound sales tax money on rebuilding our road and water systems, we must simultaneously focus on the people, the industries and the ideas that those systems are connecting. Let's develop a creative and skilled workforce that can feed our city and those who visit us.
Let's build for our future as we continue to rebuild from the past.
Jackson Free Press readers named Jeff Good as Jackson's Best Visionary among other awards this year.
More stories by this author
Support our reporting -- Follow the MFP.