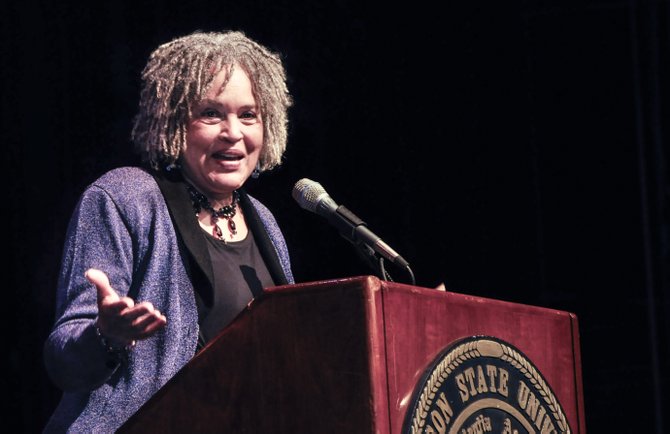 After Charlayne Hunter-Gault integrated the University of Georgia in 1961, she was naturally swept up in the tumult of the Civil Rights Act and wanted to join her fellow student activists in protesting against Jim Crow.
She was advised against directly participating in acts of civil disobedience, however, lest her arrest give university officials an easy excuse to kick one of their fist two black students out of school.
So she became a journalist, writing about the movement and covering the Atlanta demonstrations that often ended with the arrests of the participants.
These included the Rev. Martin Luther King Jr.
Today, at the 45th Annual Dr. Martin Luther King, Jr., Birthday Convocation at Jackson State University, Hunter-Gault called King's values—love, peace and justice to name a few—a suit of armor that enabled him to "keep on keeping on to find a better way."
Hunter-Gault's journalism career has spanned 40 years, and included stints with the New Yorker, The New York Times, CNN and National Public Radio. She also lived in South Africa for 16 years, during which time she served as Africa correspondent for Essence magazine.
Organized by the Margaret Walker Center, the convocation kicked off today with greeting from Jackson Mayor Chokwe Lumumba, who stressed the partnership that the city is undergoing with Jackson State.
Lumumba quoted writer and psychiatrist Frantz Fanon, saying that each generation must discover its own mission that is based truth and certainty and "unclouded by fables and fantasies of the past."
Said Lumumba: "We're at a point in history when the people must be in control of the government."
More like this story
More stories by this author