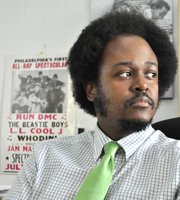 Sitting across from me in a booth at a TGI Friday's in the fall of 1996, around the time of my 18th birthday, my mother and aunt were like giddy schoolchildren. "You tell him," they went back and forth for a few nudges. Finally, they broke the big news: I was going to have a baby brother.
Joshua was born the following June, just a couple days after I graduated from high school. I remember thinking then that by the time this baby graduates from high school, I would be an ancient 36 years old.
That day has arrived. In a couple of months, Josh will graduate from high school—from my alma mater—and go off to college. He is a living, breathing reminder of my own mortality. Each of his birthdays is a reminder of how many years have passed since my final year in high school.
Naturally, he is also the frame for much of my thinking about the killings of Trayvon Martin and Jordan Davis.
At 17, Josh is the same age and shade of brown as those boys were when they were killed. Like those boys, Josh is baby-faced and slender. Like those boys, Josh has a mom and dad who have provided a safe home in a neighborhood that afforded him the opportunity to receive a good education. Like those boys, Josh is a black American teenager who listens to hip-hop music and sports hoodies. And, like those boys, my brother sometimes talks back to adults.
In black culture, parents raise children never to challenge authority by talking back. The reasons are complicated. Part of it goes back to the days of slavery and Jim Crow, when questioning white authority figures could result in whippings or lynching for black transgressors. That mentality, beaten into black people over several generations, has remained a fixture of the African American psyche to this day.
Many people say that's for good reason. Stepping outside the social order is what put Emmett Till's body in the Tallahatchie River after all. Likewise, challenging white men who clearly believed their authority over black bodies to be unquestionable, is what also killed Trayvon Martin and Jordan Davis.
In Martin's case, he was on his way home from the store with snacks and talking to a friend on his cell phone when he realized that neighborhood watchman George Zimmerman was in pursuit. Martin dared to question the then-28-year-old Zimmerman: "Why are you following me?" Minutes later, Martin was dead, killed in what Zimmerman claimed—and a Florida jury agreed—was self-defense.
Later that same year, and in the same part of Florida, Jordan Davis also talked back to a middle-aged white man named Michael Dunn, who was annoyed at the volume of the so-called "thug music" blaring from the car where Davis was a passenger. Dunn demanded the boys turn the music down; Davis cursed at Dunn in defiance, and also lost his life for it.
Zimmerman and Dunn each claimed self-defense. But they were really defending the social order that says failure to wholly submit to white supremacy is punishable by death.
Michael Dunn's trial concluded this past weekend with his conviction on four of the five charges he faced for indiscriminately shooting at Davis and his friends. The judge declared a mistrial on the most serious charge of first-degree murder for killing Jordan Davis.
Even though Dunn could receive a sentence of 60 years in prison for all his other convictions—an effective life sentence for the 47-year-old man—the response to the verdict was, understandably, a refrain of the anger and hurt that many people felt after the Zimmerman verdict.
The writer and academic William Jelani Cobb put it best: In the present incarnation of the American criminal-justice system, prosecutors always "seem to have the wind at their backs" when the defendant is African American. Just look at incarceration rates for black males for evidence of how efficient prosecutors are when it comes to locking up black folks. However, Cobb said, when the accused is white, we hold our collective breath, unsure of which way the winds of justice will blow.
Whether or not black boys deserve to live for failing to remember their place is a legitimate conversation, one that we keep having over and over without ever stopping to consider the absurdity of it.
Reaction to the Michael Dunn verdict in my own peer group of 30-something-year old African American professionals was even more confounding to me. In more than one social-media thread, there were people arguing that had Jordan Davis's parents done a better job of teaching him to hold his tongue and not talk back to people like Dunn, the boy might still be alive. (Similar things were said about Till's flirtation with a white woman, by the way).
Someone brought up the story of Adrian Broadway, a 15-year-old black girl recently shot and killed by an Arkansas man after passengers of the car Broadway was riding in pelted the man's house with eggs. "Well, they were in the wrong for vandalizing his property," wrote a friend of a Facebook friend.
In other words, the argument is that when a kid does the wrong thing, it's understandable to kill them. Like everyone who has young people in their lives they love, it is terrifying to me that someone might gun down my baby brother for participating in a senior-year prank or for mouthing off to some cranky guy at a gas station.
In times of tragedy, it's more comforting to blame ourselves for not teaching our kids to do the right thing than to know we are powerless to control the actions of madmen like Dunn and Zimmerman. That is delusional. Since African Americans were first brought to this country, training black children to dare not stray from their positions of inferiority doesn't seem to have done much good. The legacy of lynching in this country proves that.
I refuse to go back to the days of teaching black children to step off the sidewalk for white people or to refrain from "eyeballing white women" because it might get them killed.
Those days are over.
I want Josh and his peers, whose generation, whether we like it or not, will one day be responsible for our republic, to revel in their youth, which means talking back and asking questions, challenge authority and to speak out against injustice and unfairness where he encounters it, even if it comes in the form of a madman like Michael Dunn.
Our lives depend on it.
More stories by this author
Support our reporting -- Become a JFP VIP.
The news business has changed dramatically in the past year, and we need your help more than ever to keep bringing you important stories about Jackson and the Metro. Become a JFP VIP with an annual membership or you can Sign up as a monthly supporter. Thanks for anything you can do to empower our journalism!