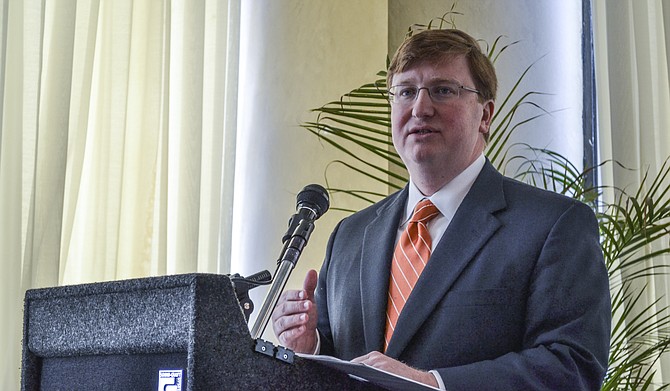 Mississippi's second-highest elected official says that Mississippi needs to spend its money responsibly on "investments that matter" instead of focusing on more money to "do something for our kids" as other politicians urge.
Lt. Gov. Tate Reeves started by promising the Stennis Press Forum at the Capital Club Monday that he was going to talk policy—not politics. He spoke in a calculated way, reading from his notes and emphasizing words with the cadence of a robot as he extolled the virtues of charter schools and vouchers, and said he would work to stop Common Core in the state.
Reeves focused his speech on education, but started by saying that when Mississippians are asked what the state should prioritize, the answer is always job creation. Creating jobs, Reeves said, requires two ingredients: a balanced budget and a strong workforce.
"Those two things are not mutually exclusive," Reeves said. "Too often politicians have come here ... and told you that we had to spend more money ... because we had to do something for our kids. I believe we're on a path in Jackson to be responsible with our money and spend it on investments that matter."
Reeves said the state has increased education spending by a quarter of a billion dollars in the past three years—but the Legislature has still shorted the Mississippi Adequate Education Program of those years. State law requires that MAEP be fully funded each year in order to ensure that all public schools in the state get at least "adequate" education funding.
Reeves touted the third-grade reading gate, a $3,000 teacher pay raise starting in July 2015, and future efforts for school vouchers, citing the special-education savings account bill that failed last year. He also cited the new charter-school law, which he said "allows those schools to open where parents want better opportunities for their children."
"One of the reforms of which I am most proud is the one that provides parents with a say in their children's education," Reeves said. "The (charter-school) law isn't exactly what I wanted. But it's a good start to true choice in education."
Reeves said he will push for "school choice" in the 2015 legislative session, especially for special-needs students, who he said have a graduation rate of just over 20 percent, and greater investment in public schools.
"At this point, revenues appear strong, and based on the first five months of this fiscal year, I believe we will be in a position to significantly increase education funding, including MAEP, in the 2015 legislative session. My goal for next year's budget, is to have appropriated more money for Mississippi's public education than ever before in the history of our state," Reeves said.
Reeves raised eyebrows in the room when he began to talk about his disapproval of Common Core, which he believes is an overreach by the federal government. "What started as a state-led initiative has been hijacked by the Obama administration," Reeves said.
"I will support legislation in the next session to end Common Core in our state, but it is not enough to just be against Common Core," Reeves said.
Reeves said he plans to help form a task force made up of parents, teachers, administrators and subject-matter experts to create a set of standards for students. "I will challenge this task force to present a plan that aims high," Reeves said.
He said he wants the testing standards to focus on measuring how well students think and not rely on rote memorization, which Common Core standards reject.
A joint statement released by State Board of Education Chairman Dr. John Kelly and State Superintendent of Education Dr. Carey Wright after the form urged concern about "changing the playbook in the middle of the game" when it comes to educational standards.
Getting rid of the current system adopted in 2010, Kelly and Wright say, would be difficult and expensive. Plus, they reject the idea that the standards they have implemented are a result of government overreach.
"We understand that the term 'Common Core' has become a lightning rod in some political circles, and as a result, has become attached to an unprecedented level of misinformation," the statement reads.
Grant Callen from Empower Mississippi said he enjoyed Reeves' presentation, adding that "school choice" should be a priority.
Patsy Brumfield from Better School Better Jobs characterized the 40-minute talk, coincidentally, as a political speech. The fact that Reeves said the state would fund public schools more than ever before, she notes, isn't saying much, considering the state has been underfunding public schools almost every year in its history.
"It wouldn't take much," Brumfield said, to give more money to schools than the state has in the past.
More stories by this author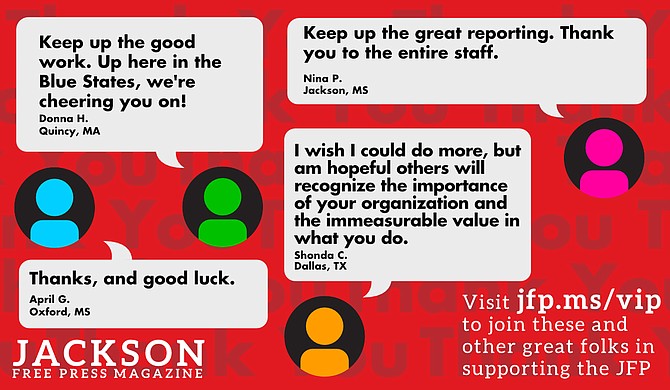 Thanks to all our new JFP VIPs!
COVID-19 has closed down the main sources of the JFP's revenue -- concerts, festivals, fundraisers, restaurants and bars. If everyone reading this article gives $5 or more, we should be able to continue publishing through the crisis. Please pay what you can to keep us reporting and publishing.