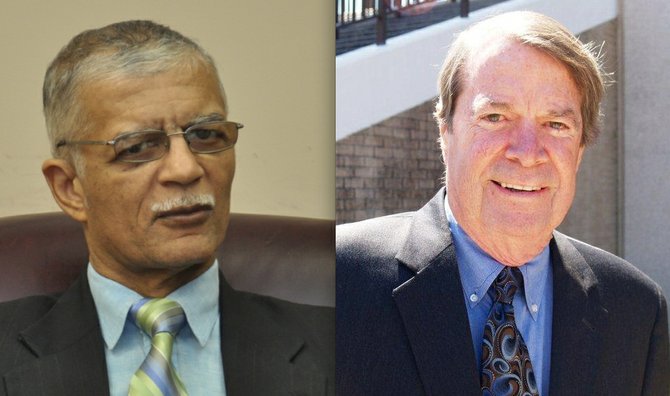 The people—it's a current that ran through the career of late Mayor Chokwe Lumumba and continues in the work of Michael Raff.
Raff, the deputy director of the Department of Human and Cultural Services for the City of Jackson, is a lifelong civil-rights advocate who first came to Mississippi as a priest and became a vocal critic of the Vietnam War. Lumumba's activist career also started in the '60s, soon after the assassination of Dr. Martin Luther King Jr., and led him to a career practicing law and specializing in human-rights cases.
Their paths overlapped, most recently when Lumumba became Jackson's mayor and Raff was charged with overseeing $5 million worth of renovations at Thalia Mara Hall.
Raff and Lumumba understood the value of making the upgrades, each pointing to the $10 million in economic activity the USA International Ballet Competition generates for Jackson's economy.
On Saturday, April 19, the racial-harmony-focused Jackson 2000 celebrates its 25th anniversary, and will honor Raff and, posthumously, Lumumba, who died in February.
A Sioux City, Iowa, native, Raff came to Mississippi in the mid-1960s and planned to spend just one summer here working on civil-rights issues. Raff graduated from Notre Dame and seminary in Missouri and became a priest in Ocean Springs and, later, in Jackson, but left the priesthood to start a family.
Lumumba also came to Mississippi to advance human rights with the Provisional Government of the Republic of New Afrika, of which he was vice president. The RNA aimed to create a new nation, helmed by black leaders and situated in the American South. Lumumba returned to his native Michigan to complete law school and also started a family with his wife, Nubia. In the mid-1980s, the Lumumba settled in Jackson permanently with their daughter, Rukia, and young son, Chokwe Antar, who is currently a candidate for mayor.
Separately, Raff, the Lawyers Committee and other activists created the Mississippi Legal Services Coalition in 1978 to provide legal advocacy for low-income people. Raff also helped form the Southern Coalition on Jails and Prisons, which wanted to abolish the death penalty, end mass incarceration and protect the human rights of incarcerated people. Raff also developed a 10-year plan to end homelessness, which he presented to city officials in 2006.
In the courtroom, Lumumba represented such defendants as the 1981 Brinks armored-car robbery, organized by a group called the Black Liberation Army. Lumumba's clients also included Assata Shakur, who remains exiled in Cuba, Assata's nephew Tupac Shakur, a hip-hop star who was murdered in 1996, and Mississippi's Jamie and Gladys Scott. The Scott sisters became an international symbol for the injustice of U.S. courts when they were convicted and sentenced to life imprisonment for an armed robbery that netted a small amount of money, just $11 by some accounts.
In 2009, Lumumba won a seat on the Jackson city council and, four years later, won election as mayor. Eight months later, Lumumba died at age 66.
Jackson 2000's semi-formal Friendship Ball takes place at the Mississippi Museum of Art (380 South Lamar Street) Saturday, April 19, at 7 p.m. Tickets cost $30; visit www.jackson2000.org for more information.
More stories by this author
Support our reporting -- Follow the MFP.