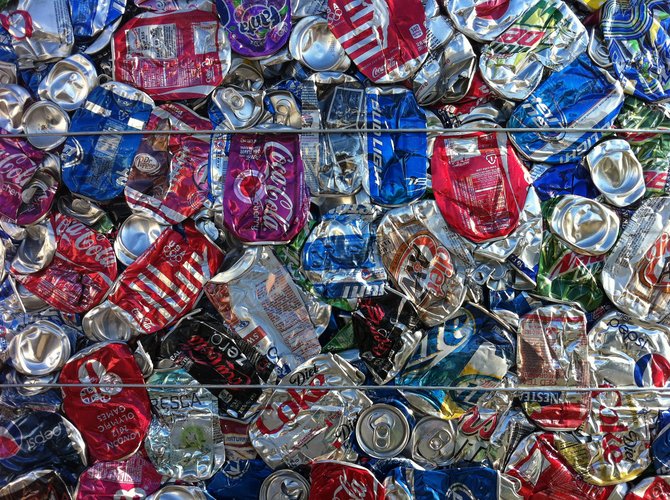 In the two decades since he arrived from California, Luke Lundemo has witnessed, and been part of, a vast improvement in the capital city's recycling ethic.
In that time, the city started offering curbside pickup of recyclable materials such as plastic containers, glass, and newsprint and other paper. Businesses, including Rainbow Natural Grocery Cooperative, where Lundemo is chief executive officer, began facilitating the hauling of Jackson's recyclables to materials-recovery facilities, or MRFs, as far away as Texas.
That could mean there's a business opportunity for a local materials-recycling center.
"If we have someone local, the market is huge," Lundemo said.
Jackson tops no lists of America's greenest cities, but given the lack of recycling infrastructure and a stated commitment from government officials including Mayor Chokwe Lumumba—who campaigned on developing a green culture—the capital city could be ripe for a green revolution.
Recycling may not be as profitable as diamond mining, but data show that there's plenty of gold in empty plastic bottles, paper and other products that mostly end up in landfills when they could be reprocessed into new goods. And, unlike digging for diamonds, recycling is a sure thing.
U.S. Environmental Protection Agency information from Oct. 2011 shows that recycling materials recovery is a $236 billion industry that directly employs 1.1 million workers. Another 1.4 million jobs are tied to recycling.
To date, the South has not cashed in on this growing industry. Most of the nation's largest recycling centers are located in dense urban areas outside of the South. None of the nation's 75 largest MRFs are located in the southeast, and the closest facility to Jackson is in the Dallas metro.
Some companies recognize that Mississippi's market is wide open. Tampa, Fla.-based Commercial Plastics Recycling Inc. announced an expansion into Bay St. Louis with a 30,000-square-foot facility in late July. Paul Benveneti, a purchasing and sales manager with CPR, said the recycler's existing relationships with petrochemical companies combined with what he calls a sea change in attitudes about recycling helped solidify the company's decision to enter Mississippi.
"As economic drivers make recycling even more important, the environmental effects that will come are beneficial as well. But the economics of it are changing and companies are looking at recycling as not only the right thing to do thing, but also a smart business decision," Benveneti said.
Some of that change in thinking occurred during the Great Recession, when companies were looking for creative ways to cut their bottom lines. With landfill fees ranging between $20 per ton in states like Mississippi to more than $100 elsewhere, it started making sense to remove as much recoverable material as possible. Likewise, builders and manufacturers wanted to lower the costs of raw materials used to make floor tiling, countertops, bricks, roofing and landscaping material.
Today, the value of scrap aluminum is about $1,500 per ton, $350 per ton for scrap PET (e.g. plastic soda bottles) and HDPE (e.g. plastic milk jugs) and $3 per ton for glass.
Lately, Jackson's recycling culture has taken a hit with the closure or scaling back of two local recyclers. In August, Global Plastics Recyclers on Palmyra Street closed its doors. Global, which reopened briefly after a warehouse fire this spring, became the only place to recycle glass after Rainbow ceased its glass-recycling program in 2012. Another company, Recycling Services Inc., on Mill Street in midtown, accepted paper and plastic recycling from the public but was cited for city and state environmental health violations, and remains closed.
Still, with curbside recycling pickup only available to residential trash customers in Jackson—apartment buildings and complexes are commercial businesses and, therefore, do not receive recycling services—Jackson's environmentally minded citizens now have few choices but to throw many recyclables in with the rest of the garbage.
During his campaign earlier this year, Mayor Lumumba said he wanted to grow the city's green economy. He pledged that once elected, he would launch a citywide cleanup effort.
Latrice Westbrooks, Lumumba's spokeswoman, said plans to roll out the trash pickup campaign are still in the works and would include a recycling component.
"Recycling is important, and the city is encouraging people to recycle," Westbrooks said.
Recyclers in Mississippi are hoping that the recycling ethic continues to get stronger as people become more eco-conscious. CPR's Benveneti said consumers increasingly want the products they purchase to be environmentally sustainable, which is driving the demand for recycled materials.
"There's money to be made," Benveneti said.
Jackson residential garbage customers can call the city at 601-960-0000 to request up to two bins for curbside pickup of paper and plastic. Glass recycling is not available at this time.
More stories by this author
Support our reporting -- Become a JFP VIP.
The news business has changed dramatically in the past year, and we need your help more than ever to keep bringing you important stories about Jackson and the Metro. Become a JFP VIP with an annual membership or you can Sign up as a monthly supporter. Thanks for anything you can do to empower our journalism!