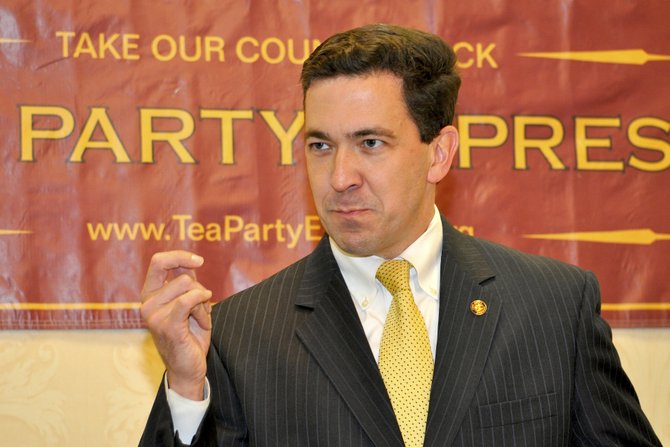 Sen. Chris McDaniel's announcement yesterday that he will run for U.S. Congress in 2014 was more or less a formality.
McDaniel, a Republican from Ellisville, has been carefully polishing his resume for months, which includes forming an 11-member conservative coalition in the Mississippi Senate. Also, McDaniel's Wikipedia page was updated 67 times in April 2013. By contrast, Lt. Gov. Tate Reeves' page has had 12 edits all year long.
In September, McDaniel participated in one of the stops on the Tea Party Express' nationwide bus tour that took aim at congressional Republicans the group believes have done too little to oppose President Barack Obama. That group includes Sens. Roger Wicker and Thad Cochran. Cochran's term expires in 2014, but he has committed to neither running nor retiring.
McDaniel's decision to run would pit him against Cochran should the senior senator decide to pursue another six-year term.
"I respect him. I grew up admiring him," McDaniel said of Cochran Thursday as 300 to 400 people sat in lawn chairs or stood under Magnolia trees outside the Ellisville courthouse.
Cochran turns 76 in December and is expected to announce late this year whether he'll seek re-election to the Senate seat he first won in 1978. However, he has been raising money. Records filed this week show Cochran has $803,907 in campaign cash on hand, and he has held fundraisers this year in Mississippi and Washington, D.C.
McDaniel, 41, announced his intentions during a speech on the courthouse lawn in his hometown of Ellisville. McDaniel mentioned Cochran briefly during his 20-minute speech.
However, McDaniel criticized Cochran for voting Wednesday night to support a deal to reopen the federal government. McDaniel said conservatives should not compromise.
"I've got 17 trillion reasons not to compromise," he said, referring to the federal debt ceiling, which recently became a point of contention that caused a partial federal government shutdown.
Cochran served six years in the U.S. House of Representatives before becoming the first Republican since Reconstruction to win a statewide office in Mississippi when he was elected to the Senate. He is a past chairman of the Senate Appropriations Committee, bringing billions of federal dollars to the state for Hurricane Katrina recovery and other projects. He is currently the top Republican on the Senate Agriculture Committee.
Cochran was born in Pontotoc and grew up in Hinds County. He now has a home in Oxford.
If Cochran seeks re-election, many Republicans and Democrats say he would be difficult to defeat. If he decides not to run, the Senate race could attract several candidates who would see an open seat as a rare opportunity to run for an influential job.
Henry Barbour of Yazoo City, a member of the Republican National Committee, agrees that Cochran is formidable.
"Senator Cochran has earned Mississippi's trust through years of conservative leadership. He's one of the few statesmen in Washington and was critically important for Mississippi after Hurricane Katrina. He's respected by all but a handful of Mississippians. And one of them has decided to run against him," Barbour told the Associated Press.
In his speech, McDaniel said he wants to restore the Constitution, which he said is being ignored, as well as reduce federal spending and repeal the Affordable Care Act.
The Associated Press contributed to this story.
More stories by this author
Support our reporting -- Follow the MFP.