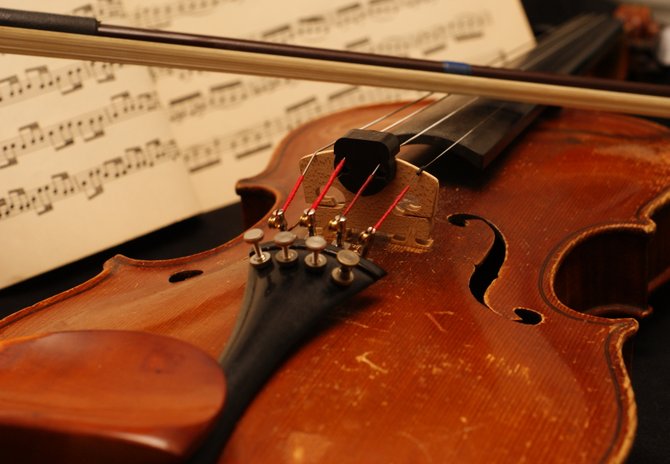 A good chance exists that Omega Hart's sons will be talented musicians merely through exposure to their musical father, who has played lead bass in Jackson bands and has toured nationally.
Two years ago, Hart's now 7-year-old son, Khai Alexander, wanted to learn the violin even though he was already learning the piano. Hart gives a lot of credit to Jackson Public Schools' 40-year-old Strings in the Schools program for providing a structured environment where his sons' talents can flourish.
"I think the program is something that is very much needed," Hart said. "It builds confidence, and studies show that studying music translates into better grades."
A partnership between the school district and the Mississippi Symphony Orchestra, Strings in the Schools offers free music instruction for students as young as 5 at some schools all the way through high school.
The MSO also performs regular concerts at JPS schools as a way to introduce children to orchestral music.
But the popular program may be in peril—again. The Strings program has yet to commence this academic year, and parents of children who look forward to the classes say JPS has offered few answers.
In 2009, the JPS Board of Trustees voted to slash Strings before eventually reinstating the program amid a chorus of outrage from parent groups. At issue then was the $300,000 contract between JPS and the MSO. Parents say JPS again threatened to dismantle Strings in 2012, but the district kept the program in place.
Sherwin Johnson, a JPS spokesman, said the district intends to have Strings this year, but is awaiting a response from MSO. Michael Beattie, the symphony's president and executive director, did not respond to an interview request from the Jackson Free Press.
"With a long-standing partnership of well over 40 years, the District wishes to continue the Strings in the Schools program. We hope to hear from the executive director soon so that district leadership may present the MSO's program to the Board of Trustees for approval during its first board meeting in November," Johnson added.
Whatever issues might exist between the organizations, it is clear is that Strings is an extremely popular program among parents and students, and its benefits surpass merely teaching tykes how to play the fiddle.
JPS' 2012 internal evaluation rated the program as exemplary, meaning it is "a commendable program model that is highly effective in meeting its program goals and learning outcomes and is recommended by the program administrator for continuance."
The evaluation shows enrollment doubling since the 2008-2009 school year, jumping to 841 students in 2011-2012 from 395 three years earlier. Fueling the expansion is elementary-school participation, which went from 300 students in 2011-2012 to 750 in 2009-2012. Middle and high-school enrollment largely remained fairly constant during that period.
Still, overall participation among JPS' 30,000 students is low; less than 3 percent of kids take advantage of the program. The JPS evaluation, which included input from the MSO, recommended expanding the number of students, teachers and public outreach about Strings, and an internship program with Jackson State University.
Robert Blaine, a professor of music and special assistant to the provost at JSU, said that learning an instrument doesn't make kids smarter per se, but he points to brain science that shows studying music helps expand neural pathways.
Also, learning an instrument, fosters discipline that comes in handy later in life when kids start doing algebra and writing essays.
Blaine, who oversees the JSU orchestra, said half of those students are high achieving, and many have received academic scholarships.
"It's the level of their discipline that makes them successful in other academic studies," Blaine said.
Phyllis Lewis-Hale teaches opera at JSU, and both her children participate in Strings. Good grades aside, she believes music and playing in an orchestra helps develop social skills. Her kids hang out with kids who are also into music.
"The ensemble experience is something that teaches working together, cooperation and unity," she said.
She adds that it's unlikely that many JPS students would have exposure to the orchestra if the Strings program did not exist because their families would not be able to afford private lessons. And, for parents, Strings is convenient because everything takes place at the schools, so parents don't have to shuttle their children to private lessons.
Some parents, including Lewis-Hale and Omega Hart, would likely see their children's music instruction continue. Dr. Blaine, who last year appealed to JPS to keep Strings in place but is not officially involved with the program, said many parents can't afford private music lessons.
"What you're doing is setting up a divide between kids with resources from those who don't have those resources—setting up a system of haves and have-nots," Blaine said. "... It's the kids who don't have the access who need it most. The ones that have the most disadvantage might benefit the most."
More like this story
More stories by this author
Support our reporting -- Become a JFP VIP.
The news business has changed dramatically in the past year, and we need your help more than ever to keep bringing you important stories about Jackson and the Metro. Become a JFP VIP with an annual membership or you can Sign up as a monthly supporter. Thanks for anything you can do to empower our journalism!