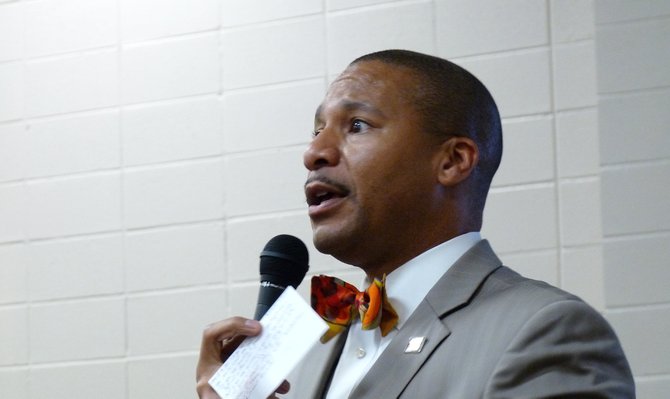 Dr. Cedrick Gray, the Jackson Public Schools superintendent, promises to punish any and all students who violated district rules during a recent outbreak of fighting—as well as social-media promotion of those fights—at William B. Murrah High School.
"If necessary, we will take appropriate action in accordance with our (school) district's disciplinary policy," Gray told reporters at a Nov. 21 news conference.
It's the natural response, especially when parents concerned about the safety of their kids start clamoring for swift punishment. But youth justice experts say that while school officials are often good at punishing kids for getting into fights, administrators often fail to sit kids down and talk about the problems that started everything.
A program of the Jackson-based Institute of Southern Jewish Life at Blackburn Middle School encourages peer mediation to get to the root causes of conflicts involving "hurtful words," said ISJL's director of community engagement, Malkie Schwartz.
"When they come up with their own solutions, they're more likely to follow them," Schwartz said.
Schwartz emphasizes that the peer program is designed for only low-level issues and that students should not be involved in mediating serious physical conflicts, but adds that fights often start as simple name-calling exchanges that can quickly escalate.
Case in point, the Murrah fights: In the past few weeks, some students at Murrah used social-media tools to brag about—and in some cases embellish—an outbreak of fights at the school. Jackson Public Schools administrators acted swiftly once the local media seized on the news, fueled in part by the circulation of a "fight schedule" and rumors of a planned shootout.
Thena Robinson-Mock, project director of the Ending the Schoolhouse to Jailhouse Track Campaign for the Washington, D.C.-based Advancement Project, said the knee-jerk reaction of kicking kids out of schools is the worst thing that can happen.
"We know that zero tolerance (policies) and suspensions are not working. If students are not in school to learn, the school is not fulfilling its purpose," Robinson-Mock said.
In 2007, the Advancement Project co-authored a study of the effects of zero-tolerance discipline policies with the Power U Center for Social Change and found the policies to disproportionately affect non-whites. The study revealed that for in every 100 students suspended, 15 were African American, 7.9 were American Indian, 6.8 were Latino and 4.8 were white. The same analysis revealed that blacks made up 40 percent of all expulsions and 68 percent of state and federal prisoners lack a high school diploma.
Schools increasingly appear to be embracing a restorative-justice process, which emphasizes talking out problems between kids involved in conflicts, as an alternative to harsh zero-tolerance policies. In the past two years, urban school districts in Los Angeles, Denver and Philadelphia all recently adopted new student codes of conduct that implement restorative justice plans.
Restorative processes can involve "circles" of victims, offenders, onlookers, friends, family members, school officials and, possibly, law-enforcement or court officials designed to discover and address points of conflicts. Other restorative methods include conferencing and victim-offender mediation.
Schwartz of the Institute of Southern Jewish Life says mediation, although not intended to be an easy process, works. But, she cautions, adults can't call the shots and force kids to participate.
"In order for mediation to work, students have to be there voluntarily," Schwartz said.
More stories by this author
Support our reporting -- Become a JFP VIP.
The news business has changed dramatically in the past year, and we need your help more than ever to keep bringing you important stories about Jackson and the Metro. Become a JFP VIP with an annual membership or you can Sign up as a monthly supporter. Thanks for anything you can do to empower our journalism!