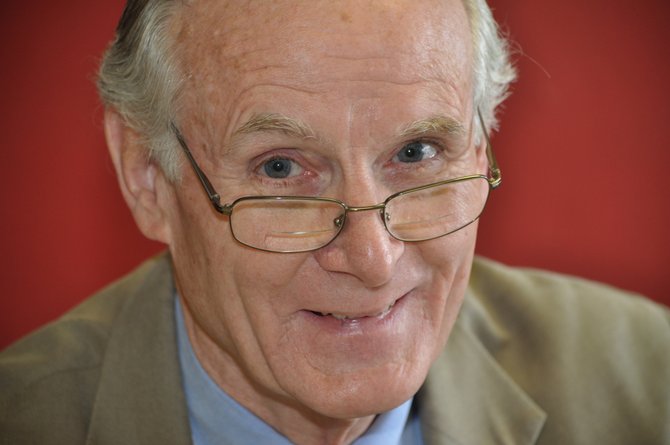 Document
Independent Jackson mayoral candidate Richard "Chip" Williams wants to focus on the family.
"As mayor I would look to any proposal, any plan and any action that's taken--what is the impact? What is the meaning? How would it help the family unit in Jackson?" Williams said of his "Family and Faith" platform.
"I say that healthy families are stronger socially and economically than broken families, and moral soundness of congregation membership is the principle interest of all religions whether their members meet in cathedrals, churches, synagogues, temples or mosques."
Williams, 66, is an attorney specializing in insurance defense. He is divorced and lives in north Jackson.
Tell me about your Family and Faith platform?
Morally sound families are more likely to be socially and economically sound. They are more likely to contribute in their faiths in various ways ... not only the members in their families but also to their neighbors and to their community and to their church and eventually to the city.
I said this the other night: You can fix a hole in the street. A hole in the street is a budgetary problem, but a hole in the family is a tragedy and, as (USA Today) recognized, it's the primary engine of social advancement--and these aren't my words, this is this editor's words--it's always been the family. I mean, you go back to the tribes of Africa, of northern Europe, of Asia of the Americas: Whenever anthropology is studying any civilization or prehistoric area, it's the family. That's the primary unit of any civilization.
How do you fill that hole in the family from the mayor's office?
I see working with churches in that they are in the neighborhoods, in the communities. There's a beautiful church on Robinson (Road), but you go two or three doors down, and there are houses that the windows are knocked out, and the doors are boarded up, and the grass is overgrown. I'm Catholic; I grew up and went to St. Mary's Church for mass, and I attended Catholic school, so in grammar school we would play St. Mary's football over on Claiborne Street.
There's a statute in Mississippi that allows land to be taken if taxes aren't paid ... or if the city goes in, and it patches the house, mows the yard or cleans the debris from that property. Now, an attorney general's opinion has said it's unconstitutional to give anything to a sectarian organization for sectarian usage, but I think the common goal of a church would be all the properties in the neighborhood are clean and is not a place for vermin or for crime or what have you--not an eyesore, not a safety hazard for the children that may wander into that area.
That could be an instance where the church says we need this property taken care of, and the city could say, "Here; you do it." If the city owns the property and is collecting no taxes on it, it could give it to the church to improve and then sell for whatever legitimate reason. ... They have an interest in their neighborhood being a strong, prosperous and solid neighborhood.
Don't you potentially run into separation of church and faith issues if the city hands the land over to a church because anything a church would do with it would be part of its ministry?
That's already being done not too far...from Lynch Street down to the Parkway. I've gone on to say that family soundness translates into sound citizenship. As sound citizens contribute to the success of their city. I believe our churches have something to offer the city, and our city has something to offer her churches. This unique relationship has the natural potential for mutual benefit to families, their places of worship and their city. If elected mayor, I intend to make families he goal of my administration with faith and government acting together to achieve that goal. Sound faith equates with sound families, which results in sound government.
You're concerned about the church and state issues but it's a nondenominational thing. ... The church and state issues, that's a great term to throw out. Historically, as I understand it, it goes back to the 1870s when there was a contest in Utah over whether the Mormons in their faith could have polygamous marriages. And so the U.S. court--the Supreme Court--did not want that to occur and the reasons they gave were that it would go against the interests of the state for inheritance purposes or parental purposes--if you have more than two parents, who's claiming...custody, that sort of thing so they said the state had a greater interest than the church in that matter. They didn't know how to come up with though because there was nothing in the Constitution that talked about that. There's the First Amendment and it just says that Congress shall make no law respecting the establishment of religion or prohibiting the free exercise thereof. The Mormons were saying this is our free exercise and that you're making a law that respects establishment.
Would the city get any kind of commission on that transaction?
No. ... The city can take property under the statute, and the statute says they can sell it, or they can lease it, or they can give it away. The city just owning a piece of property that is not producing taxes (is one) that the city has no use for. It's unproductive, so find out a way to make it productive. When it becomes productive, a tax-paying owner is there, then the city does benefit.
So is there anything you're looking forward to rolling up your sleeves and getting into the nuts and bolts of--are you really into water and sewer issues, crime, economic development?
Those are all part of my job. Yes. All of the above.
Are there any economic-development projects that are already on the table or that you would like to see developed?
Again, it would go back to my first priority: What's the effect going to be on family, meaning neighborhoods and communities. Projects cost money. Between 1990 when there were 193,000 citizens and 2010 when there were 173,000, we've lost citizens. We've lost tax base. You read in the paper that Sam's Club is moving from County Line (Road), and some other businesses are moving out on Highway 80. Puckett Machinery has been out there forever (and is) moving across the river. Those are all businesses that pay taxes, and our money comes from taxes. So I'm not looking for new ways to spend money unless the return (on their investment) is going to be not a pipe dream but a reality.
Do you have any thoughts on how to grow the city?
Jackson's a great place if you're dedicated to Jackson. And why do people want to live in Jackson? I think family is the basis of that. ... We can't look at Pearl because they've got the baseball stadium or Canton because they've got the Nissan plant; we can't look at them as our enemies. We've got to look at them as our friends, as our neighbors. And if they go up there to work and come back to Jackson, where they live, to spend (money), that's great. Or, if someone living in the city of Madison or Brandon comes over to take part in and enjoy what we offer--Farish Street or restaurants--we're not building enmity between. We're building this friendship where we're saying: "We've got something to offer. Y'all come visit us, and we understand you've got something to offer, and we're not going to be envious of you."
More stories by this author
Support our reporting -- Follow the MFP.