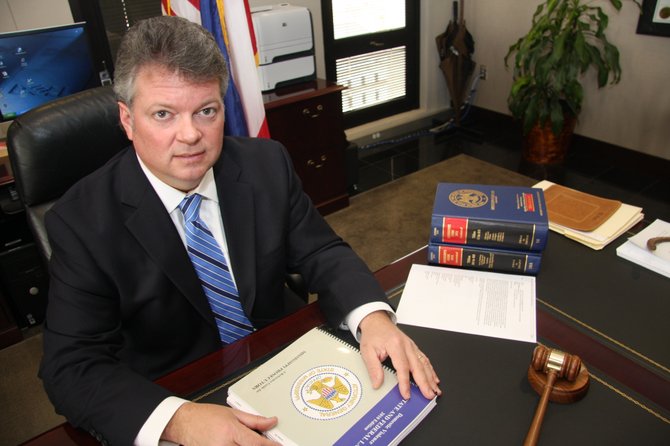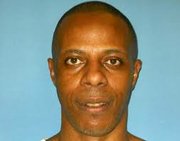 Willie Jerome Manning's attorneys are desperately trying to get key evidence tested before the state of Mississippi puts their client to death. Accused of killing two Mississippi State University students in Oktibbeha County in 1992, Manning, 44, is scheduled to die on the evening of May 7--tomorrow--at Mississippi State Penitentiary at Parchman.
This morning, Manning filed several motions, including new motions to stay his execution and set aside his conviction. The Mississippi State Supreme Court denied a previous request to postpone Manning's execution, but since then, the Federal Bureau of Investigation has admitted that it erred in its testimony during Manning's original trial.
In a letter to Oktibbeha County District Attorney Forrest Allgood, who prosecuted Manning, U.S. Justice Department officials state "that testimony containing erroneous statements regarding microscopic hair comparison analysis was used" in Manning's case.
The letter, which went to Manning's lawyer and the Mississippi Innocence Project, which is monitoring the case, goes on to say that information the FBI presented in its testimony "exceeded the limits of science, and was, therefore, invalid." The FBI offered to perform the mitochondrial DNA testing, and requested Allgood's office respond by today, May 6.
Manning has always said he did not commit the crime; in fact, he says he was at a club on the night of the murders. For years, he's been trying to convince the state to test DNA from the crime scene. As gruesome as the murders were, there should be lots of biological material to test. One of the victims, Tiffany Miller, was shot twice in the face at close range. One leg was out of her pants and underwear, and her shirt was pulled up. Her boyfriend John Steckler's body had abrasions that occurred before he died, and he was shot once in the back of the head. A set of car tracks had gone through the puddles of blood and over Steckler's body.
One of the issues Manning raised in his appeal is that Allgood illegally kept African Americans off Manning's jury by dismissing potential jurors who said they read African American magazines. David Voisin, Manning's attorney, said if approved, the testing could take several weeks, depending on which lab is used.
On May 3, at the Mississippi Capitol, death-penalty opponents and Manning supporters called on Gov. Phil Bryant to stop the execution. The Mississippi Innocence Project filed a brief in support of Manning this week. Kennedy Brewer, who was exonerated in 2008 with DNA tests after being convicted and sentenced to death for killing his girlfriend's young daughter, also wrote Bryant asking to give Manning the same opportunity to clear his name that Kennedy received.
Sister Maati, of Our Community Against Racism, invoked this year's 50th anniversary of Medgar Evers' assassination. She said that allowing Manning's execution to take place, considering the discriminatory fashion in which his lawyers say the district attorney picked his jurors, would demonstrate that Mississippi has not moved beyond its legacy of injustice.
"Mississippi, prove that institutional racism is no longer a part of your southern heritage, or admit that the execution of Willie Manning is yet another Mississippi lynching," Maati said.
A Jackson attorney who represents the Mississippi Innocence Project in the lawsuit said the group wants to preserve the evidence for DNA and other testing.
"We're hoping to get this evidence tested and let the truth come out," Robert McDuff said yesterday. "Hopefully, the governor or the courts will stay the execution so we can determine prior to the execution what the DNA shows. But even if they don't, there are a lot people who still want to see the evidence tested to determine once and for all who is responsible for this crime."
Manning is scheduled to die by lethal injection. The Mississippi Supreme Court has already refused to stop the execution, in a 5-4 decision May 2. Manning's lawyers have asked Gov. Phil Bryant for a stay. Bryant spokesman Mick Bullock has said the governor is reviewing the case. Mississippi Attorney General Jim Hood said recently that DNA testing wouldn't exonerate Manning.
"The Mississippi Supreme Court has held that the evidence is so overwhelming as to Manning's guilt. Even if technologies were available to determine the source of the hair, to indicate someone other than Manning, it would not negate other evidence that shows his guilt. He is a violent person who committed these heinous murders," Hood said in the statement.
Tucker Carrington, director of Mississippi Innocence Project, said in an email Sunday "that if someone involved in this crime is still out there, he breathes a sigh of relief every time state officials refuse to test this evidence."
Hood said in his statement last week that "DNA testing was done after the crime was committed." McDuff refutes that statement, though, and said that DNA testing has never been done in the case and that the hair was subject to a less reliable examination.
The attorney general said the state is prepared to conduct testing any time "there is legitimate, exculpatory evidence" but "when the defense waits until the 11th hour to raise such claims, which could not possibly exonerate their client, courts are loathe to be subjected to these types of dilatory defense tactics."
The Mississippi State Supreme Court gave Mississippi officials until 4 p.m. today, May 6, to respond to Manning's latest round of motions.
The Associated Press contributed to this story.
More like this story
More stories by this author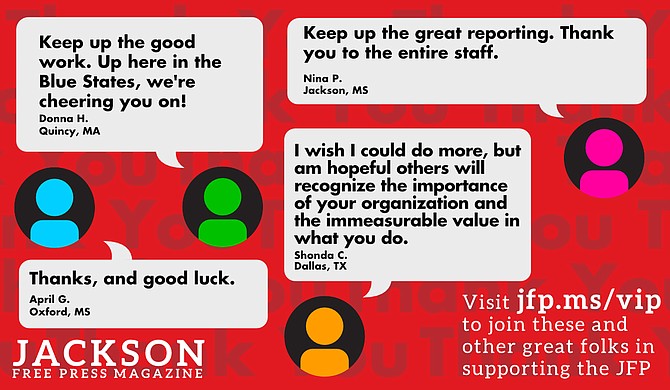 Thanks to all our new JFP VIPs!
COVID-19 has closed down the main sources of the JFP's revenue -- concerts, festivals, fundraisers, restaurants and bars. If everyone reading this article gives $5 or more, we should be able to continue publishing through the crisis. Please pay what you can to keep us reporting and publishing.