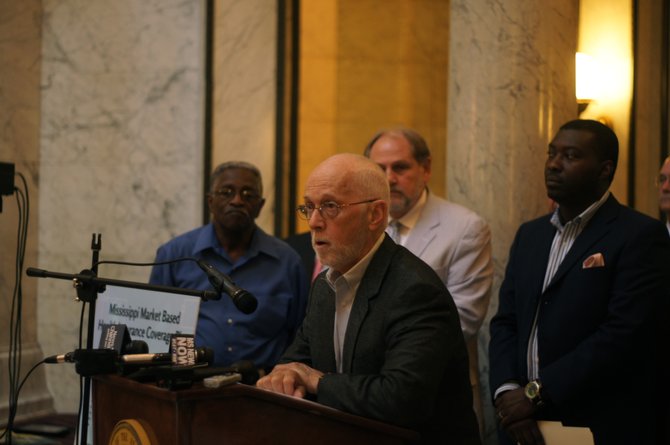 Mississippi Democrats continue to extend olive branches to legislative Republicans to find ways to accept federal Medicaid money.
Since the beginning of the year, the parties have been at odds over Medicaid, a joint federal-state health insurance program for poor people. Democrats want to use provisions in the 2010 Affordable Care Act to add 300,000 more people to the Medicaid rolls, which they believe would improve health in Mississippi and reduce health-care costs. Republicans, who control both legislative chambers and the governor's mansion, have rebuffed efforts to expand or debate Medicaid expansion, citing costs and ideological differences with President Barack Obama who helped push the federal health law through Congress.
Now Democrats in the Mississippi Legislature want to implement a compromise plan that would increase access to health-care to people who do not currently have it without expanding Medicaid. The plan is modeled on a plan in Arkansas, where the Republican-controlled Legislature and Democratic governor were at an impasse over Medicaid expansion.
Under what Democrats are calling the Mississippi Market Based Health Insurance Coverage Plan, instead of the federal government paying states to expand Medicaid, the funds would go directly to individuals to purchase health insurance on state-run exchanges.
"It's a compromise. We're talking about a compromise," Democratic Jackson state Rep. Cecil Brown said emphatically at news conference Wednesday afternoon.
The plan is the latest in a series of compromises Democrats have offered Republicans on Medicaid. During the recent legislative session, House Democrats called for a debate on Medicaid expansion and said they would accept the outcome of an up-or-down vote. Speaker Philip Gunn, R-Clinton, refused to allow debate to take place and, in response Democrats refused to reauthorize the existing Medicaid program, which expires June 30.
Gov. Phil Bryant, also a vigorous opponent to Medicaid expansion, rejected the offer without reviewing its details. Bryant also said he would only call a special session when Democrats drop demands for a debate on expansion.
"As Gov. Bryant has said before, he remains opposed to expanding Obamacare in Mississippi or adopting expansion-based plans that will leave Mississippi taxpayers shouldering the burden of a massive entitlement program," spokesperson Mick Bullock said in a news release.
Sen. Hob Bryan, D-Amory, said the state could lose billions of federal dollars if it doesn't expand Medicaid or take other steps, such as using the money to help lower-income people buy private insurance. Bryan said the governor should be working constantly to find ways to help uninsured Mississippi residents.
"Instead, all he has done is say, 'No,'" Bryan said. "The governor has no plan."
The federal health law says states have the option of expanding Medicaid coverage to people making up to 138 percent of the federal poverty level, starting in January 2014. That's an income of about $15,000 for one person. In Mississippi now, the income cutoff for Medicaid coverage is about $5,500 for one person, though the program still does not cover many able-bodied adults who make less than that.
Under the law, the federal government would pay 100 percent of medical expenses for the newly qualified Medicaid enrollees from 2014 to 2017. The federal share would be reduced to 90 percent by 2020, with each state paying the balance.
Since the legislative session ended, in anticipation of a special session, health-care justice activists have been engaged in an aggressive public outreach campaign to explain the benefits of Medicaid expansion.
Rims Barber, a civil-rights movement veteran, said he would prefer Medicaid expansion to the Arkansas compromise but considers it a good place to start.
"If this is what you have to do to get some help for our people, let's start with this," Barber said.
The Associated Press contributed to this story.
More stories by this author
Support our reporting -- Follow the MFP.