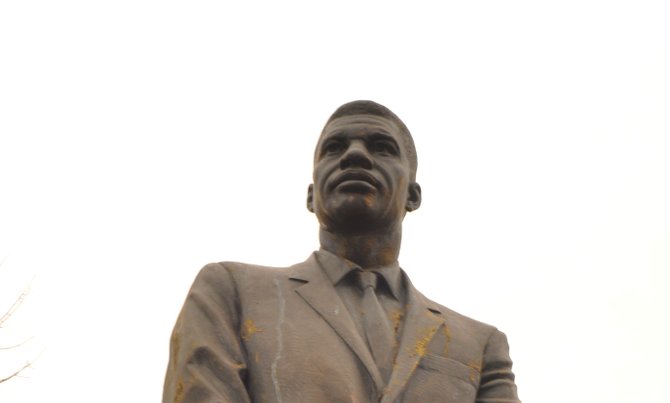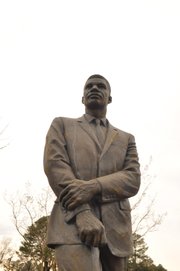 Medgar Evers seemed to know his life was drawing to a close.
A week and a half before he met his fate outside his family's Jackson home, Evers, the Mississippi field secretary for the National Association of Colored People, said if he died, it would be for a good cause: fighting for America.
On June 11, 1963, the day before his assassination, he and his wife, Myrlie, discussed what she would do in the event he was murdered for spearheading a massive voter-registration of black citizens. Myrlie Evers-Williams recalls asking Medgar what she could do to help.
"You're doing it all; just take care of my children," Medgar said.
"Of course I'm going to take care of your children. They're mine, too," Myrlie replied.
That night, Medgar and Myrlie sat on their sofa holding one another because they both felt that the time was near.
That time--the end of Medgar's life--came the following the day, June 12.
At a wreath-laying ceremony on May 16 to commemorate the 50th anniversary of Medgar's assassination, Myrlie recounted the early morning her husband arrived from an NAACP meeting at New Jerusalem Baptist Church, his trunk full of T-shirts emblazoned with the slogan "Jim Crow Must Go."
"Medgar had made a promise that he would always come home a different way--either from that end or this end of the street--and that he would never get out of the car on the driver's side because of the threats that had been made, the firebombing of this house. That night, tired, literally worn out, he got out on the driver's side. And as soon the children said, 'There's Daddy,' the shot rang out--one of the loudest and most powerful I had, and still have, ever heard in my life. And I knew exactly what happened," Evers-Williams recounted at the ceremony at her former west Jackson residence.
"Rushing to the door, I found this man, who was strong enough to endure being shot in the back and his chest being blown away, still alive holding his keys. All I could do was scream."
'He Knew the Risks'
Medgar Wiley Evers was born in Decatur, Miss., July 2, 1925. Medgar and his older brother, Charles, served in the Army during World War II.
Medgar rose to the rank of sergeant before returning to Mississippi and enrolling at Alcorn Agricultural & Mechanical College, now Alcorn State University. There, he met Myrlie Louise Beasley of Vicksburg and the couple married and moved to Mound Bayou in 1952 and then to Jackson in 1957.
In Jackson, Medgar continued to build on work he started in the Delta: organizing NAACP chapters and registering African Americans to vote.
"I love the land of my birth. I do not mean just America as a country, but Mississippi, the state in which I was born. ... I have hopes of the future when we will not have to hang our head in shame or hold our breath when the name Mississippi is mentioned, fearing the worst. But, instead, we will be anticipating the best," Evers said in February 1963.
The Evers family's move to Jackson elevated Medgar and his work to national prominence and, therefore, raised the risk of danger. Medgar and Myrlie would teach their small children to hit the floor whenever they heard a loud sound outside. Instead of putting the living room sofa near the window, it was positioned against the east wall facing the carport. Threats were made in response to Medgar's organizing efforts. In 1962, the Evers home in Jackson was firebombed.
"Medgar knew what he was doing, and he knew what the risks were," Myrlie told Ebony Magazine years later. "He just decided that he had to do what he had to do. But I knew at some point he would be taken from me."
A Southern Tale
The man who took Medgar away was a fertilizer salesman from Greenwood named Byron De La Beckwith. He was arrested 12 days later. Like Evers, Beckwith had served in World War II as a Marine but was also a member of the Citizens Council and Ku Klux Klan. After two trials that resulted in hung juries in 1964, Beckwith was found guilty of Evers' murder in 1994; he died 2001 at age 80.
During Evers' interment at Arlington National Cemetery, Bishop Stephen Gill Spottswood, who chaired the NAACP's board of directors, delivered a eulogy in which he remembered Medgar as a soldier.
"He knew he lived in danger, this Negro leader of the struggle for equality of citizenship and opportunity. He knew, this veteran of World War II, what it meant to serve his country. Does his country know how to serve him, how to make his sacrifice worthwhile? As his funeral services are held today, the people of Mississippi and wherever else Negroes are oppressed will have to realize that the struggle for which Medgar Evers died will continue until freedom is attained," Spottswood said.
Although Medgar's assassination drew national attention, he never craved recognition, Myrlie wrote in "The Autobiography of Medgar Evers: A Hero's Life and Legacy Revealed Through His Writings, Letters, and Speeches," published in 2006.
"Whenever I raised the issue, encouraging him to seek credit for his work, I was always met with an icy stare and firm voice saying, 'It's not about me, it's about the mission and the little people.'"
In the May 16 remembrance in Jackson, Myrlie Evers-Williams said: "When the bullet struck (Medgar) in his back, it forced him forward. He had his keys in his hands and fell up the steps. The bullet ricocheted through this window, hit the wall, went through that wall, knocked off a piece of aluminum tile, struck the refrigerator and left a hole in the refrigerator, and the bullet landed on the countertop next to a watermelon.
"And I said how southern we are--even in death."
Rebecca Docter and Geoffrey Edwards contributed reporting.
More stories by this author
Support our reporting -- Become a JFP VIP.
The news business has changed dramatically in the past year, and we need your help more than ever to keep bringing you important stories about Jackson and the Metro. Become a JFP VIP with an annual membership or you can Sign up as a monthly supporter. Thanks for anything you can do to empower our journalism!