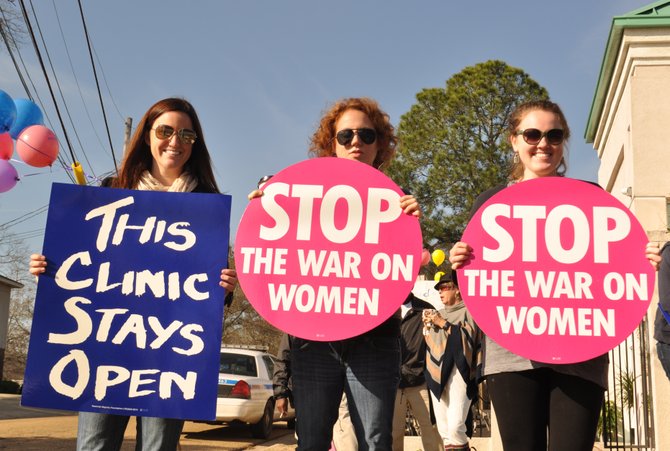 Diane Derzis, the owner of the state's only abortion provider, expects state health officials to issue a finding that her clinic failed to meet new state regulations tomorrow, Jan. 22—the 40th anniversary of Roe v. Wade.
All weekend long, abortion-rights opponents and activists have been engaging in dueling demonstrations in front of Derzis' Jackson Women's Health Organization. The clinic is decorated with colorful balloons and with signs carrying slogans such as "Pro-Choice" and "This clinic stays open."
"We're celebrating 40 years of safe abortions," Derzis told the Jackson Free Press this morning.
That track record is in peril. With JWHO failing to secure admitting privileges at a local hospital for all of its doctors—as a state law the Legislature passed last year requires—the clinic faces the possibility of having to shut down as early as March. JWHO is fighting closure in federal court.
The landmark 1973 Roe v. Wade ruling in the U.S. Supreme Court nullified individual state laws that prohibited abortion. The ruling has not stopped state legislatures from trying to end access to abortion.
The case began in 1969, when 21-year-old Louisiana resident Norma McCorvey tried to get an abortion in Dallas. Texas did permit women to terminate their pregnancies back then, but only if they were raped or victims of incest. With no legal way to terminate the pregnancy, McCorvey carried the child to term and gave it up for adoption after she gave birth.
The decision galvanized the modern abortion debate, and neither side is giving any ground. A new Pew Research Center poll finds 63 percent of U.S. adults opposed to overturning Roe, compared to 60 percent in 1992. The latest Gallup poll on the topic shows 52 percent of Americans saying abortion should be legal under certain circumstances, 25 percent wanting it legal in all cases and 20 percent wanting it outlawed in all cases—roughly the same breakdown as in the 1970s.
"There's a large share of Americans for whom this is not a black-and-white issue," Michael Dimock, the Pew center's director, told the Associated Press. "The circumstances matter to them."
The U.S. Supreme Court has been unwilling to overturn Roe—something that is even less likely with President Barack Obama, a pro-choice Democrat, taking the oath of office for a second term on Sunday at the White House.
"We're very discouraged," said Pastor David Lane, a pro-life protester, about the dim prospects of Roe v. Wade being overturned in Obama's second term.
Lane, a regular protester at JWHO, said abortion is tantamount to genocide because most of the women he sees enter the clinic are African American.
duVergne Gaines, legal coordinator for Feminist Majority Foundation's National Clinic Access Project, said because wealthy women can travel out of state or have abortions performed in their OB/GYN's private offices, many of the clinic's patients are low-income women. In Mississippi they are often African American.
"Their movement is run by white males so it's comical when they try to pull the race card," Gaines said.
Gov. Phil Bryant has stated repeatedly that he wants to end abortion in the state and is eager to close JWHO.
"My goal, of course, is to shut it down," Bryant told reporters Jan. 10. "If I had the power to do so legally, I'd do so tomorrow."
Statements from Bryant and Lt. Gov. Tate Reeves expressing their desire to end abortion in Mississippi are among the bases for JWHO's lawsuit, which maintains that abortion is legal, and shuttering the clinic interferes with women's rights. In the meantime, two more anti-abortion bills are now under consideration by the Legislature.
Rep. Andy Gipson, R-Braxton, authored both bills. One would prohibit abortions where a fetal heartbeat is present, and the other would amend the Mississippi Constitution to define a person as starting from the moment of conception.
Pro-life protesters believe the newly introduced legislation is necessary even if JWHO goes out of business, making Mississippi the only state that lacks an abortion clinic.
Said protester Janis Lane about Gipson's proposals: "It will keep others from opening."
The Associated Press contributed to this story.
More stories by this author
Support our reporting -- Follow the MFP.