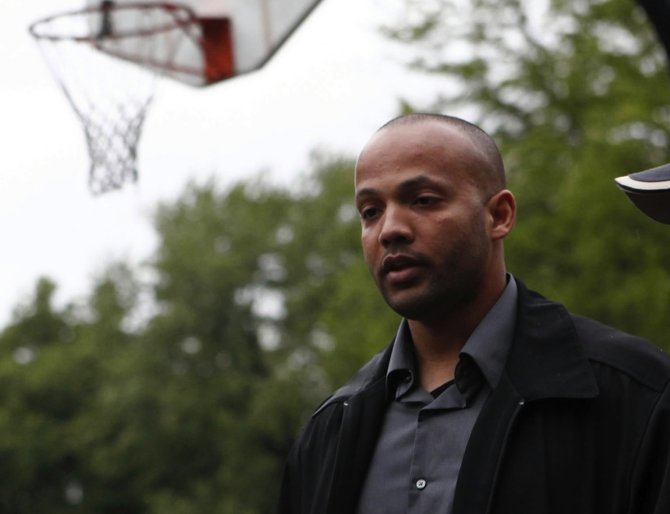 Late on the evening of May 20, 2010, Thomas Wortham IV was sitting on his motorcycle when a car pulled up.
A Chicago police officer who had just returned from a second tour of duty in Iraq as second lieutenant with the Wisconsin Army National Guard, Wortham bought the Yamaha R1 as present to himself and had gone to his parents' house to show them pictures from a recent trip.
As he sat in front of his parents' home on South King Drive, four armed young men exited their Nissan Maxima attempting to take the motorcycle away from him. Wortham identified himself as a police officer and brandished his service weapon, but took a fatal bullet from a .45-caliber Smith & Wesson to his abdomen.
His father, a retired police sergeant, heard the shots and rushed out onto the porch with to his son's aid and fired his weapon at the assailants, wounding two of the robbers, one of them fatally.
Chicago has increasingly developed a reputation for unceasing gang warfare that has resulted in one of the nation's highest murder rates. But the roots of the city's problem with guns, including the one that killed Wortham, go much deeper than Chicagoland gangs, often extending southward down Interstate 55 to Mississippi.
Chicago officials have long decried this so-called "Dixie Pipeline" of guns purchased legally in southern states, where gun laws are more lax, and transported to northern cities where familial ties to the South are strong.
"It's a multiple-pronged problem," said Nick Roti, chief of CPD's Bureau of Organized Crime.
In 2010, the year Wortham was killed, Chicago had 435 murder, good enough give the city its lowest homicide rate in 45 years. Last year, the number of murders ballooned to 500 by the close of 2012.
A University of Chicago analysis conducted for the Chicago Police Department shed light on exactly how out-of-state guns complicate matters for law enforcement agencies by analyzing more than 17,230 guns that cops recovered from January 2008 to March 2012. Only 42 percent of them originated in the state; the rest poured in from out-of-state. Behind Illinois' next-door neighbor, Indiana, Mississippi sent the most guns to Chicago.
In all, the analysis showed that roughly 1,200 guns, or 7 percent of the total number of guns recovered by CPD, came from Mississippi. Adding weapons originating in Kentucky, Tennessee, Alabama, Georgia and Arkansas, southern states provided 17 percent of Chicago's guns.
The gun used in Wortham's murder, for example, came from Holly Springs. There, a West Chicago resident and Rust College student named Quawi Gates, hatched a Mississippi-to-Chicago gunrunning scheme. While at Rust, Gates recruited Mississippi residents, including friends from college, to buy guns at local gun shops and gun shows. Gates then illegally transported the weapons back to Chicago where he would sell them to gang members, federal prosecutors said.
The investigation by the Chicago and Oxford branches of the Bureau of Alcohol, Tobacco, Firearms and Explosives (ATF) revealed that five firearms purchased on Gates' behalf were used in violent Chicago-area crimes, including Officer Wortham's murder. Gates received a sentence of 10 years in prison for orchestrating the plot; four Mississippians were also charged for buying the guns for Gates.
Court documents in the government's case against Quawi Gates illuminate the problem of using straw purchasers, people with clean criminal histories who buy guns for someone else. According to the transcript of Gates' plea bargain, a woman named Jacquisha Sims bought one gun for Gates from a gun shop in Southaven and three more at gun show in Tupelo.
"Sims stated that she knew that Quawi was from Chicago and assumed that he was not allowed to buy firearms in Mississippi because he was an out-of-state resident," stated Susan Bradley of the U.S. Attorney's office during Gates' 2010 plea hearing.
Roti, of the CPD, said that loophole that permits people like Sims to buy weapons at gun shows without a federal background check could help Chicago reduce its gun violence and should be closed.
"It's ridiculous," he said. "It's just a built-in way to circumvent the law, and it's silly."
More stories by this author
Support our reporting -- Follow the MFP.