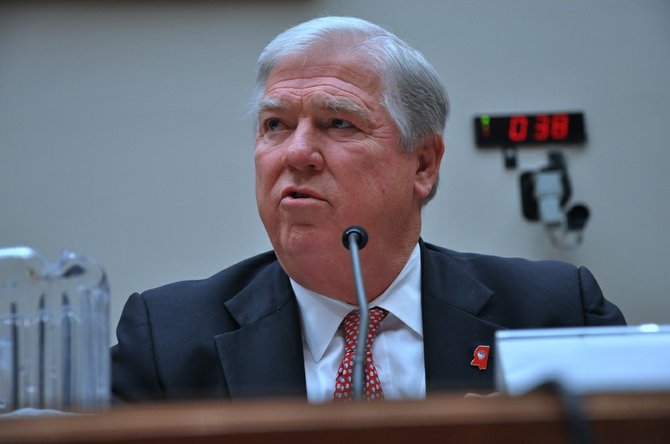 A man who received a pardon from former Gov. Haley Barbour is a suspect in a shooting in Calhoun County.
Wayne Harris, one of more than 200 clemency acts Barbour made in his last week in office in early 2012, was involved in a shootout with at least one other man during a cookout Thursday evening, the Calhoun County Journal reported.
At some point, an argument between Harris and a man named Chris McGonagill broke out and quickly escalated.
McGonagill, who was armed with 9 mm handgun, shot Harris at least one time in the leg. Harris, who would not have been permitted to own a gun had the pardon not wiped away his 2001 conviction for selling marijuana, retrieved his .22-caliber from his truck and returned fire, striking McGonagill multiple times. The Journal reported that at least 13 shots were fired. McGonagill died early Friday morning at an Oxford hospital.
"We're still working the case," Calhoun County Sheriff Greg Pollan told the Jackson Free Press this morning. Pollan added that he has not talked to Harris but hopes to in the next few hours and that no charges have been filed in the shooting. The other individuals who attended the cookout are being interviewed as witnesses, Pollan said.
Barbour's pardons, the bulk of which were issued the day Gov. Phil Bryant was inaugurated in January 2012, touched off a nationwide firestorm of controversy and set in motion a legal fight that wound up in the Mississippi State Supreme Court.
Bryant responded by ending the years-long practice of using Mississippi Department of Corrections inmates as live-in help at the Governor's Mansion and vowing not to issue any pardons. Republican and Democratic lawmakers also tried unsuccessfully to pass a number of bills during the last legislative session to make the gubernatorial pardon process more accountable to victims and their families.
House Minority Leader Bobby Moak, D-Bogue Chitto, said it would be up to the judicial system to sort out what happened in last night's shooting but said the incident raises questions about pardons
"With that large of a number, you knew something was bound to happen," Moak said this morning.
Moak said Democrats plan to submit a bill in the current session to give victims' families an opportunity to voice their concerns about potential pardons, an extra layer of transparency to the existing requirement that people seeking pardons must publish notice in the community where their crime was committed.
"We should be vetting these people before a pardon is issued," Moak said.
See all of JFP's coverage of the Barbour pardons at http://www.jacksonfreepress.com/search/vertical/news.story/?q=barbour+pardons.
More stories by this author
Support our reporting -- Follow the MFP.