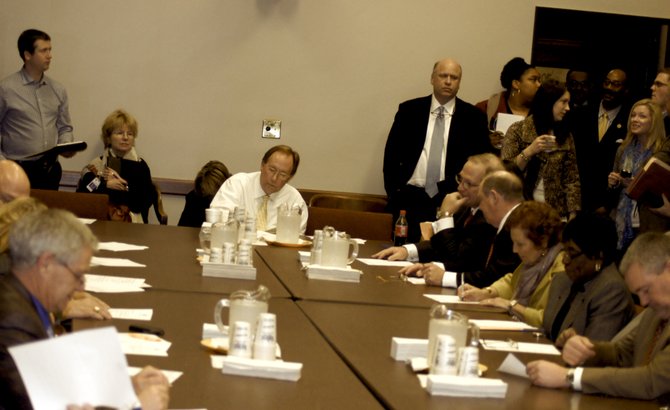 John Moore, the chairman of the House Education Committee, tried to temper expectations of yesterday's meeting, reminding reporters and members of the press and dozens of attendees that the focus would be on housekeeping and organizational matters.
That didn't stop a few fireworks from flying in the committee's first meeting of the legislative year.
A plan by Gov. Phil Bryant to establish a scholarship fund for public-school students to go to private schools drew fire from Republican members of the committee.
Bryant has said in several recent speeches that the program, which gives state tax credit for individuals who donate to a non-profit," empowers parents by designating privately funded opportunity scholarships for low-income families in D and F schools."
Laurie J. Smith, Bryant's education policy adviser, outlined the governor's education reform agenda that includes establishing charter schools as well as the scholarship program. Smith said private individuals and companies would be able to pay into the fund and the Mississippi Department of Education would approve which private schools could participate.
Families earning 250 percent of the federal poverty level would be eligible, which works out to $57,625 per year for a family of four. Donations would be capped at $10 million, Smith said.
Over the course of the legislative session, the House Education Committee room is expected to be the arena for a contentious fight over charter-school legislation, a centerpiece of Lt. Gov. Tate Reeves and Speaker Philip Gunn as well as the chairmen of both the Senate and House Education Committees. As of this morning, no charter school bills have been posted on the Legislature's website.
Rep. Forrest Hamilton, R-Olive Branch, asked Smith why the state should get involved with private schools.
"Instead of addressing the real root of the problem, we are skirting the issue ... We are skirting the issue of D and F failing schools, saying, 'Let's just send them to another school instead of fixing the failing ones,'" Hamilton said during the committee meeting.
Hamilton, along with other Republican members of the DeSoto County delegation, opposed charter school legislation last year.
Democrats and critics of the legislative leadership have accused Republicans of deflecting attention from what they characterize as the chronic underfunding of public education over the years, specifically to the tune of $260 million under the funding formula known as the Mississippi Adequate Education Program.
"It seems to me there's not a problem with our education system, there's a problem with the Legislature," Hamilton said.
More stories by this author
Support our reporting -- Follow the MFP.