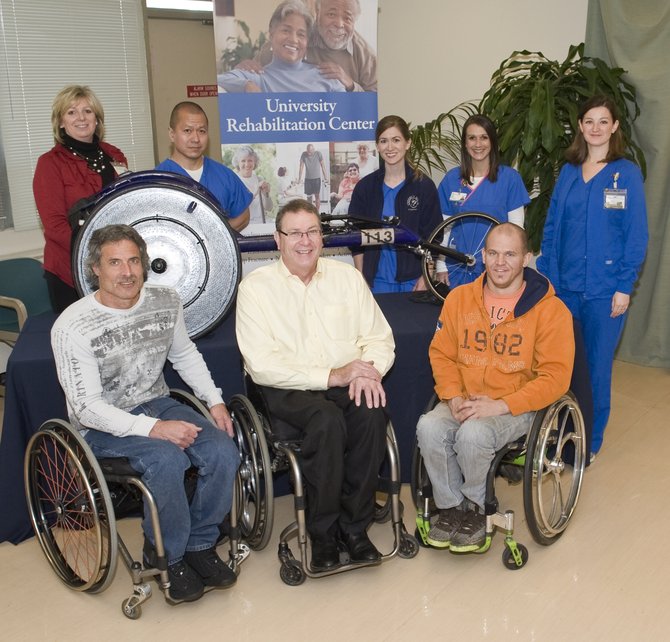 This Saturday, runners from all over the country and all over the world will arrive in Jackson to participate in the Mississippi Blues Marathon. Five of the participants are wheelchair racers and will have a five-minute head start in front of the other runners.
Three of those five marathoners spent time Thursday at the University Rehabilitation Center at the University of Mississippi Medical Center speaking to patients. Aaron Roux, Paul Erway and Grant Berthiaume were there to inspire and talk about their quest to do 50 marathons in 50 weeks this year, starting with the Mississippi Blues Marathons to raise awareness and money for the Christopher and Dana Reeve Foundation. They hope to inspire others who have had accidents and are wheelchair bound.
"We are set up for 25 patients and CARF (Commission on Accreditation of Rehabilitation Facilities) accredited," says Shelly Poole, administrator of rehabilitative services, "Our patients are recovering from strokes, spinal injuries, amputations and more."
The rehabilitation center opened in June of 2000 and is designed for patients to stay two to three weeks as a stopgap for patients between the hospital to home. "We believe we are a hidden jewel of the hospital," Poole says.
During their presentation, 12 of the 15 current patients were in attendance as Roux, Erway and Berthiaume shared inspirational stories, told about grants for equipment to help any of the patients who wanted to get into wheelchair racing and talked about their goal of 50 marathons in 50 weeks.
Roux and Berthiaume both live in Arizona and train together. Berthiaume was paralyzed in a construction accident and has been racing since 1998.
While on leave from the marines, Roux was in a car accident that left him a quadriplegic. Roux was a member of the wheelchair rugby national champions, the Pteryldactals, and has been racing in marathons for the last two years.
"We train every day, usually in the mornings, (and do) a 20- to 25-mile ride every weekend, so racing the 50 marathons shouldn't be a physical challenge," Berthiaume says. "The hard part will be all the travel each week."
All three men have raced in some of the best-known marathons in the country, including the Chicago, Boston and Los Angeles marathons. Erway has raced in the Oita, Japan marathon, which is just for wheelchair racers and considered the premiere wheelchair racing event in the world.
"Wheelchair racing feels natural," Roux explains. "We are out with the public and not just competing against other wheelchair athletes."
Berthiaume says his personal goal is to try to finish each marathon in two hours. Roux says that he is taking each marathon one at a time, and his goal is to inspire at least one person with the presentations.
All three men have heard that the Mississippi Blues Marathon is challenging, but are looking forward to tackling the course. Or, as Roux says, "Saturday is time to kick in beast mode."
The group has a website, 50abilitymarathons.com, where you can donate money to the Christopher and Dana Reeve Foundation or to help these three men complete their goal of 50 marathons in 50 weeks. They also have a Facebook page where fans can follow their progress all year long, from Mississippi to their final race on Dec. 19 in Honolulu, Hawaii.
Support our reporting -- Follow the MFP.