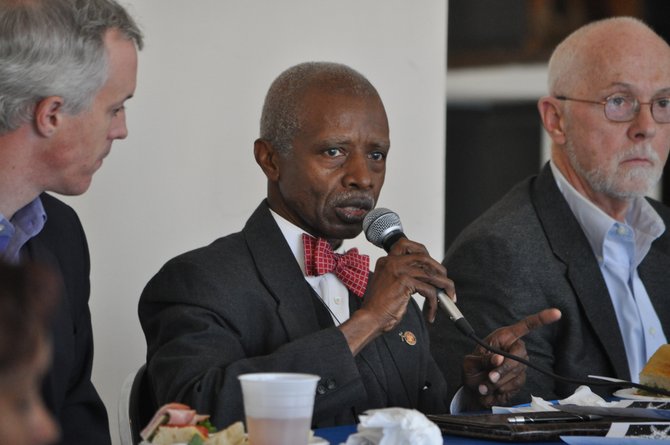 Gov. Phil Bryant has big plans for the 2013 legislative session. For the past few months, he's been busy selling his agenda. After the surprising defeat of last year's charter-school bill, Bryant and his fellow Republicans have vowed to make charter schools a centerpiece of what Bryant promises will be "the single most progressive session on education in Mississippi history."
Support for a statewide crackdown on immigration appears to be losing steam after the failure of a bill last year that would have required law enforcement officials to check the immigration status of people they suspect are in the country with without authorization.

But Bryant has tried to keep the immigration thing alive by suing the federal government over the Obama administration's decision to cease deportation of certain immigrants whose families brought them to the U.S. as children.
The governor also made his priorities clear with the executive budget he outlined in November, which calls for combination of about a 1.5 percent average budget cut to state agencies and tax relief for businesses.
Bryant recommended that the Mississippi Adequate Education Program, the funding formula by which the Legislature is supposed to adhere, to be level with the current fiscal year, which underfunds MAEP by $260 million.
While most agencies would see a reduction in Bryant's budget plan, some agencies got a reprieve from cuts or saw big increases.
The Mississippi Highway Patrol would receive an $8.5 million increase for a new trooper school, raises for some troopers and replacements for old vehicles.
The Mississippi Emergency Management Agency, whose profile former Gov. Haley Barbour elevated after Hurricane Katrina, would get a better-than 300-percent increase while the Mississippi Department of Corrections budget would go up $24.8 million, an 8 percent increase.
Most glaringly, Bryant declined to include any extra money for the Medicaid program, which the federal government has said states can expand to lower health-care costs over the long-term.
"Personal principles aside, we just cannot afford to expand the Medicaid program. Regardless of which reports you consult and which actuaries make forecasts, the bottom line will be the same—expanding Medicaid will cost the state of Mississippi money that it does not have," Bryant's budget recommendation states.
That has been Bryant's most common refrain since the U.S. Supreme Court upheld most of the federal Affordable Care Act but gave states the choice to opt out of participating in the Medicaid expansion part of the law.
"We cannot afford a Medicaid expansion that would cost us billions and result in draconian cuts to essential government services like education. We cannot yield to an overbearing federal government that tells us it is improper to ask voters for ID, and we cannot prohibit law enforcement from determining if a person is in our state illegally," Bryant told an audience at the Neshoba County Fair in August.
But here's the thing: What Bryant wants doesn't matter. After eight years that saw Barbour dominate all realms of Mississippi governance from the governor's mansion, the balance of power has shifted back to where the framers of Mississippi's 1890 Constitution intended: the Legislature.
Last year's charter bill failed due to a small cadre of Republican House Education Committee members who were more loyal to their local elected superintendents than the Party. When Bryant threatened to convene a special session to force members to consider charter legislation, legislators balked and went home for the year.
In the Senate, it was Lt. Gov. Tate Reeves, a Barbour protégé whose relationship with Bryant is icy, who allowed the immigration bill to die over the wishes of Bryant and House Republicans who debated the measure well past midnight before they passed it.
The Joint Legislative Budget Committee's recommended $5.5 billion spending plan largely ignored Bryant's calls for deep cuts and more or less copied the current year's budget with level funding for most agencies.
Whatever gets through the Legislature this year will result from the way Reeves and Speaker Philip Gunn, a Republican from Clinton, manage those chambers and their caucuses.
Certainly, there's a lot of agreement between the three top Republicans—the need for fiscal restraint and creating charter schools, to name a couple of points. However, Reeves and Gunn, both pro-business conservatives, have been mum on Medicaid expansion, which reports say could create almost 10,000 jobs in the health-care industry.
Medicaid expansion and education reform—specifically charter-school legislation—will be neck-and-neck and for the most hotly debated issues of the session. Brandon Jones, a former Democratic lawmaker from Pascagoula who supports Medicaid expansion, takes Gunn and Reeves' silence as a promising sign. He believes that Bryant might be getting too much attention for his opposition to Medicaid, which is ultimately up to the Legislature.
"He's not the beginning and end of this discussion," Jones said.
Medicaid: Too Good to Resist?
When Congress passed the Patient Protection and Affordable Care Act in 2010, Barbour commissioned Brookfield, Wis.-based consulting firm Milliman Inc. to study Obamacare's effects on Mississippi. Reliably, the Milliman report serves as the basis for Republican opposition to Medicaid expansion to this day. The report concluded that increasing the Medicaid rolls by 400,000 people would irreparably damage Mississippi's already revenue-parched state budget. The Milliman report found that adding nearly a half-million more people to Medicaid would cost $1.6 billion over the next 10 years.
This year, however, the Institutions of Higher Learning, Mississippi's college and university consortium, painted a starkly different picture of Medicaid expansion, concluding in an October report that adopting the expansion would cost just $109.4 million and create more than 9,100 jobs by 2020, when Obama-
care is fully implemented. It would also give more than 300,000 low-income Mississippians access to health-care services they do not currently have.
The ACA would raise the eligible income-levels for the program to 133 percent of the federal poverty level. The federal government would pick up 100 percent of the expansion costs for three years and decrease to 90 percent thereafter.
For policy experts, expansion is no-brainer. Ed Sivak, executive director of the Mississippi Economic Policy Center, said the thousands of health-care and related positions Medicaid expansion would create represent a boon to Mississippi's economy, where the overall number of jobs today is at 1996 levels.
"What we really need to do with Medicaid expansion is adopt the same posture that we embrace with every other economic development project over the last several years. What that means is if an opportunity comes before us to bring in a significant investment in the state and bring in a substantial number of jobs, then it needs to prioritized," Sivak said.
Take the Nissan plant in Canton, which broke ground a decade ago. State officials regularly tout the factory as the jewel in the state's economic-development crown—at least recent memory.
Mississippi taxpayers have directly invested $377.8 million in incentives for the 3.5-million square-foot facility in Madison County. By the time that expansion is complete, Mississippi's taxpayers will have fronted Nissan $83,955.56 for each of the 4,500 jobs and $2 billion in economy activity Nissan says it has brought to the state.
The irony has not been lost on Democratic lawmakers such as Sen. Hillman Frazier, D-Jackson, who criticized Bryant's recent push to spend about $500 million in unused federal housing grants to expand the Port of Gulfport.
"One of the things that I find ironic is that he wants to expand ports for boats but not health care for babies. Our people are more important than expanding ports for boats," Frazier said.
Hospitals would be the biggest industry benefitting from the health-care overhaul—right behind insurance companies—because the Medicaid expansion serves as a built-in mechanism to wipe away much of the debt hospitals accrue each year. In 2009, the American Hospital Association estimated this uncompensated care represented 6 percent of hospitals' total expenses, around $40 billion. Compare this to $21.6 billion in 2000 and $12.1 billion in 1990.
Until now, hospitals got some of the money back through federal Medicaid disproportionate share hospital, or DSH, reimbursements, but ACA phases out DSH payments in exchange for getting more people enrolled in Medicaid.
Mississippi hospitals could see $5 billion in DSH money go away as 200,000 people fall into a "gap" where because hospitals are not getting paid to treat them.
"There really is no option to preserve the status quo," Sivak said. "What you're looking at now is a scenario where hospitals that receive these funds are looking at cuts, and they'll have to respond by laying people off, cutting services—two things that would significantly affect rural communities."
Bryant has said the state should not peg its economy to what he derides as "welfare" spending. But government spending also spurs economic growth, according to a 2009 MEPC analysis that examines the multiplier effects of various government stimulus programs and found that for every $1 increase in Supplemental Nutrition Assistance Program benefits, real gross domestic product increases by $1.73. In other words, for every dollar the government spends on food stamps, it gets that dollar plus 73 cents in economic activity in return, almost doubling its investment.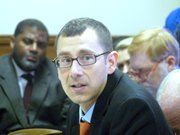 Rep. Cecil Brown, a Jackson Democrat, sits on the House Medicaid Committee and believes the expansion would benefit working people in Mississippi.
"We're talking about people who work 40 (to) 50 hours a week whose employers don't provide health insurance," Brown said, adding that any Medicaid expansion bill would contain a provision to require the Legislature to reconsider the legislation, probably in three years when the federal government's 100 percent coverage for the expansion decreases.
Like Sivak, Brown also believes that Medicaid-fueled health-care expansion could be analogous to other economic development projects the state has pursued in recent years.
"If a company came in and said, 'We'll create 9,000 jobs and offer health care to your people for $300 each, we'd be all over it,'" Brown said. "That's why no organized group is against this. There are some politicians who are against it. We think they're wrong."
Power Plays
The hard-line view Bryant holds against Medicaid expansion are rooted in conservative ideals espoused by groups such as the Mississippi Center for Public Policy, a conservative-leaning think tank based in Jackson. Forest Thigpen leads the MCPP, which opposes Medicaid expansion, citing the long-term costs.
"The government has nothing to give except what it takes from others, so it's a myopic view that taxing people is more beneficial than if you encourage the private sector to grow," Thigpen said.
Sivak has heard that argument before.
"The reality is if you look in Mississippi over the last 10 years, there's fewer businesses that are offering employer-sponsored health insurance," Sivak said. "If you looked at the insurance that was provided in 2000, roughly 60 percent was provided through an employer. That number is now down around 51 or 52 percent."
There's also a case to be made for Mississippi's economic competitiveness. Arkansas, led by Democratic Gov. Mike Beebe, has said it will expand. Tennessee, which has a Republican governor, has not announced whether it will expand or not.
"If the workforce outlook in our surrounding states is more positive because a significantly higher percentage of the population is insured, that puts us at a disadvantage when trying to attract industry," Sivak said.
The economics of health-care expansion could make it irresistible to even the most fiscally conservative lawmakers. A growing chorus of civic and business groups who support expansion could provide Republicans the political cover they need to pass an expansion.
Specifically, the newly formed Mississippi Health Care Access coalition plans to press the Legislature to expand Medicaid. Coalition members include Mississippi chapters of the American Lung Association, American Heart Association, American Cancer Society Cancer Action Network and AARP as well as Partnership for a Healthy Mississippi, Catholic Charities, Mississippi Religious Leadership Conference, Mississippi Human Services Coalition, Mississippi Health Advocacy Program, Mississippi Center for Justice, Mississippi Economic Policy Center, Mississippi State Conference of the NAACP, Southern Echo and the Children's Defense Fund's southern regional office.
It's important to remember that a similar assemblage of business and law-enforcement officials complained about the costs of implementing an immigration bill last year and was one of the reasons for the bill's defeat.
"I think before its all said and done, we're going to see a lot of ruby-red Republicans who, despite their misgivings about the Affordable Care Act, see it as something that could advance this state," Jones said.
"They might do it holding their nose, they might do it with a little bit of political rhetoric mixed in there, but at the end of the day, the deal is too good for them to pass up on for political reasons."
Comment and email R.L. Nave at [email protected]
More like this story
More stories by this author