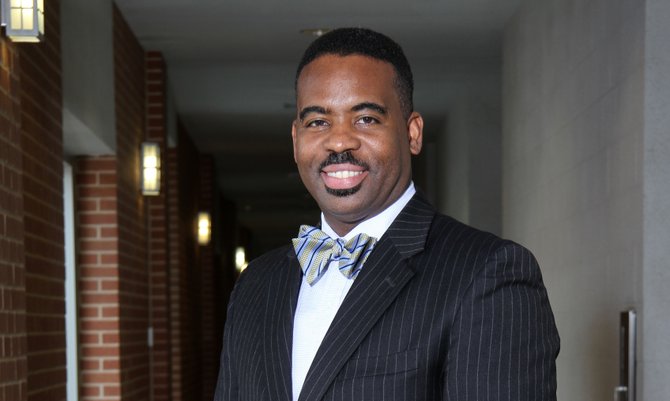 At first glance, the lecture hall of Jackson State University's Blackburn Language Arts Building seems like a typical end-of-semester class, with students making group presentations on topics ranging from a literary analysis of a Calvin Mackie's "A View from the Roof: Lessons for Life & Business," to technology reviews, to exploring the causes and effects of intra-racial crime.
One of the last classes before finals week, UNIV 100—a course known more simply as "University Success"—is only typical in that all incoming JSU freshmen must take it. One of the things JSU officials say is most remarkable about it is that University Success serves as the launching pad for the school's Apple iPad initiative. For the past two years, each JSU freshman receives an iPad.
Preselfannie McDaniels has taught English at Jackson State since 1999 and remembers meeting the news of the iPad program with skepticism, but said as it turns out the devices haven't become the distractions some faculty feared.
Even in her courses that rely heavily on digital technology, McDaniels sometimes asks students to power down their iPads, laptops and smartphones, a request that usually elicits prompt compliance.
"If we take this technology and tie it to good, basic teaching and research, it's wonderful. If we don't, we could have chaos," she told the Jackson Free Press.
This month, the initiative earned JSU recognition as an Apple Distinguished School from the Cupertino, Calif.-based technology corporation. JSU President Dr. Carolyn Meyers called the award evidence that the school is an "innovative institution that is embracing a 21st-century model of teaching and learning."
Dr. Robert Blaine, special assistant to the provost and leader of JSU's Cyberlearning Initiative, said the award also indicates the historically black university, an anchor for west Jackson, is on the cutting edge of harnessing digital tools to improve outcomes for its students.
About four years ago, Blaine said administrators realized they were unwittingly creating a sort of achievement gap. Although many faculty members produced course materials that could be accessed through the Web and smartphones, students without their own digital devices received paper printouts, which Blaine said put those students at an academic disadvantage. Giving every student an iPad is a form of democratizing learning, Blaine said.
But iPads are only the beginning. Before the end of the year, JSU will open its Innovate Center for faculty. Once complete, the room will be equipped with giant touch-screen tablets and collaborative workspaces. The center is BYOD—bring your own device—and despite its location on the first floor of the Sampson Library, Blaine said the center is designed to be a loud rather than quiet space designed around the idea that faculty can come in with a simple bad idea and leave with a high-tech digital product such as an eBook or podcast to distribute to students. JSU recently spent $1.4 million to upgrade its wireless networks to handle the additional traffic and added a network dedicated to the 2,700 iPads it has provided to students, which lets administrators track how and when students are using them.
"We're able to move students faster," Blaine said.
Jackson State University's iPad Initiative is funded through the Mississippi e-Center Foundation, which is a nonprofit organization that is separate from the school.
Information from JSU also shows tht half of the university's faculty members are currently teaching with cyber tools, and that by 2015, the entire faculty will be teaching with those digital tools. Moving students faster starts with moving faculty to think beyond the subjects they teach and think more about linkages to so-called hyphenated disciplines, Blaine said.
Cassandra Hawkins-Wilson, a writing composition instructor, has developed an eBook for her course and requires students to use a free app called StoryKit whereby students use "selfies"—photos they post of themselves—and other photos they post via social media to tell stories about their lives. There is a bonus to immersing students in digital tools during class—they're more likely to pay attention to the lesson and less likely to goof around on the Web.
"I'm making sure my learning environment is conducive to learning," Hawkins-Wilson said.
More stories by this author
Support our reporting -- Follow the MFP.