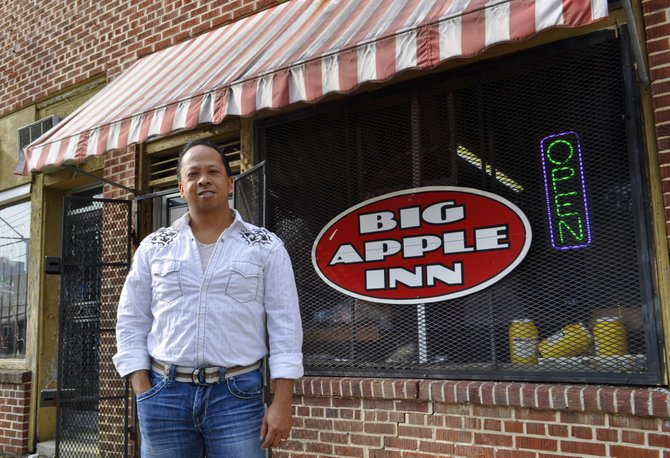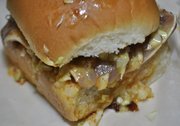 Imagine biting into a piece of bacon that is not quite cooked all the way, creating a slightly chewy texture, yet still maintaining a nice crunch. The tender meat is wrapped around a freshly baked al dente lasagna noodle. The conflicting textures—the crunch of bacon and the firm yet fluff of pasta—pair excellently together in a distinctive consistency. Slap it between two buns with spicy or mild seasoning, and you now have the famous Pig Ear Sandwich at The Big Apple Inn.
In the 1930s, a man named Juan Mora, nicknamed "Big John," pushed his hot tamale cart up and down Farish Street, selling tamales for 12 cents a dozen.
"He saved enough money and opened this place," says Mora's great grandson and now owner of Big Apple Inn, Geno Lee, a fourth-generation pig-ear sandwich maker.
The famous sandwich was born out of a good deal on, yes, pig ears. Big John seemed to have been at the right place at the right time one day when the store first opened. He was making his usual trip to pick up meat from the butcher, who happened to be getting rid of a large amount of pig ears, and offered it to Big John.
"My great-grandfather didn't throw anything away, so he brought them here and figured out a way to cook them and sell them," Lee says.
But if sandwiches could talk, this one would have an incredible story to tell. The pig-ear sandwich represents more than a sandwich. To some adolescents in the Jackson community, it means hope for their future. To rundown Farish Street, it means determination to preserve such a historical area. And in regards to customer loyalty, the pig ears are what cause some people to continually come time and again.
"It's amazing what a pig ear can do," Lee says.
About 15 years ago, Lee started letting the local neighborhood kids come to the restaurant after school. "I had the place full of kids, and we would get their homework done together, and I'd check it," Lee says. "I knew all their teachers—I was the one who had conferences with their teachers."
He believes it is these moments that make working for the Farish Street community so rewarding. He has even made important business decisions, such as deciding to stop selling alcohol, partially based on how it would affect these children who sought shelter at his store.
Students who would do their homework at the restaurant would eat for free that night. For some, this was the only meal they ate that day. Many did not have a healthy environment to go home to—that is, if they had anywhere to go home to at all—and most were constantly getting into trouble.
"It's just hard down here. It's a different life," Lee says.
One particular 5-year-old boy touched Lee's life around that time. After his night shifts ended, the sandwich maker would pass the little boy's house on his way home from work. If the boy was sitting on the porch it meant his mother was inside "making her money," and he was left to fend for himself for the rest of the night. Lee would pick him up and take him home, leaving a note so his mother would know where her son was. Lee says he viewed this boy—and all the kids he helped on Farish Street—as his own.
Though some of those kids have ended up in jail, Lee said a lot of them are doing well. One of the girls Lee tutored as a child has been working for The Big Apple Inn for 16 years now.
The restaurant Delta Blues calls "home of the world's most unusual sandwich" has faced numerous adversities due to its location. The owner of the store refuses to give up on the area, though, despite such a drastic decline. He believes he can continue to make a change.
Farish Street has had its ups and downs. By the early 1900s, Farish Street was the place to be. The street thrived with physicians, attorneys, dentists, doctors, jewelers, loan companies, banks, service stores and hospitals. But what made the street famous throughout Mississippi—and throughout the entire south—were the nightclubs.
In the 1950s, the apartment above the Big Apple Inn became home to the Medgar Evers' office.
Now the businesses on Farish Street are fewer and further between. The sandwich shop has to deal with the occasional break-ins, a couple which left a hole in the ceiling, but "that's just part of the territory," Lee says.
Every single customer who walks into the Big Apple Inn is going out of his way to dine on Farish Street. Given the rich history of the restaurant, there is no wonder why soul food lovers all over the country appreciate a good pig-ear sandwich.
Frequent customer Jerry Bracey explained what has kept him coming back for the past 40 years. "I've been coming here all my life," Bracey says. "I eat the smokes, the pig ear, the bologna—everything. Don't nobody else fix them like this. I used to come here with my father when I was 5 years old. Yeah, that's how long they've been here."
Kemba Ware, another long-time customer, explained how it is more than just the food that keeps her coming back. The "ambiance of it all," is what makes the restaurant worth revisiting numerous times, she says.
"The price has changed over the years. I remember when 'the smoked sausage' was 85 cents," Ware says. "I don't get anything new. I've tried it all but I come back to Big John's for the smoked. ... It's comfort food."
Support our reporting -- Follow the MFP.