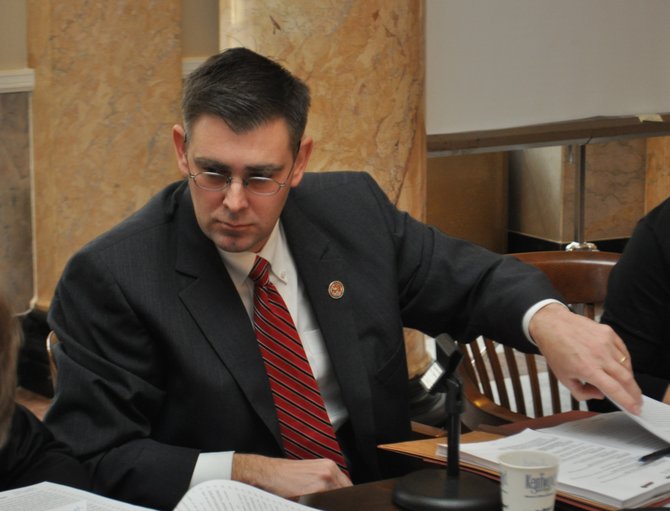 By some measures, guns did not have a good year in the Mississippi Legislature. After lawmakers filed a arsenal of more than 30 gun-related measures in the opening weeks of the 2013 session, the vast majority of gun bills never saw the light of day, dying in committee.
The few gun bills that survived, most of which are headed to Gov. Phil Bryant's desk for his signature, are significant. Among those is House Bill 2, which sponsors pushed as a technical amendment to the state's concealed-weapons statute. It states that the law considers a weapon concealed that is holstered or sheathed.
One of the first bills filed during the session, and one of the first Bryant signed into law, HB 2 has caused a great amount of confusion.
"I think there are questions that will need to be answered," said Sen. David Blount, D-Jackson, who voted for the legislation and supports gun rights.
Among Blount's questions are the law's implications for concealed-carry permit holders. Some gun-rights advocates have interpreted HB 2 to mean the law will lead to "open carry," permitting citizens to flourish weapons as long as the weapons are not technically concealed.
HB 2's sponsor, Republican Rep. Andy Gipson of Braxton, said state law already permits open-carry. He cites Section 12 of the Mississippi Constitution, which states that except for legislative regulations on carrying concealed weapons "the right of every citizen to keep and bear arms in defense of his home, person, or property ... shall not be called in question."
Gipson doubts that his bill will result in more gun-toting citizens or OK Corral-like shootouts.
"Mississippians have more discretion than that," Gipson said.
Gipson's assertion is debatable. Mississippi, which does not require background checks for transferring guns between private owners or require permits or registration of gun owners, has some of the nation's most relaxed gun laws. Mississippi is also a national leader in gun deaths, ranking No. 2 in a 2010 analysis of gun deaths nationwide by the Washington, D.C.-based Violence Policy Center. Mississippi sees 6.9 gun murders for every 100,000 people compared to the national average of 3.6 gun homicides per 100,000 people.
December's tragic mass shooting at a Connecticut elementary school and the flurry of calls for tighter gun-control in the United States prompted many of the gun proposals in Mississippi and around the nation.
Lawmakers introduced a bill designed to nullify any federal law seeking to regulate guns, ammo and accessories, and another that would have permitted two staff members in each school to have a concealed firearm on school grounds. Both bills died before the session ended.
However, lawmakers fast-tracked HB 485, which exempts conceal-carry permits from the state's public-records laws, and approved measures exempting sales tax on firearms and ammunition during Mississippi Second Amendment Weekend in September. Legislators also provided $7.5 million in state grants through the Mississippi Department of Education for schools to hire certified armed guards.
A January 2013 survey from the Pew Research Center for the People and the Press found that 64 percent of Americans support putting armed security guards or police in more schools. Among respondents, 75 percent of people with high-school educations or less support armed guards at more schools, 68 percent of people with some college education agree while only 44 percent of college graduates support more armed school guards. The same study found 57 percent of people oppose arming teachers and other school officials.
Kevin Gilbert, president of the Mississippi Association of Educators, said introducing more guns to the school environment is a recipe for disaster. Rather than spending more money on school resource officers--who often send children to jail for minor infractions-- Gilbert believes Mississippi should put more money into counseling and violence prevention.
"If we don't make sure we get to the root cause of what creates these violence situations, I fear we're just knocking our heads against the wall," Gilbert said.
More stories by this author
Support our reporting -- Become a JFP VIP.
The news business has changed dramatically in the past year, and we need your help more than ever to keep bringing you important stories about Jackson and the Metro. Become a JFP VIP with an annual membership or you can Sign up as a monthly supporter. Thanks for anything you can do to empower our journalism!