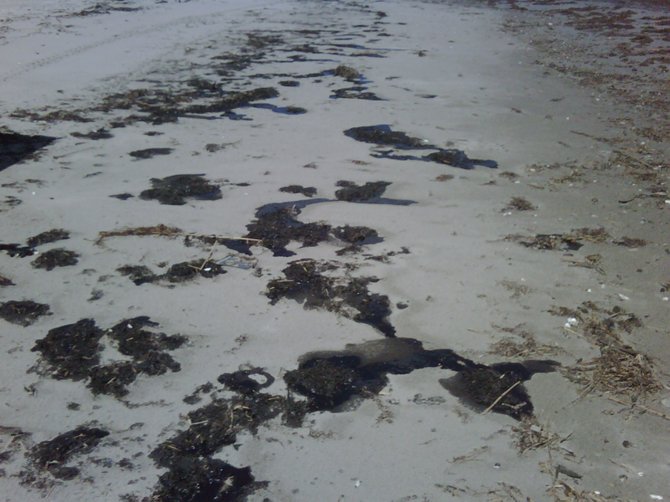 As Isaac, a tropical storm that sped up to hurricane strength when it made landfall, approached southeastern Louisiana, it was a forgone conclusion that the storm would unearth toxic remnants of the 2010 BP oil disaster.
But a picture of the extent Isaac's environmental implications is starting to emerge. After Isaac passed, the U.S. Coast Guard's National Response Center received some 90 reports across the Gulf Coast states, ranging from sightings of tar balls, oil slicks and spills.
Through tests, researchers at Louisiana State University confirmed last week that oil that washed ashore on Elmer's Island and Grand Isle matched samples from the BP Macondo well that malfunctioned two years ago, spewing millions of gallons of oil into the Gulf.
In Mississippi, post-Isaac reports included a sheen of unknown sources near Ship Island and approximately 50 half-dollar-sized tar balls per square meter washing up on Ship Island Sept. 4, and sightings of other oil sheens near Bay St. Louis and Pass Christian Sept. 2 and Sept. 5, respectively. Also, on Aug. 31, the day Isaac officially made landfall as a Category 1 hurricane, three fishing boats overturned in at a marina near Bay St. Louis, discharging about 30 gallons of diesel fuel into the water
"Proper planning and equipment go a long way to prevent industrial accidents, but these disturbing reports of oil sheens, overturned tanks, and chemical releases following Isaac show that industry is ill-prepared and ill-equipped to handle these storms," said Jill Mastrototaro, Sierra Club Gulf Coast's campaign director last week.
Nearly 5 million barrels of oil glugged into the Gulf of Mexico after an April 2010 drilling rig malfunctioned and caught fire, killing 11 workers on Transocean's Deepwater Horizon drilling vessel. The release went on for months as BP, the UK-based petrol giant, fecklessly sought ways to plug the leak one mile below the ocean's surface. Eventually, officials applied 1.8 million gallons of a chemical dispersant called Corexit.
Scientists disagree about the benefits of using oil dispersants such as Corexit. In April 2012, researchers from the University of South Florida on behalf of the Surfrider Foundation completed a study that concluded Corexit inhibits microbial organisms from breaking down the hydrocarbons. The report also found that Corexit enables organic pollutants found in crude oil to remain level with that the National Institutes on Health and U.S. Occupational Safety and Health Administration consider carcinogenic.
"It's one of those nagging questions that we're not investing enough in to answer. I'm afraid when the next hurricane comes along, we're going to be wringing our hands over the same stupid questions," said John Amos, president of Skytruth, a Shepherdstown, W.Va.-based environmental watchdog group, said about using chemical dispersants after oil spills.
Amos added that it would be unfair to assume every reported spill after Isaac originates from the BP disaster, but Skytruth, which monitors and posts satellite images of reported oil spills worldwide, noticed more reports in the days following Isaac than on a normal day in the Gulf.
"It's going to be a continual housekeeping chore," Amos said, referring to cleanup efforts.
More stories by this author
Support our reporting -- Follow the MFP.