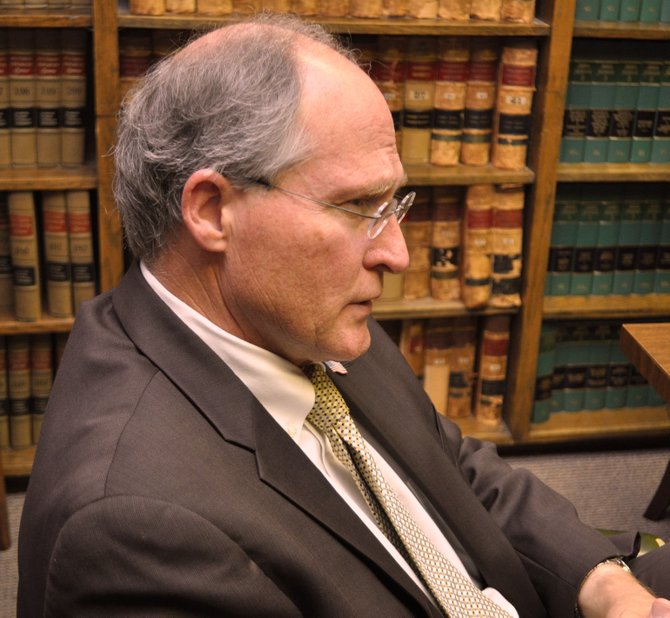 The race for Position 1 on the Mississippi State Supreme Court for the Central District has become unexpectedly contentious as Election Day nears. Earle S. Banks Sr., a Democratic lawmaker from Jackson, has been stepping up his attacks against the incumbent, Chief Justice William "Bill" Waller Jr.
Banks accuses Waller of violating judicial campaign rules that prohibit judge candidates from being involved in political fundraising or knowing the names of their campaign contributors by pointing to a September $250-per-couple reception for Waller at the Eastover home of Robert Lampton, an executive with petroleum production manufacturer Ergon Inc. Banks charged that Waller looked at the donor list for the event, which is verboten under judicial campaign ethics rules.
Waller flatly denies Banks' accusation. "I did not. I don't know where he got that information, but I have not," Waller told the Jackson Free Press.
As chief justice, Waller oversees the entire state court system. Waller, who joined the court in 1996 and is the son of Democratic Gov. William Waller Sr., who died in 2011, touts leading the court through several rounds of tough budget cuts, implementing a statewide electronic-filing system and using drug courts to save the state millions of dollars as among the highlights of his tenure.
Waller reflected on his experience on the Court and talked about Mississippi's election system during a recent interview.
Your challenger, Rep. (Earle S.) Banks, has said that the court hasn't always been fair under your chief justiceship. Another common criticism of the court is that it tends to be pro-business. Could you speak to that?
My opinions are out there if (Banks) or anyone wants to challenge whatever I did, but I don't have an agenda. There's no group that I'm trying to promote or trying to help. I think the courts should be fair to everyone who comes in them and that's whether it's an individual or a company or whoever's before the court. Everyone has the same playing field. Everyone has the same opportunity to present their case.
Banks made a lot of hay about your campaign contributions with much of your support coming from political action committees. How do you, as a sitting justice, make the case to the people of Mississippi that your thinking isn't colored by people who contribute to your campaign?
First of all, the rules prohibit us from being involved in fundraising. They prohibit me from studying or looking at our financial contributions, so I'm prohibited by looking at that. Secondly--and this is by the constitution--we have to run for the office. As long as you have to run for the office, as long as you've got campaigns, you've got to have campaign contributions.
I am pleased with anyone that wants to support a fair judiciary that is efficient that is independent. If people want to support that, I want their contributions. As long as the contributions are legal--which there's never been a question about any of my contributions--they're all legal or my instructions to my committee would be not to accept any.
If you were King of the Universe, would you keep the system in place of judges having to run or replace it with something else?
Everyone is elected in Mississippi. Thirty-five states elect judges the way we do, including New York and California. The important thing about elections is that there is accountability, and I think that's important. No one is above the law. It's an open question whether we should seek to see a retention election (a system in which judges are appointed, but periodically subject to a voter referendum on whether to keep or remove the judge) like in Missouri, but there's politics in that.
I'm going to wait until after this election to see whether I support this system or seek something different or some modification of it. There's politics in everything. I think there might be more politics in appointments than there are in elections.
Why are drug courts something you feel passionately about?
I'm very interested in drug courts. This was an alternative sentencing that was developed by judges about 12 years ago. This is a judge-run, judge-conceived and judge-carried-out initiative.
A defendant charged with a felony and, first, he or she has to plead guilty to the offense. They have to comply with the program and, if they don't, they're sentenced as a traditional offender. They're placed into treatment. They're required to have jobs. They're, in many cases, electronically monitored or virtually imprisoned so we know where they are, what they're doing.
There are a lot of good benefits from it. One is that the electronic monitoring, which cost $1,600, $1,700 a year including drug tests that's paid by the people using the system versus $15,000. We've got 3,000 (people) in the program and we're projecting savings up to $36 million to the state this year.
To give you some idea of how much money that is, (the court system's) appropriation from the Legislature is in that range.
What happens if they don't pay?
If they don't meet the conditions of the program then they have to go to jail and maybe sentenced to additional service than they could be sentenced under the original charged they pleaded guilty to.
Of all your opinions, what were some of the memorable or challenging?
They're all challenging. I was thinking of one out of Oktibbeha County. Tyler Edmonds vs. State (of Mississippi), a 13-year-old charged with capital murder. ... We believed that Tyler did not get a fair trial. On remand, he was acquitted.
The pardon case, involving Gov. Barbour's pardon of over 200 defendants. I disagreed with the majority, which contended that we could not go back and look at what they considered a facially valid pardon.
Why do you deserve another term?
I've been on the court for 15 years. The last three years I've been chief justice, and we've had some tremendous challenges securing enough funding for minimal operations of the courts. I have led some administrative efforts that I think have been positive for the citizens for the court system.
I have over 500 opinions out there. It's all there for anyone to look at it. It's free. It's fair. I think the opinions have been good.
More stories by this author
Support our reporting -- Become a JFP VIP.
The news business has changed dramatically in the past year, and we need your help more than ever to keep bringing you important stories about Jackson and the Metro. Become a JFP VIP with an annual membership or you can Sign up as a monthly supporter. Thanks for anything you can do to empower our journalism!