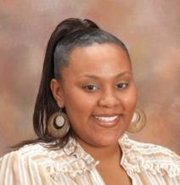 I remember my grandmother's first question on my 18th birthday, before she even wished me a happy birthday: "Are you going to register today?"
"Yes, Ma'am!" I answered.
Since I was a kindergarten student at Galloway Elementary School, I can recall watching my grandmother and great-grandmother passionately participating in the voting process. Upon arriving to school on Election Day, we would file into the auditorium after breakfast to find the machines situated on the stage. People from my community would be streaming in and out, as teachers and principals ensured complete and utter silence until the beginning of the school day.
I did not understand or enjoy the process initially. After all, I had things to talk to my classmates about. I would sit there, hoping to see my grandmothers before being ushered off to class. As I got older (fourth or fifth grade), I became very familiar with the process.
As a matter of fact, I knew that they were going to come between 7 and 8 a.m. I looked forward to it because my great-grandmother would slip me a quarter (which I spent on pickles or chips at lunch). I can remember them being dressed for success, and I often imagined that there were actually people behind those curtains. I later found out that there were not any people, but polls instead. All of this was taboo and mysterious, and it sparked a curiosity inside of me that would ensure that I never stay away from the polls.
As the presidential election draws near, many people wonder what is going to happen with the "young vote" such as mine. Many are wondering if young people will once again be the deciding factor of who will become the next president of the United States. Others believe that young people were only following an impulsive fad during the 2008 election, when voting became the cool thing to do.
As a young voter, I have found that people in my age group have varying ideas about the voting process. Some have a nonchalant attitude and believe that politics will not benefit them in everyday life.
Others vote for the political party that their parents have traditionally supported. And some vote based on issues that are important to them.
I vote because of my grandmothers and what they taught me.
As a proud voter, I look forward to election time. I never complain about waiting in a line. I have yet to miss one election, for any reason. And I most certainly have taken someone, anyone, along for the event. Because of the way my grandmothers were diligently a part of the democratic process, I consider voting an event. It is a time to reflect, celebrate and give thanks for the people who came before us. It is a celebration for me, because I understand that there were people who could not vote, would not vote and who died to vote. All of these things motivate me to engage myself in a process that was denied to so many men and women, black and white, for far too long.
I know that some people are on the fence about this election. Many are confused about the candidates, their accomplishments and what is in store for our country. But no matter your political affiliation, please know that this process is necessary to maintain balance and order in this country. Even if you are not a "political" person, be a person familiar with the "process."
Visit jfp.ms/voterid to stay abreast on the voter ID debacle in the state of Mississippi. Know your rights, protect your rights and remember that we must vote to maintain our rights.
My great-grandmother's last presidential election was in 2004 (before she succumbed to cancer the next year). George W. Bush versus John Kerry was one of the most controversial elections of our time. She was 86 years old and was fighting cancer, but went to vote. I cannot recall a time that she complained about going to vote. It was just something she had to do. She did not even look into mailing in an absentee ballot, or any of the convenient options we are afforded. She simply went to the polls, exercised her right and returned home.
My point is this: There are people right here in Mississippi who still believe that women and minorities are not capable of being a part of the democratic process when it comes to issues of health and voting. Why give them ammunition to fire the argument of oppression? Exercise your right to vote like you exercise your right to breathe. After all, if you don't, you may lose both. I make an event of it; maybe you won't. But remember that people died so that we, no matter our race, could continue to be a part of the process that keeps this country free.
See you at the polls, people!
More stories by this author
Support our reporting -- Become a JFP VIP.
The news business has changed dramatically in the past year, and we need your help more than ever to keep bringing you important stories about Jackson and the Metro. Become a JFP VIP with an annual membership or you can Sign up as a monthly supporter. Thanks for anything you can do to empower our journalism!