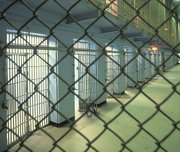 Forrest County is moving backward when it comes to making changes at its youth detention center.
A Southern Poverty Law Center lawsuit filed on behalf of children housed at the Forrest County Juvenile Detention Center resulted in a settlement to end what the SPLC calls "dangerous conditions" at the jail.
A full year after the settlement was reached, however, an independent monitor assigned to keep track of the county's progress concludes Forrest County is behind schedule or backsliding in implementing reforms.
"It's disappointing that the county has not made more significant progress," SPLC staff attorney Elissa Johnson said.
Anne M. Nelsen, the Salt Lake City-based monitor, found the facility made minimal progress in reaching substantial compliance with the 70 provisions of the agreement with SPLC that included ending excessive use of force, providing better quality health and mental care, and developing educational programs.
"The issues of the lack of direct staff supervision, inadequate number of staff members on some shifts and the lack of training for staff at the (Forrest County Juvenile Detention Center) have worsened," Nelsen wrote.
In addition, Nelsen noted in the report that the facility had a different director and assistant director on each of her three visits and that the repeated changes in administration has lead to ineffective communications to between top officials and jail staff.
"Youth in the juvenile justice system, at all levels and in all settings, can become productive, law-abiding citizens and eventually effective parents if they receive help, guidance, compassion and commitment from the adults that they interact with in their lives. The Forrest County Juvenile Detention Center has the opportunity to offer that future to the young people it serves," Nelsen wrote.
More stories by this author
Support our reporting -- Follow the MFP.