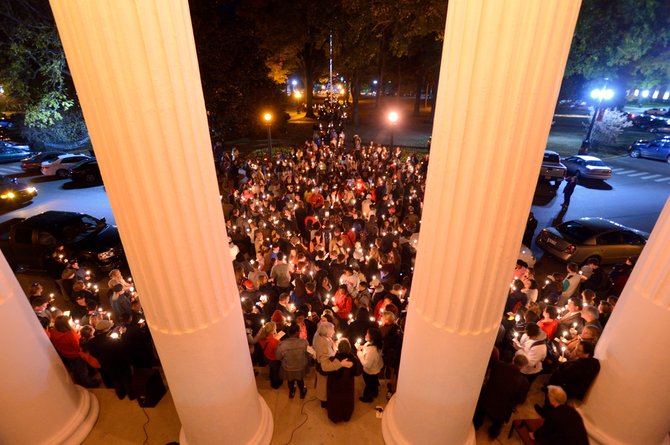 Around the time Fox News Channel was calling the presidential election in favor of President Barack Obama, black students at the University of Mississippi erupted with joy.
Some of the black kids mocked their white classmates about the re-election of the nation's first African American president over Obama's challenger, Republican Mitt Romney, by chanting slogans from Young Jeezy's 2008 post-electoral creed, "My president is black."
Midnight was nearing on Nov. 6, after polls had closed on Election Day. One student, who asked not to be identified, said a small group of African Americans, elated about Obama's landslide electoral victory, started making their way from Kincannon Hall, a seven-story all-male dormitory heavily populated with African Americans, toward the intersection of Rebel Drive and Student Union Drive on the University of Mississippi campus.
"F-ck Mitt Romney. Y'all ain't running sh-t!" exclaimed one black student to a group of dejected white students, captured by a cell-phone camera. A large group of white, mostly male, students came over from Stockard Hall and tried to shout down the black students with the old Confederate rallying cry; "The South will rise again!"
Before the night ended, police made two disorderly conduct arrests, one for failure to obey a police order and one for public intoxication. A photograph of a group of white students standing around an individual holding a burning Obama/Biden yard sign was widely circulated on the Internet.
After rumors of a riot spread across campus and social media networks, Chancellor Dan Jones responded with a statement the following morning describing the situation as resulting from "students who took a very immature and uncivil approach to expressing their views about the election."
The student who asked not to be identified, an African American female, said tensions between white and black students had been high for months. "They keep saying it was few bad apples, but there was a hundred people out there," she said.
In August, an African American freshman told one of his professors that a racial slur had been scrawled on his dorm room door. Officials reassigned the student to a different residence hall and turned the case over to the Federal Bureau of Investigation, which launched an investigation.
The election of Courtney Pearson as the school's first black homecoming queen also produced animus. Then, an Oct. 26 campus alert notified students of a black male suspected of committing a strong-armed robbery on campus, reportedly of two white women.
On election night, the long-simmering emotions came to a boil.
Gretchen Higgins had just returned to her dorm room on Election Day when she heard the commotion outside her window and went downstairs to investigate.
Higgins, a freshman biology major, witnessed a fight between one black and one white female student after the white student, who appeared to be drunk, said "f-ck Obama" as she passed her black classmate.
Higgins got a whiff of marijuana smoke, and a lot of people in the crowd seemed intoxicated. Earlier that evening, many of the fraternities and sororities had swaps, a kind of social mixer held regularly at Oxford watering holes. She believes the white students, most of whom were male, weren't necessarily adherents to Republican political ideals or even Mitt Romney loyalists.
"I would say more in this case, (they were) anti-Obama. I doubt all those boys knew politics. It was more of a racial thing," she told the Jackson Free Press in a telephone interview.
The same night, 800 miles from Oxford, about 40 students at Hampden-
Sydney College in Virginia shouted racial slurs, threw bottles and set off fireworks outside the Minority Student Union.
Jones and other officials condemned the Ole Miss incident that made national headlines as media outlets attempted to draw parallels to the 1962 riot on the same campus after James Meredith enrolled.
Meredith encouraged students to remain focused, telling a Biloxi TV station: "Anybody that lets themselves be sidetracked by foolishness, it's not only something wrong with what they're mad about, it's something wrong with them."
The day after the Ole Miss disturbance, One Mississippi, a student organization, held a candlelight walk that attracted 700 students, almost twice the number that had gathered to watch the events unfold on election night. Over the weekend, the same organization erected a racially integrated tent in the Grove on campus for Ole Miss' home game against Vanderbilt.
Higgins, an Illinois native, called the negative publicity unfair. "I mean, our campus is a great campus, so I don't think we should have gotten the negative judgment that we might be getting," she said.
Update 11-14-2012: An earlier version of this story that ran in the print edition and online misidentified the student group that led the "We Are One Mississippi" candlelight walk. The Jackson Free Press apologizes for the error.
More stories by this author
Support our reporting -- Become a JFP VIP.
The news business has changed dramatically in the past year, and we need your help more than ever to keep bringing you important stories about Jackson and the Metro. Become a JFP VIP with an annual membership or you can Sign up as a monthly supporter. Thanks for anything you can do to empower our journalism!