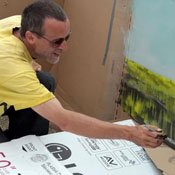 In 2005, Scott Sorensen was living in a three-bedroom house with his wife and had a decent job. Now, he lives in a tent in a friend's backyard and sells original art out of his backpack. Still, Sorensen has an art show at the Arts Center of Mississippi (201 E. Pascagoula St.) that will be up until the end of the month.
Sorensen's wife of 11 years filed for divorce in 2006, and he was fired from a local hospital. He decided to give her everything and left with only a motorcycle. That's when he began to make art. Since he started painting and drawing, Sorensen estimates that he has made about 1,000 works.
"It's about being able to do it more than anybody else," Sorensen says about his success in painting, which he does all day every day. "I'm 45 years old, so I've got a lot of catching up to do."
He used to make colored pencil drawings, but when frames got too expensive, he started using acrylic paint. Sorensen mainly paints on wood because he can find it for free, but occasionally uses a canvas. He sells enough work to afford art materials, food and cigarettes.
The works in Sorensen's show were all donated back to him from previous buyers except one new piece, which sold on opening day. The paintings and drawings in the show range from landscapes and cityscapes to portraits.
Sorensen's show hangs until the end of May. If you'd like to buy his work, you can find him perfecting his craft at Sneaky Beans in Fondren. He is also on Facebook.
Support our reporting -- Follow the MFP.