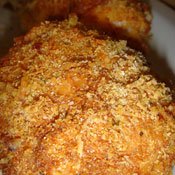 When I was a little boy living on a farm in Mississippi, it seemed like we had chicken five days a week. We had chicken for breakfast cooked in gravy to go over our rice and biscuits. We had chicken and dumplings for dinner and then fried chicken for supper. On the weekends, we would go fishing and catch some fresh fish to slow the pace of eating chicken.
We had a yard full of these multicolored pastel scratchers. I loved to see them strut around the yard. They added brightness to the already quintessential untouched surroundings of the farm. While back then we had to catch and kill the birds ourselves, you can probably save yourself the hassle and visit your local grocery store.
HealthY Oven-Fried Chicken
1 chicken, cut into pieces
Seasoned salt, to taste
Black pepper, to taste
Garlic powder, to taste
Onion powder, to taste
Flour
Olive oil
Set the oven on 400 degrees. Wash and cut the chicken into pieces (legs, thighs, back, breast, wings). Make sure that the pieces are dry. Season the chicken to taste using seasoned salt, black pepper, garlic powder and onion powder. Batter the pieces in plain flour.
Lightly oil an oven-safe non-stick skillet with olive oil. Place the skillet in the oven until it is hot, around three to five minutes. Do not let the oil burn! Remove from oven and evenly place the chicken parts into the skillet. You do not need to use any more oil. The chicken will generate its own oil. Bake in the skillet in the oven for about 30 minutes. Turn the heat up to 500 degrees or more. Let cook until golden brown and done—anywhere from 20 to 40 minutes or longer. (Cooking time will depend on oven type, size of chicken pieces and the quality of the meat.) The chicken will be crisp as if it was cooked in deep grease on top of a stove.
More like this story
More stories by this author