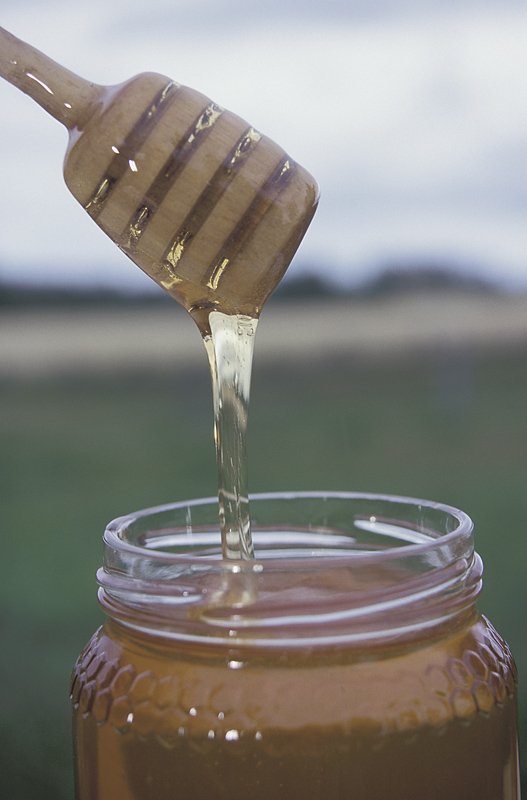 Once upon a time in the county of Carroll, my brother and I went out early one morning to gather the cows. We had our "knives," made by splitting a pair of old hedging shears. As we tracked the cows, we saw an old tree that had been blown down by the previous night's storm. In the trunk of the tree, we saw some honey.
We proceeded to crawl underneath the barbed-wire fence and cut out the honey with our homemade knives. We were so excited. This excitement quickly turned into panic when the owners of that honey returned to claim their property. Although they were smaller than we were, there were so many of them that we had to fight or flight. A fight ensued and the owners won the fight. So, we decided to switch to flight—but not without injuries. Those little bees were hard pressed to protect what belonged to them.
My father used to get completely naked (and I would not recommend this procedure to anyone), wade through thousands of bees and not get stung once. He would always come home with buckets of honey. I didn't acquire a taste for honey until in the middle of adulthood, but now, it's like I can't live without having some at least once a day.
Tea and Honey Brined Pork Chops
Ingredients
1-1/2 cups strong brewed tea, chilled
3/4 cup kosher salt
3 tablespoons dark brown sugar
4 tablespoons honey
1 tablespoon Worcestershire sauce
1 cup ice cubes
4 bone-in-center pork chops
1/8 teaspoon kosher salt
8 teaspoons pepper—garlic spice rub
Cooking spray
Combine the first six ingredients in a large bowl, stirring until salt and sugar dissolve. Pour the mixture into a large zip-top plastic bag. Add ice and pork, seal. Refrigerate for three hours, turning the bag occasionally.
Remove pork from bag; discard brine. Pat pork dry with paper towels. Sprinkle 1/8 teaspoon salt over pork. Rub 8 teaspoons pepper-garlic spice evenly over both sides of pork.
Spray your skillet or grill racks using the cooking spray. Cook or grill both sides evenly for about 2 minutes on each side. Cook in oven or grill until tender and done.
Serves four with one chop
per serving.
Note: This brine is also excellent with chicken thighs and drumsticks, and pork or beef ribs. I tend to grill, using hardwood chips—hickory is my preference, but any type will work.
More stories by this author
Support our reporting -- Follow the MFP.