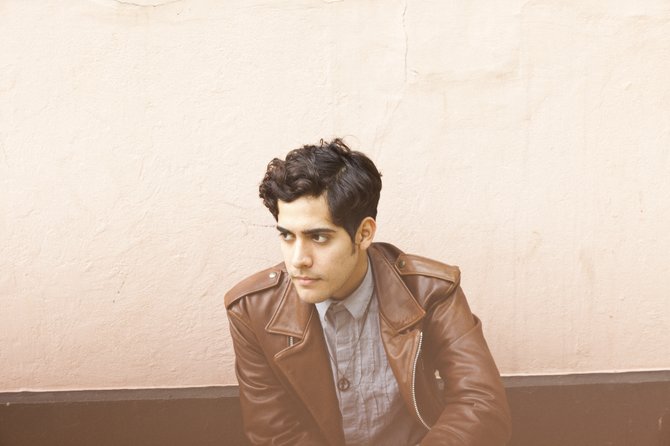 Alan Palomo wrote the song "Should've Taken Acid with You" for an ex-girlfriend after missing a date with her during holiday break in 2008. "At the time I felt a little guilty about it, and the impulse was to write a tongue-in-cheek apology," he says. The song ended up being part of a creative project that Palomo was working on called Neon Indian. He was also working on other dance-music projects and wanted to go in a new direction.
"The ethos behind it is that I got fed up with the more tedious elements of dance-music production and really losing a lot of songwriting in the process," 23-year-old Palomo says.
"Should've Taken Acid with You" became wildly popular as a chillwave and lo-fi hit. Chillwave, or glo-fi, is a genre of music characterized by the extensive use of synthesizers and filtered vocals. Although the group only came out with its debut album, "Psychic Chasms," in 2010, The Pitch, an alternative weekly in Kansas City, has already put Neon Indian seventh on its list of top-10 chillwave artists.
"The catalyst behind the first record was that it sort of presented itself as a scrapbook," Palomo says.
"It wasn't necessarily wanting to write sample-based music with a certain genre in mind; it was making interesting music that was relevant to my life."
Neon Indian is frontman Palomo and Jason Faries, Leanne Macomber, Ed Priesner and Josh McWhirter on instruments and synthesizers.
"Psychic Chasms" samples his father, Mexican pop singer Jorge Palomo, on "6669" and "7000 (Reprise)" and Todd Rungren's "Izzat Love" on "Deadbeat Summer." Pitchfork music reviewer Marc Hogan describes the album as "synth-based, homemade-sounding, '80s-referencing, cassette-oriented, sun-baked, laid-back, warped, hazy, emotionally distant, slightly out of focus."
Neon Indian's second album, "Era Extrana," released in 2011, uses no sampling.
"It's just what makes sense in my mind," Palomo says about why he makes the type of music that he does.
"I really don't try to think of it as some genre or something I'm trying to tap into. It's just when I listen to music those are the qualities that I look for."
"All these sounds were selected not with some crate-digging mentality of trying to find some obscurity that I could reinvent, but from the idea that I just wanted to celebrate the song and take it somewhere else," Palomo says.
Since his laptop was recently stolen, Palomo is not sure when he will be releasing new music for Neon Indian or his other moniker, VEGA. "I kind of came home to a blank canvas and have been treating it as such," he says. He doesn't like to focus on when he is due for a new record.
"The premise behind Neon Indian to begin with was just to support the mentality of writing music for the sheer joy of it, and really to only do it when I feel inspired to," he says.
On June 28, Neon Indian will perform with the Flaming Lips as part of the record-breaking, 24-hour tour. This isn't the first time that Neon Indian has worked with the Flaming Lips. Frontman Wayne Coyne went to a Neon Indian show in Portland a few years ago, approached Palomo and asked if they could collaborate.
"He introduced himself after the show and was like 'Hey, we should do something together.' We didn't really know what it would be, but we knew we would do something," Palomo says.
Palomo and Coyne ended up releasing an EP together, called "The Flaming Lips with Neon Indian."
"We didn't want it to be really formal or do a lot of planning for it," Palomo says. "We just wanted it to feel like a very natural gesture. ... I couldn't have asked for a greater collaboration."
Support our reporting -- Follow the MFP.