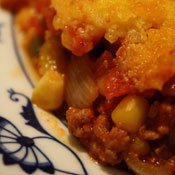 While experimenting in the kitchen over the years, I have created some tasty quick meals. This is perhaps one of my favorites, because you can vary the ingredients in this recipe to fit your taste. You can add mixed vegetables, Mexican-style corn, pimentos, celery, green onion tops or more––so don't hesitate if you want to experiment.
Ingredients:
1 pound ground chuck
1 can (14-1/2 ounce) diced tomatoes, drained
1 medium onion, chopped
1 medium bell pepper, chopped
1 envelope (1-1/4 ounce) chili seasoning mix
1 cup extra-sharp cheddar cheese, shredded
2-3 cans crescent rolls
Optional: 1 can sliced ripe olives, drained; sour cream; salsa; chives; red onions or hot peppers
Heat oven to 400 degrees. Cook beef in 10-inch cast-iron skillet (or a 9-inch glass pie plate with cooking spray) over medium heat 8 to 10 minutes, stirring occasionally, until brown. Drain fat and stir in tomatoes, onion and chili seasoning mix.
Unroll one can of crescent rolls and line them in the bottom of the cast-iron skillet. You can overlap the rolls if necessary. Be sure to cover the sides of the skillet with the rolls. Pinch off any edges overlapping the top. Spread the meat onto the rolls. Sprinkle with half a cup of cheese and olives if desired.
Bake 30 minutes. Top with remaining cheese. Bake two to three minutes longer until cheese is melted. Let stand for five minutes before serving. Serve with sour cream and salsa.
You can also add chopped chives, red onions or hot peppers as a topping. Makes six servings.
For more mouth-watering treats and tasty eats, chow down over at our Food Blog and the JFP Bite Club Facebook page, and follow the aroma on Twitter. Be sure to bring your appetite!
More stories by this author
Support our reporting -- Follow the MFP.