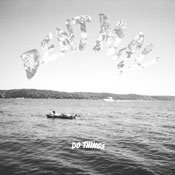 Completely recorded in his home in Oxford and in a cabin in Taylor, Miss., Dent May's "Do Things" is something of a fresh start. For his first album, "The Good Feeling of Dent May and His Magnificent Ukulele," which came out in February 2009, May only had about two weeks to record and felt like some ideas got lost in the shuffle. This time, May took up to a year.
One reason for the change is that while touring and playing the first batch of songs, May felt like he quickly got burnt out. This time, he wanted the songs to actually mean something to him.
"I just wanted to take my time and do everything myself (this time)," May says. "It was a big learning experience."
That's not the only difference between May's first and sophomore albums. He also wanted "Do Things," which hits shelves June 12, to be more honest and clear. "The first album is more playful and storytelling-based, and the new album is more meditative and mantra-based with simpler and more direct, personal lyrics," he says.
The first song of "Do Things," entitled "Rent Money," opens with, "When you were young, what did you fantasize your life would bring? ... You've got to stand up and do your thing." It sets the tone of the entire album with happy vocals and dance-inducing beats. "Don't wanna be chasing that rent money for the rest of my life," May croons.
"It's about getting off your ass and working to put yourself into something," May says about the entire album, hence the name "Do Things." He also thinks that the album "sort of has an inspirational or healing message."
Animal Collective's record label, Paw Tracks, released both of May's albums, and allowed him complete freedom over the production of his work. "That's important to me, as someone recording my own music in a house in Mississippi," May says.
Some fans might be surprised at the lack of May's ukulele on "Do Things." Instead, May uses basses and guitars with drum machines and synthesizers. "The idea was that anything I had lying around the house was fair game to use on this new record," he says. May did not want to continue to hide behind the ukulele image—he meant it more as a writing tool than as a trademark. "I didn't want to be 'the ukulele guy' for my whole life—I always knew that. I want every album idea to be different," he says. "I want to show people that I can do anything."
Between albums, however, May went through a period of writer's block, which is what the title track is about. "I didn't know if I still knew how to write a song," he says. The song has a slow-dance '60s feel to it. Instead of being overly melancholic about the situation, May finds hope in his friends and his music. "Do things your own way," he sings toward the end of the song.
Many different types of music influence May's work—retro pop is an evident one. May also says he grew up listening to southern rap such as Three 6 Mafia and 504 boys, and country such as Hank Williams. His favorite R&B singers are R. Kelly and Aaliyah.
"I just want to combine it all and take influences from everything––from rap to country to disco and punk rock," he says.
The first single from the album, "Best Friend," opens with drum machines and synthy sounds and moves toward an old-school bass groove. "You and me—it's never gonna end, 'cause you're my best friend," May sings. It can be about a platonic best friend or about a lover, May says. Toward the end, he sings, "There is a sun, and it's shining down. You are the one that I walk around. Let's have some fun while we're here in this world." May, a Jackson native, and drummer Alex Warren shot and produced the song's music video in Jackson.
"The ultimate goal is to have a sound that is me, and that when people hear it, they know it's me, even if they haven't heard the song (before)," May says. "I want to write songs that stand the test of time."
May is on tour this summer with Warren, bassist Cole Furlough of Dead Gaze and keyboardist Thomas Cooper.
Dent May's "Do Things" comes out June 12 and is available online at http://www.insound.com.
Support our reporting -- Follow the MFP.