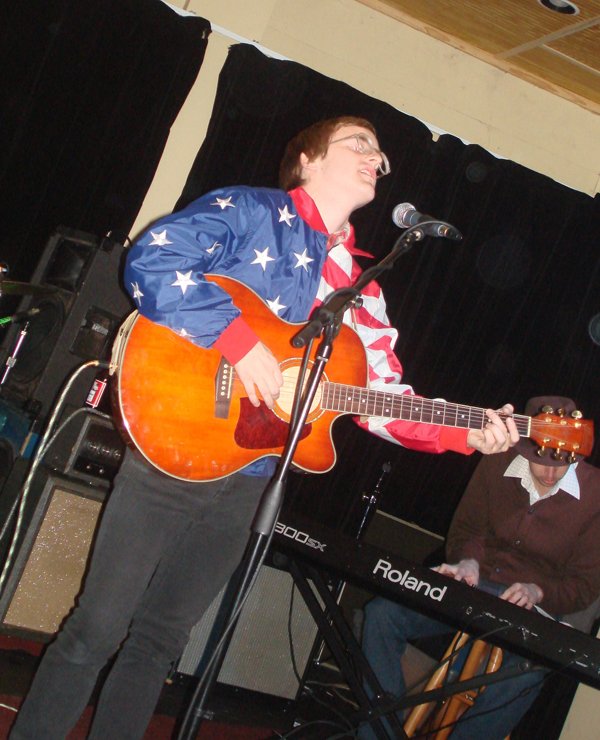 "College town boy, get off your ass and do something," Dent May croons with a bit of humorous mockery and disdain. "How does it feel to be nothing? I wouldn't know." Though that may just be the chorus of "College Town Boy," a track from May's most recent EP, it rings true with advice that May has taken for himself. The avant-garde musician is speedily making a name for himself with his various, innovative musical endeavors.
May, who is somewhat of a musical carousel, has been on the journey toward eclectic musical productivity from a young age. The Jackson native grew up singing in local productions at Galloway Memorial United Methodist Church and Power APAC, which he says may have been "uncool by most standards." But memorable moments come to mind: "I played the soap bar in 'I Won't Take a Bath,' and was in a recorded choir. I took our nursing home gigs quite seriously," May says.
But all of that is a far cry from the buoyant brand of music May makes now, whether it be with his country outfit, Cowboy Maloney's Electric City; his deejaying duo Airships; the laid-back Dent May & his Magnificent Ukulele; his somewhat funk, otherwise unidentifiable project, Gemini; or his electric tropicalia act called Os Mercearia de Plein Air Bande.
May says that all his projects are experiments in pop songwriting.
"The ukulele stuff evolved most organically through cheap home recordings, while Cowboy Maloney's Electric City is my attempt at writing a psychedelic country-rock opera. I plan on releasing it in unfinished form, so it's sort of self-consciously fragmented," he says. "Gemini is something I did a long time ago, but its Prince vibe may show up in another project I have going called Dent Sweat. I'm working on my splits for that one."
With such an assorted variety of music comes influences just as diverse and eclectic. And they all play a role in the creation and development of his music, whether it's his personal heroes Lee Hazlewood and Serge Gainsbourg, tropicalia artists like Caetano Veloso, Gilberto Gil, Gal Costa and Os Mutantes, or the ukulele teachings of his mother. "I still play the first song she taught me ('26 Miles Across the Sea by the Four Preps')," May says, "and it'll probably be on my album."
May recently began to fancy the sounds of electronic music pioneer Bruce Haack, who made children's records in the '60s with the help of homemade electric instruments like a makeshift synthesizer. And though May listens to a multitude of genres, he doesn't have a specific favorite and says he is generally suspicious of anyone who does.
May and his close friend and DJ-partner of Airships, David Swider, have been causing quite a stir in Oxford, hosting one dance party after another. Whether they're blasting beats at Oxford venues like the Powerhouse, Proud Larry's or Jubilee, a loyal following is usually there to keep the dance floor packed.
"The first time we did it was at L&M's on a Thursday night. They used to have music there. I think it was called 'L&M's Speakeasy' every Thursday, and we decided instead of folky, sad live music, that we would throw a dance party," Swider says.
The duo got the name Airships from Barry Hannah's book of short stories, of which May and Swider are fans. While neither of them know the ins and outs of beat-scratching, Swider says it's always been about making something meaningful.
"We just play whatever we will feel like and it usually turns out okay," he says.
Regardless, Dent May and His Magnificent Ukelele is flourishing. A 7-inch single for "Meet Me In The Garden" is due out in the U.K., July 21, on the Make Mine label. He's also shot a video for the currently unreleased, "Oh, Paris!" playing and singing all the parts on the track.
"I drink wine and smoke cigarettes in a tuxedo, relax in bed in onesie flannel pajamas, and pump a stereo system full of lead," May sings.
And though his face dominates the entire video, he admits that his friend Rory Fraser covered all the technical aspects, and is the real talent behind the video.
May has also released a six-song EP titled "A Brush With Velvet," which refers to real-life encounters with the Partridge Family stars of whom May is a big fan. A full-length album, "The Feel Good Music of Dent May & His Magnificent Ukelele" should come out in early 2009.
May is also involved with Cats Purring, an assembly of friends making art together in North Mississippi. Steven Bevilaqua of The Young Americans and Glow Worms, Michael Johnson, a fiction writer and John Barrett of John Barrett's Bass Drum of Death fame. The set of artists hopes to release a compilation of music from Mississippi.
May performs as much as possible, whether it's one of his many gigs in Oxford, or a show in any given state across America. And though bigger venues seem like the goal of many artists, May prefers smaller settings.
"I'll take a house party over a big club any day. We once did a series of short one-on-one performances in my bedroom. We only invited women. It was very sexy," he says.
Nonetheless he likes a bigger venue from time to time. "Crowds can be great everywhere, but Northerners seem more jaded to things like dancing," he says. "You get a lot of crossed arms, heads politely bobbing up and down. They don't want to mess up their hairdos up there, you know?"
Michael Johnson, who plays drums with Dent May & His Magnificent Ukelele, Cowboy Maloney's Electric City and Os Mercearia de Plein Air Bande, says they have some interesting ideas for an upcoming show.
"We're going to sell tadpoles at our next show in New York, and we're trying to get Shaq to come and hang out," Johnson says. "We're thinking of asking for $200 to play Shaq one-on-one or $100 to play him in a game of horse. So if you know anybody that knows Shaq or could e-mail him, that would be great. We've already got a hoop."
So what's May up to when he not brewing up more musical concoctions? As a graduate of the University of Mississippi with degrees in southern studies and English, May finds time to put those interests to use working at Oxford's Square Books and reading.
"Lately I've been reading a lot of Etgar Keret, an Israeli writer," he says. "His stories are a bit absurd and they're simultaneously funny and sad, which is something I aim for in my music. They're also short. I don't have much time to read novels anymore."
Making music out of pure enjoyment rather than dreams of stardom and pop grandeur, May just hopes for some sort of reaction from people.
"If listeners are affected by my music in any way, that's enough for me," Mays says. "Maybe it'll pump up a young gymnast to bust moves at unprecedented heights, or inspire a bored couple to find freakiness again or provide the soundtrack to a heated game of Scrabble. Even if people hate it, that's cool. If they're completely unresponsive, though, it's kind of a bummer.
More like this story
More stories by this author
Like independent media outlets around the world, the Jackson Free Press works hard to produce important content on a limited budget. We'd love your help! Become a JFP VIP member today and/or donate to our journalism fund. Thanks for considering a JFP VIP membership or one-time support.