JACKSON — Mississippi is breaking even when it comes to how child children are faring. In the Annie E. Casey Foundation's annual Kids Count survey, Mississippi remained the worst state in the nation for child well-being (the state also finished 50th in 2011).
The last-place finish came despite the fact that the foundation added categories to measure how children are doing.
The Magnolia State finished 50th in the nation in the categories of economic wellbeing and family and community, the study found. The state was 48th in the education and health categories. From there, the data were broken down into 16 subcategories in which Mississippi saw improvement in eight areas. Conditions worsened in eight areas.
Document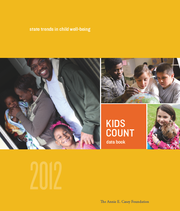 More than ever, these indicators point to the need for a two-generation strategy that helps parents move their families ahead economically and improves young children's health, development and educational success. Mississippi Kids Count, through its own databook and summit showcases successful programs across Mississippi doing just that, yet we continue to have a high percentage of children and families in Mississippi who are struggling," said Dr. Linda H. Southward, director of Mississippi Kids Count, in a press release.
Despite the state's standing, the report shows some positive trends. For example, the number of Mississippi children without health insurance increased 38 percent from 2008 to 2010. Also, the percentage of children who abuse alcohol went down 14 percent from 2005/ 2006 to 2008/2009, while child and teen death rates decreased by 10 percent.
In addition, the report states, more Mississippi children are attending preschool, while more fourth graders are becoming reading proficient. Eighth-grade math proficiency is also increasing. The numbers of children in families where the head of household lacks a high-school diploma are also on the decline. The number of children in single-parent households decreased 2 percent between 2005 and 2010. Nationally, there are more children in one-parent homes.
Joining Mississippi in the bottom five are Arizona, Louisiana, Nevada and New Mexico, which are ranked 46 through 49, respectively. The top five states for children are New Hampshire, Massachusetts, Vermont, New Jersey and Minnesota in that order.
Snapshot of Mississippi Kids
Child poverty rate: 33 percent
Rank: 50th
Percentage of kids whose parents lack secure jobs: 39 percent
Rank: 50th
8th graders not math-proficient: 81 percent
Rank: 50th
Percentage of low-birthweight babies: 12.2 percent
Rank: 50th
Children in single-parent families: 46 percent
Rank: 50th
Kids living in high-poverty areas: 23 percent
Rank: 50th
Mississippi Trends
Getting Worse
Children in poverty (up 6 percent)
Children whose parents lack secure employment (up 11 percent)
Teens not in school and not working (up 44 percent)
High school students not graduating on time (up 6 percent)
Children living in high-poverty areas (up 10 percent)
Children living in households with a high housing cost burden (up 3 percent)
Teen births per 1,000 (up 5 percent)
Low-birthweight babies (up 3 percent)
Getting Better
Children without health insurance (down 38 percent)
Children not attending preschool (down 7 percent)
Fourth graders not proficient in reading down 5 percent)
Eighth graders not proficient in math (down 6 percent)
Child and teen deaths per 100,000 (down 10 percent)
Teens who abuse alcohol or drugs (down 14 percent)
Children in single-parent families (down 2 percent)
Children in families where household head lacks high school diploma (down 15 percent)
More stories by this author