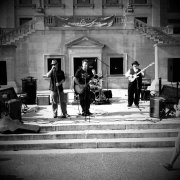 In Mississippi, we have no shortage of blues music, but finding good blues music isn't always simple. The test of a good blues band versus an average blues band is the "power of the draw." If you are walking down Bourbon Street in New Orleans or Beale Street in Memphis (and maybe Farish Street by 2013?) And hear something so compelling that you just have to wander into that bar to get a better earful, then you're dealing with good blues music. If the music just becomes part of the ambience, then you're dealing with dollar-store-CD blues music.
Fortunately, Jackson's Lucky Hand Blues Band is an example of a band with a good draw. Featuring a standard four-piece ensemble, the band consists of Todd Thompson on guitar, Arthur Jones on blues harmonica, Stephen Wells on bass and Jim Hathcock on drums. The band members take turns with the vocals, but it was their instrumental numbers that really grabbed my attention, especially when the blues harmonica jams start flowing.
The band lists B.B. King, Muddy Waters and Albert King among its influences, and in the songs I had an opportunity to hear, I picked up a Stevie Ray Vaughn vibe as well. But good blues music isn't played for listeners to sit and analyze. If you're concentrating on who they sound like, well, you're doing it wrong.
Like all good blues bands, the Lucky Hand Blues Band is best enjoyed on the dance floor or laughing with friends over a few beers and a table of crawfish. There's an energy and a strong southern charm to the music, making it more of a happening than a concert. The band is here to be listened to, not watched—and trust me, that works to everyone's advantage. Todd Thompson may not look like Fats Domino, but your ears may tell you a different story.
Their favorite venue is "wherever people appreciate good music; wherever people love the blues," Thompson says. He and the rest of the band joined forces about two years ago, although Thompson and Jones have been playing music together for nearly five. For Thompson, the reason for playing is that the music compels him. He's here because he enjoys the music, because it's his part in "keeping the blues alive."
The Lucky Hand Blues Band will play anywhere blues lovers unite, whether it's indoors, outdoors, on stage or on patios. When it comes down to it, once those chords start flying and the harmonica starts wailing, they could care less where they are. They're playing their music, and that's all that matters.
The Lucky Hand Blues Band performs at Hal & Mal's (200 S. Commerce St., 601-948-0888) July 27 at 8 p.m. To get in touch with the Lucky Hand Blues Band, call Todd Thompson at 601-502-4801.
More stories by this author
Support our reporting -- Follow the MFP.