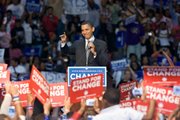 If anything, last week's U.S. Supreme Court ruling upholding the federal health-care overhaul—the Affordable Care Act—provided one more reason to mobilize for the November presidential election. For those concerned about the actual health of the nation's citizens, there was a little less to celebrate.
With Chief Justice John Roberts as the surprising swing vote, justices ruled 5-4 that the act is constitutional. However, the ruling still leaves the door open for states to opt out of expanding Medicaid coverage.
Warren Yoder, executive director of the Public Policy Center of Mississippi, said the ruling was "great but not perfect," adding that states choosing not to expand Medicaid programs could hurt the middle class—the people the act was designed to take care of.
"We're not talking about poor families; they're covered. We're not talking about well-to-do families, even in a Mississippi context; they're covered. We're talking about the middle. ... It's the middle that we're worried about," Yoder said.
ACA requires people who can afford it to purchase insurance or face penalties.
It also prohibits insurance providers from denying coverage because a person has a pre-existing condition. Estimates are that the ACA would provide or mandate coverage for approximately 30 million uninsured Americans.
The mechanism that backers of the law hoped would bring the largest number of people who might not otherwise buy health insurance—the Medicaid expansion—immediately came under fire from Republican elected officials, including in Mississippi.
Twenty-six states challenged ACA on the grounds that forcing states to add millions more people to the Medicaid rolls was coercive. Those states represent 8.5 million people who would benefit from expanded eligibility.
"The decision by the U.S. Supreme Court today does not change the fact that Obama­care raises taxes on Americans and expands the bureaucracy of our health-care system," Lt. Gov. Tate Reeves said in an emailed statement. The governors of Florida, South Carolina and Louisiana have vowed to refuse the additional Medicaid funds, while Mississippi Gov. Phil Bryant has said he is considering it.
But it's not the states that will pick up most of the tab. From 2014 to 2016, the feds will pay 100 percent of Medicaid expansion. From there, the federal portion decreases each year until 2020 when Uncle Sam pays 90 percent, according to the U.S. Department of Health and Human Services. Additionally, the federal government provides numerous grants for everything from educational programs to setting up an insurance exchange.
Mississippi has already received millions of dollars in federal grants under the act for community health centers to public education, including $20.1 million for developing and promoting a health-benefits exchange.
ACA would also eliminate health-insurance coverage disparities by ethnicity and gender. In Mississippi, white children are more likely to lack health insurance than African American children. Here, 14 percent of white children are uninsured compared to 9 percent of black children.
Without the Medicaid expansion, Yoder believes many will be left uninsured in Mississippi and other southern states that have been hostile to the ACA.
"We're hopeful, but at this moment, nobody really knows how this is going to work out for these middle-class families that we're so worried about," Yoder said. "It has the potential to hurt working families pretty hard."
How the ACA Could Cure Mississippi's Health Woes
• If fully implemented, 500,000 currently uninsured Mississippians would have health coverage.
• People with incomes up to 133 percent of the federal poverty level will be eligible for Medicaid.
• Children can stay on their parents' insurance plan until age 26.
• Insurance discrimination, such as denying coverage for pre-existing conditions and imposing lifetime caps, is prohibited.
• Middle-income individuals and families receive tax breaks to afford private insurance
Source: Mississippi Center for Justice, 2012
More stories by this author