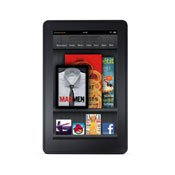 When Amazon first announced the Kindle Fire in September, tech blogs and reviewers met the news with plenty of fanfare. If any company was able to deliver a device that could rival Apple's iPad, surely it was Amazon.
While most technology hardware makers were focused on netbooks, Apple changed the mobile computing game with the introduction of the iPad, just as they did three years earlier with the iPhone. And just as they did in the smartphone market, other tech companies have sought to play catch-up in the tablet market.
The general consensus is that nothing to date has come anywhere near the success or usability of the iPad. In virtually every way, the competitors all fall short: lack of performance, sub-par OS design, a void of apps that make a tablet truly useful.
Then came Amazon with the Fire. The same company that has revolutionized online shopping, book selling and e-reading was about to give Apple a run for its money in the tablet market.
But reviewers have met the Kindle Fire with mixed emotions at best. Many leading technology reviewers have found what they consider fatal flaws with the Kindle Fire, relegating it to a third-tier competitor to the iPad.
Marco Arment, the founding lead developer of Tumblr and creator of Instapaper, has been a leading critic of the Kindle Fire. While Arment is a devoted Apple developer, it's clear that he loves the Kindle platform nearly as much.
His preview piece on the Kindle Fire was full of hope for a competitor to the iPad. Competition, as they say, is good for everyone. Yet you can find few bigger critics of the Kindle Fire than Arment. His review of the Kindle Fire—and his subsequent blog posts about it—have been nothing short of visceral. Of course, Arment is far from the only person who has criticized the Kindle Fire.
Some of the most repeated criticisms include:
• Confusing home screen user interface (UI).
• Problems with responsiveness to swipes vs. taps.
• No volume and home-screen hardware buttons.
• Lack of high-definition video playback.
• No automatic syncing of music and video content.
• Small hard drive.
Some of these problems can, and likely will, be solved with future OS updates and new syncing infrastructure from Amazon. (That's a bit of a cop-out, but it's still a valid point.)
To me, it looks like the Kindle Fire has suffered more unfair reviews due to its comparison to iPad and because of the high expectations that come with any Amazon endeavor than because of the product itself.
In using my wife's Kindle Fire, I've been fairly pleased with it. Of course, I am judging the Kindle Fire as primarily a platform to consume media. Here's what I like:
1. Despite a few UI quirks, the UI is pretty well done. The Kindle Fire runs Android, but Amazon built a new interface for it. It's a good approach for this specialized device.
2. Content is king. Amazon has solved a problem that other tablet and OS makers cannot: they provided a wealth of content for the consumer. Amazon serves up books, music, movies, TV shows and newspapers—not to mention apps for Netflix, Hulu and limited games.
3. Amazon backing. One thing that has made the iPhone and iPad so successful is that consumers have faith in Apple and its recent track record. That cannot be discounted, and neither can the faith people have in Amazon. Consumers and developers want to do business with companies they trust. Amazon is, by and large, one of those companies.
That said, if you are looking for a productive machine or a gaming platform, then the Kindle Fire is the wrong choice. For those scenarios, I can't find anything that truly competes with the iPad and the vast offering of iOS apps.
In conclusion, the Kindle Fire is a much better device than the reviews would lead you to believe. For reading, casual surfing and watching videos, it does a great job. It's not the best in class, but it's nowhere near the worst, either.
Sam R. Hall blogs about Apple, technology and general geekery at http://www.flashingrobot.net. Email him at [e-mail missing].
More stories by this author