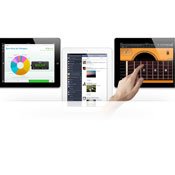 A hard-drive crash that forced me to reinstall the operating system on my 4-year-old MacBook interrupted work on this week's column.
My original column was looking at the iPad as a personal computer, a topic that gained some attention earlier this month after a noted tech columnist (who is a faithful Windows user) proclaimed the iPad the new, and perhaps first, truly personal computer.
The debate that ensued centered around all the things an iPad cannot do. Most of it came down to programming, graphic design and running certain apps.
My take is simple: The iPad is not meant to replace the personal computer for everyone, but it certainly is more than capable of being a standalone machine for many. My recent laptop issues forced me to consider this for a day, so I decided to share how the iPad works for me as a personal computer.
Email
The iPad is my main email machine. I can triage my inbox in record time on the iPad. It also helps me to keep responses tighter because I'm naturally not going to type as much on an iPad keyboard as a regular keyboard.
Read
Whether books or news feeds, the iPad is my main reading machine. I follow more than 100 news feeds, read four different newspapers, four magazines, always have at least two books going and have even come back to reading comics. The best Bible I've ever owned—the English Standard Version—is an app on the iPad, and it is beautiful! All my reading materials reside on my iPad.
Write
While I don't do a lot of writing on my iPad, I do some. I've got a Bluetooth keyboard that I carry with me. The plethora of great writing apps for the iPad helps tremendously.
Social Media
My iPhone is my main Twitter machine, but the iPad is a close second. Ditto for Facebook. Developers first designed the native apps for both for the iPad and then scaled them for the iPhone. It made the apps much nicer than the original iPhone versions.
File Management
Using Dropbox and GoodReader apps, I can pretty much manage files on the iPad much like I do on my laptop. I keep most of my active files in Dropbox, so they are accessible anywhere. GoodReader is also my go-to app for handling PDFs. It allows me to highlight and take notes.
Pages and Numbers
These two apps are Apple's answer to Microsoft Word and Excel, respectively. On my Mac, I rarely open Microsoft products. In fact, I rarely, if ever, open Word. I still use Excel, however, from time to time.
On the iPad, Pages is serviceable. Numbers, however, is great. It doesn't have the higher functions of Excel, but it has the necessary functions I need. The design approach is superb, and grouping and segmenting data is easier.
Brainstorming
I use outlines and mind maps all the time for new projects. I don't do these on my Mac; I do them on the iPad. OmniOutliner is my go-to outliner app. For mind maps, I use iThoughtsHD. Both are spectacular.
Fun Stuff
Netflix, Hulu, podcasts, iTunes, comics, even a remote for my Apple TV—they all get a good workout on my iPad.
OmniFocus
This is the big one, my most-used app. It's my outboard brain. For anyone who adheres to David Allen's "Getting Things Done" approach to productivity and task management, OmniFocus is a must have. It's not cheap, but it is worth every penny.
This is where I track every project I have. The only time I fail to do something is either when: (a) I don't put it into OmniFocus; or (b) I go more than a day without checking OmniFocus.
Of course, some things I can't do on the iPad or can't do as well. For instance, I sell books and collectibles online as a hobby. I use barcode scanners and a label printer that require a Mac. I also do web development, and that requires a Mac. Writing, too, is faster for me on a Mac.
At the end of the day, if I was forced to choose between an iPad or a laptop, I'd have to go with the laptop. For me, the iPad is not yet the first truly personal computer. My MacBook holds that title.
More like this story
More stories by this author