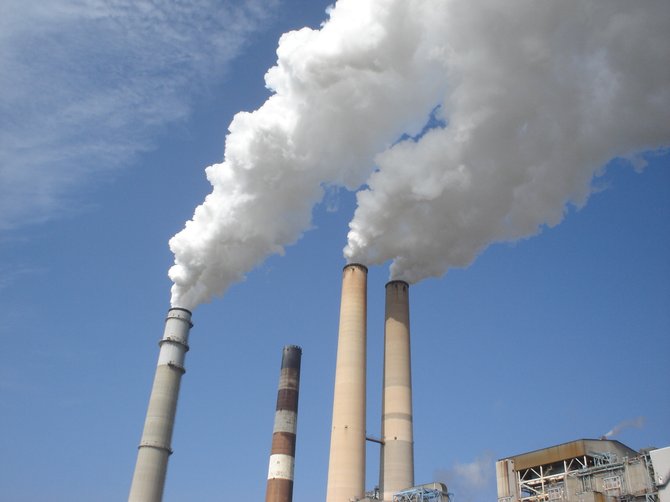 Another wrinkle for Mississippi Power Co.'s Kemper County power plant came last week as the company announced it had terminated a contract with a joint venture of KBR and W.G. Yates & Sons Construction, which was working on part of the $2.8 billion project.
MPC's original estimate for the cost of the plant was $2.4 billion, but it convinced state utility regulators to increase the spending limit to $2.88 billion. The project is now more than more than $400 million over its budget and $800 million more than planned.
Kenny Bush, a spokesman for Philadelphia, Miss.-based Yates, took issue with an Associated Press article that also ran on the Jackson Free Press' website. The story stated Mississippi Power had fired Yates, but Bush said the article implied Yates was the cause for the overruns, which he denies.
"The owners are not really switching contractors so much as they're realigning work," Bush told the Jackson Free Press, referring to Mississippi Power and its parent, Atlanta-based Southern Co.
Bush said Yates still holds three work contracts at the facility, under construction since 2010 and stressed that his company, which has performed $32 million in work on the plant, is not responsible for Mississippi Power's cost overruns. Performance Contractors Inc., headquartered in Baton Rogue, La., will be the new construction company on the project while Houston-based KBR will continue to provide support for engineering and startup.
"It doesn't make any sense," said Mississippi Sierra Club Executive Director Louie Miller about removing KBR, which, along with Southern Co., co-owns technology that will convert lignite coal into gas at Kemper.
The Sierra Club is in the thick of a legal dispute with Mississippi Power that the environmental organization hopes will upend the entire project. Miller believes burning low-quality lignite coal an integrated gasification combined cycle generator, which hasn't worked commercially in the United States before, is at the core of the beleaguered project's ongoing financial woes.
Though abundant, soft lignite has very low energy value and burns dirtiest of other coals. At the heart of arguments against Kemper is that the potential health risks of a lignite coal plant far outweigh the benefits.
Environmentalists got more ammunition recently in the form of a report that concluded that Mississippi has some of the nation's dirtiest air because of our power plants. In the National Defense Resource Council's study of the 2010 air-pollution releases from coal fired electricity plants, Mississippi ranked 17th out of the bottom 20 most-polluted states.
Kentucky, Ohio and Pennsylvania topped the NRDC's "Toxic 20" list, half of which is made up of southern states.
Last year, the second year for the study, Mississippi did not make the list, but from 2009 to 2010, the state's industrial toxins doubled to 4 million pounds.
The report concludes that coal- and oil-fired power plants contribute 44 percent of all air pollutants reported to the Environmental Protection Agency's Toxics Release Inventory
The NRDC report bore some positive trends, however. Nationally, in 2010, total air pollutants decreased by 19 percent from the previous year. Mercury emissions also dropped 4 percent from 2009 due in part to a utilities' backing away from using coal and moving toward cleaner-burning natural gas as well as tighter EPA-imposed standards.
Under further planned restrictions, the NRDC estimates mercury levels will plummet another 70 percent from 34 tons to 7 tons by 2015. Sulfur dioxide will be reduced from 5.1 million to 1.9 million tons.
As a result, the numbers of premature deaths, asthma attacks, hospital visits, heart attacks, bronchitis cases—and health-care costs—would plummet, the NRDC said.
Mississippi is home to four commercial coal-fired plants. Southern's Victor J. Daniel Jr. Electric Generating Plant in Jackson County and Jack Watson Electric Generating Plant in Harrison County have a combined generating capacity of 1,750 megawatts.
GDF SUEZ, the U.S. subsidiary of a global energy firm headquartered in France, operates the 514-megawatt Reds Hills Generation Facility in Choctaw County.
The cooperative-owned South Mississippi Electric Power Association runs the 400-megawatt R.D. Morrow Sr. Generating Plant in Lamar County.
Mississippi Gasification still has plans for a $2 billion syngas plant in Moss Point; the U.S. Department of Energy is considering the company's environmental impact assessment. Earlier this year, Denver-based Rentech Inc. shelved a coal-to-gas project in Natchez.
Comment at www.jfp.ms. Contact R.L. Nave at [email protected]
More stories by this author